alphaspirit - Fotolia
Juniper ships first major Apstra release
Juniper said the latest update to its recently acquired Apstra network automation product sends a message to customers that the company is committed to multi-platform support.
Juniper Networks has launched its first major Apstra release since acquiring the network automation startup in January. The upgrade's highlights include support for VMware's virtual networking and security software, NSX-T, and enterprise distributions of SONiC, an open-source network operating system.
With the release, Juniper changed the Apstra product name from the Apstra Operating System (AOS) to simply Apstra. The new version 4.0 focuses on expanding Apstra's platform support in the enterprise data center.
Juniper wants the latest release to purge the skepticism customers have over whether the company would embrace Apstra's vendor-agnostic strategy.
"When we were constructing this particular release, we did put [multi-vendor support] front and center," said Michael Bushong, vice president of Juniper data center product management. "It's true now, and it's going to be true in the future."
Apstra software operates within the network management layer. It monitors hardware and software configurations while also providing network managers with the tools to determine the impact of configuration changes before deploying them. Apstra's competitors include Forward Networks and Veriflow.
Apstra 4.0 support for NSX-T 3.0 will appeal to mainstream enterprises that are in the process of transitioning to the relatively new product, analysts said. NSX-T 3.0, introduced in April 2020, brought more automation to the VMware virtual network overlay serving data center applications and their underlying infrastructure. The latter includes virtual machines, bare-metal servers and containers.
"The support for NSX-T 3.0 will appeal more to the mainstream enterprise," said Shamus McGillicuddy, an analyst at Enterprise Management Associates. He added that he expects VMware customers to transition to the latest NSX-T technology over the next couple of years.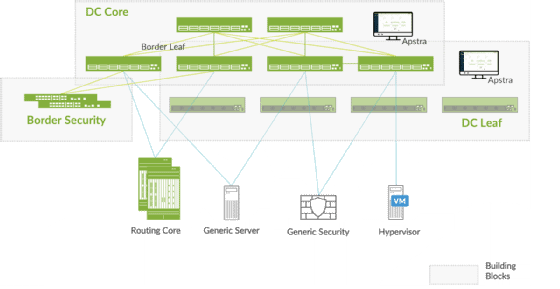 Better SONIC support
Apstra's improved enterprise SONiC support opens the door to the data centers of cloud service providers smaller than the three largest, AWS, Microsoft Azure and Google. The trio operates hyperscale data centers that are unique in speed and capacity. Microsoft, which developed SONiC before contributing it to the Open Compute Project in 2016, uses SONiC in its data centers.
Other organizations looking seriously at SONIC include the largest enterprises, telcos deploying core infrastructure for 5G and cable multiple services operators. The 650 Group predicts the SONiC market will increase from $1.3 billion last year to $4.6 billion by 2025.
Companies in various stages of testing and deploying SONiC include Target, eBay, T-Mobile, Comcast and online advertising company Criteo. Those companies are willing to look seriously at SONiC because of the enterprise features the open source community has developed for the NOS.
SONiC's attraction also lies in its ability to separate the control plane from underlying network hardware. The disaggregation of hardware and software makes the use of commodity switches and routers possible, which means less dependence on makers of more expensive proprietary hardware from vendors like Juniper and Cisco.
Juniper's enterprise SONiC support signifies the company's "increasing willingness to support network disaggregation beyond the realm of hyperscalers," said IDC analyst Brad Casemore.
Other significant Apstra 4.0 features include connectivity templates, called building blocks, for Juniper-based networks. The technology lets companies reuse the port configurations for VLANs, firewalls, load balancers and other physical and virtual devices connected to Juniper QFX switches and SRX routers.
"These are meant to be turnkey, validated designs for Juniper-based data center networks automated via Apstra," McGillicuddy said.
Missing from Apstra 4.0 was support for Contrail, Juniper's network virtualization platform for data center and multi-cloud networking. Bushong declined to comment on plans for Apstra and Contrail.
Antone Gonsalves is the news director for the Networking Media Group. He has deep and wide experience in tech journalism. Since the mid-1990s, he has worked for UBM's InformationWeek, TechWeb and Computer Reseller News. He has also written for Ziff Davis' PC Week, IDG's CSOonline and IBTMedia's CruxialCIO, and rounded all of that out by covering startups for Bloomberg News. He started his journalism career at United Press International, working as a reporter and editor in California, Texas, Kansas and Florida. He can be found on Twitter at @AntoneG.