Evaluate
Weigh the pros and cons of technologies, products and projects you are considering.
Data center and cloud computing products that make an impact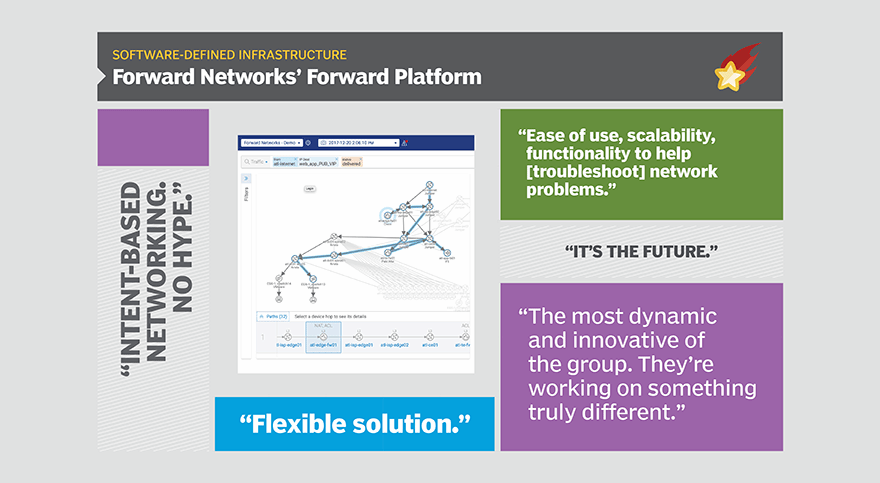 Source:
kimberrywood/iStock
Designer:
Linda Koury/TechTarget
Just the smallest change to your network configuration can have significant repercussions on performance, and even a temporary loss of network connectivity can be detrimental to your bottom line. It's essential that network administrators have the ability to make informed decisions about what changes they plan to make to their environments. Voters chose Forward Networks' Forward Platform as the winner in this year's Impact Award for Best Software-Defined Infrastructure Product because of the software's ability to show administrators how potential changes could affect the network.
Forward Platform collects configuration states from all devices on your network. It then processes this information with a series of algorithms, creating a mathematical model that assesses the current condition of a network and predicts possible future behavior. While other networking tools focus solely on the current state of your infrastructure, this predictive tool's intent-based networking approach appealed to readers.
"Although it's a small company, I think Forward Networks' Forward Platform is pretty great," said Mark May, enterprise infrastructure specialist. "It basically imports your network configurations and lets you treat them like a sort of lab to predict network intent. For me, these guys are the most innovative."
Forward Platform boasts three primary capabilities: Forward Search, Forward Verify and Forward Predict. Forward Search gives the user instant access to the entire end-to-end network behavior and configuration. Forward Verify builds on this search feature by alerting network administrators to policy violations, unexpected behavior and security risks. Forward Predict enables network administrators to test different scenarios in a sandbox environment before they're implemented.
Forward Platform is a "Day Zero offering that brings operational expenditure reduction, compliance and agility to the network," one voter wrote.
"Forward Platform looks at what your change can affect," said Brian Kirsch, an IT architect and instructor at Milwaukee Area Technical College. "Forward Platform gives you that 'what-if' and, that's huge in today's data center."
Readers were also impressed by the level of visibility Forward Platform provides into the network. It performs continuous verification to ensure the network follows the connectivity and security policies that you've defined. As one voter said, it "finally solves the underlay problem."
View All Photo Stories