Evaluate
Weigh the pros and cons of technologies, products and projects you are considering.
Data center and cloud computing products that make an impact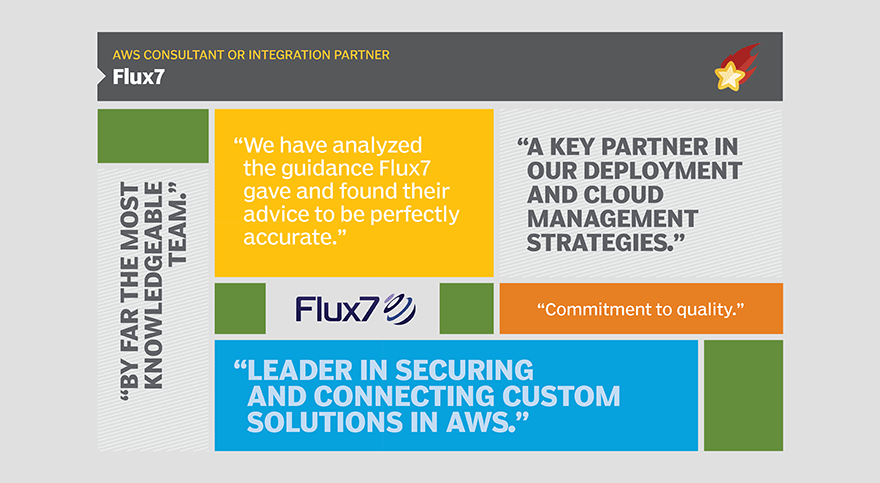 Source:
kimberrywood/iStock
Designer:
Linda Koury/TechTarget
Amazon Web Services is now focused on landing more enterprise customers, a group that might have reservations about a cloud migration and be less inclined to take the do-it-yourself approach. As a result, a growing network of consultants stands at the ready. Amazon approves technology and consulting vendors through its AWS Partner Network, and with four tiers of consulting partner levels.
Each nominee for the Modern Infrastructure Impact Award for Best AWS Consultant or Integration Partner category earned top-tier status as AWS Premier Consulting Partners, but only one could come away with the award. Flux7, a consultancy based in Austin, Texas, won the award for the second straight year, earning the largest share of votes and the loudest praise of any nominee.
One voter lauded the Flux7 team as "experts in establishing cloud-based CI/CD infrastructure pipeline support."
"We found their work compatible with strategies we had already been exercising. The result was a usable reference implementation, which established some fundamental baseline best practices," one voter wrote.
Another voter and client said, "They were by far the most knowledgeable and efficient team I have ever worked with."
Flux7 works with businesses of all sizes, including Rent-A-Center and Personal Peptides. Flux7 offers four AWS competencies, including demonstrative expertise in DevOps and cloud migrations.
That expertise comes at a time of increased weariness about cloud security and data breaches. In 2017, several AWS customers left data in Amazon Simple Storage Service exposed to the internet, making for bad headlines. And one or two consultancies shouldered blame in that equation.
"If you're AWS savvy and know how to configure security correctly, it's not an issue," said David Linthicum, chief cloud strategy officer at Deloitte Consulting and a TechTarget contributor. "If you're not, then you're exposing data just as you would with any internet-connected server that's not configured correctly."
But even if you know how to configure your security settings, consultancies like Flux7 face a number of challenges. Not only do they need to stand out from the competition and carve out a niche, they need to do so while maintaining a comprehensive knowledge of AWS' dizzying array of services.
"AWS is about 70% of the cloud projects out there, and clients are looking for specific skills and certifications," Linthicum said. "AWS is moving fast, and the new features and functions are just part of the game. The good news [is] you only need to keep up with those features and functions that are relevant to your clients. The bad news is features and functions that are relevant are going to be quickly changing, and thus you must keep up."
View All Photo Stories