Evaluate
Weigh the pros and cons of technologies, products and projects you are considering.
Data center and cloud computing products that make an impact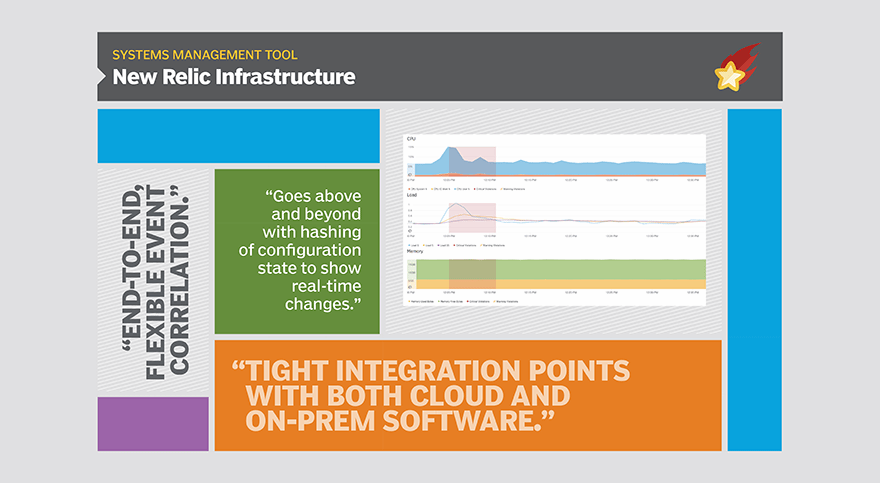 Source:
kimberrywood/iStock
Designer:
Linda Koury/TechTarget
In Modern IT, applications are built to be dynamic, rapidly updated and deployed on diverse hosting infrastructures. This means modern IT operations tools must make sense of change at a breakneck pace.
By correlating change with monitoring data, New Relic Infrastructure took first place in the Best Systems Management Tool category for the 2018 Modern Infrastructure Impact Awards. The selection of a real-time monitoring and analysis system for this category demonstrates that systems management has evolved into a method to improve application health, as DevOps, cloud and containers hit the mainstream in enterprise IT.
New Relic Infrastructure monitors cloud and hybrid IT infrastructure deployments in real time. It is intended as a corollary to New Relic's application performance monitoring (APM) technology. With full-stack monitoring from one vendor, the aim is for users to seamlessly detect where configuration changes affect application health and to decrease the time to troubleshoot issues.
"There [are] quite a lot of APM tools out there that don't go into the infrastructure, and vice versa," said Roy Illsley, principal analyst at Ovum. Covering both for a full-stack monitoring experience has become increasingly important, and New Relic is positioned to do so.
New Relic Infrastructure displays change and performance data in customizable dashboards, sends alerts based on tags and other input, provides full search as an alternative to log-based explorations and enables analysis based on the New Relic Insights data platform and analytics engine. The monitoring product works on any combination of cloud or traditional servers, including containerized deployments. CPU, memory, I/O and processes are tracked with a correlated change history.
"New Relic's use of the Insights module enables IT organizations to understand monitoring data in relation to business performance," Illsley said. That capability, offered by New Relic and others, should be a checkbox for organizations selecting new IT monitoring tools.
Illsley noted that New Relic frequently makes the short list for IT organizations in the market for monitoring, in part because the company's products are built for scale and cloud-based deployment, and in part because the company is associated with modern IT, not legacy. Voters chose New Relic Infrastructure as the top systems management tool because it is familiar, offers hashing of configuration state in real time and provides a single source of monitoring information. But others said it provides less detail and less flexibility than other tools available. To stay at its peak, New Relic will have to keep the future of IT in its product roadmaps, Illsley said.
"When New Relic came into existence, they were looking at tomorrow and beyond," Illsley said. They'll have to keep doing that to grow. Deep learning and AI-infused monitoring is bringing increased intelligence to IT monitoring, troubleshooting and optimization, and New Relic must continue its efforts on contextual and precise data analysis. The IT ops pro's user experience is another concern for IT systems management vendors. "You have to think about how the next generation will interact with data," Illsley said. But, many companies see data collection and processing as the differentiators for a product, and the GUI as little more than an afterthought.
New Relic Infrastructure is available in Essentials and Pro product levels. New Relic Infrastructure Essentials includes core infrastructure monitoring functionality with three months of data retention. The Pro level adds the integration capability with other popular technologies, such as Amazon Web Services' Elastic Load Balancing, CloudFront, DynamoDB and others.
View All Photo Stories