Evaluate
Weigh the pros and cons of technologies, products and projects you are considering.
Data center and cloud computing products that make an impact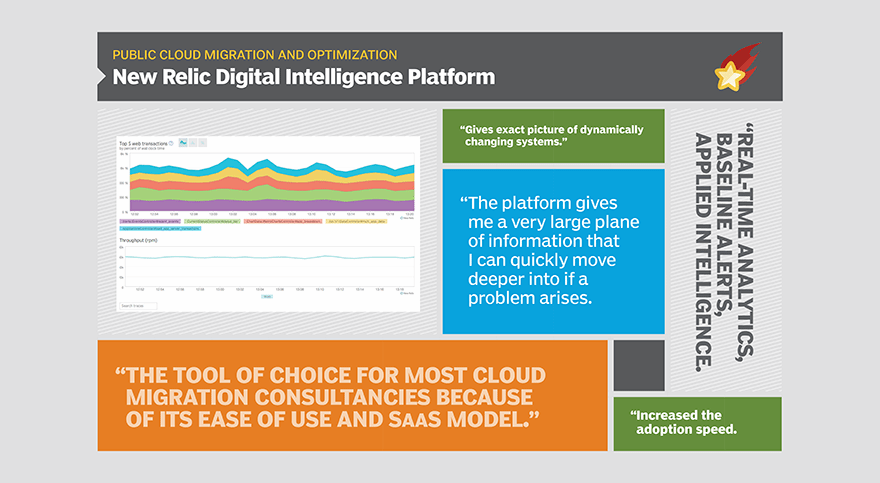 Source:
kimberrywood/iStock
Designer:
Linda Koury/TechTarget
For enterprises accustomed to their private data centers, the shift to the unfamiliar architecture of the public cloud brings a whole new set of challenges. That's why so many third-party tools have sprung up to assist with migrations and optimization. For our readers, there was a clear choice for which company does that best: New Relic.
The New Relic Digital Intelligence Platform is a SaaS-based product that provides real-time analytics and full-stack visibility for workloads running on Amazon Web Services, Microsoft Azure and Pivotal Cloud Foundry. It includes performance metrics, migration assistance, custom plug-ins, dashboards and alerts that can help users navigate these new environments and get the best performance from their applications.
The vast majority of IT workloads remain on premises, but the continuing shift to the cloud means companies need an independent view of their applications' performance, said Federico de Silva Leon, a Gartner analyst. New Relic is among a handful of companies, including AppDynamics, Dynatrace and NetApp, that are doing interesting things in the cloud, he said.
"They're helping clients monitor the performance of applications that are cloud-native but, more importantly, as customers migrate those [on-premises] workloads into the cloud," de Silva Leon said. "So, before, during and after, I think New Relic is doing a great job."
San Francisco-based New Relic was the clear winner among our readers, earning nearly twice as many votes as the next entrant. In casting their votes, readers cited its ability to work across multiple clouds and the user experience, including the dashboard, alerts and analytics tools built into the product.
"The platform gives me a very large plane of information that I can quickly move deeper into if a problem arises," one reader said.
The product isn't without its shortcomings, de Silva Leon said. New Relic is focused on the cloud, so it doesn't have the best support for legacy, on-premises workloads. And a SaaS-only model doesn't meet the needs of the many companies that want an in-house product.
But New Relic does have a simple, powerful tool that is focused on the developer community, which is, after all, the group that is leading the push to the public cloud.
"They're selling to a very tough group of buyers who are developers who like to pay for almost nothing," de Silva Leon said. "So the fact that they are growing is impressive."
View All Photo Stories