buchachon - Fotolia
IT spending shows cloud-focused data center architectures
Corporate IT spending shows companies are revamping data center architectures in preparation for a multi-cloud future.
Companies are dramatically changing the architectures of their private data centers in preparation for eventually running more business applications across multiple cloud providers.
The transformational changes underway include higher network speeds, more server diversity and an increase in software-defined storage, an IHS Markit survey of 151 North American enterprises found. The strategy behind the revamping is to make the data center "a first-class citizen as enterprises build their multi-clouds."
Companies are increasing network speeds to meet an expected rise in data flowing through enterprise data centers. A total of 68% of companies are increasing the capacity of the network fabric while 62% are buying technology to automate the movement of virtual machines and support network virtualization protocols, London-based IHS reported. The three trends are consistent with the building of cloud-based data center architectures.
IHS also found 49% of the survey respondents planned to increase spending on switches and routers -- virtual and physical -- to keep up with traffic flow. The top five Ethernet switch vendors were Cisco, Dell, Hewlett Packard Enterprise, Juniper and Huawei.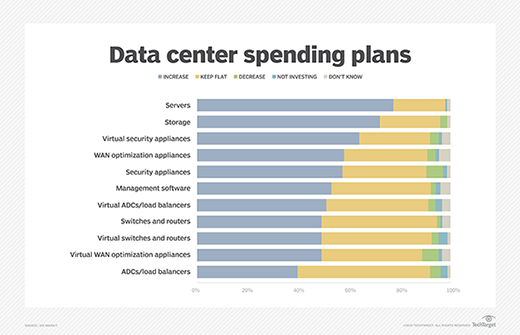 Companies turning to containers in new data center architectures
Companies are also increasing the use of containers to run applications in cloud computing environments. The shift is affecting the use of hypervisors, which are the platforms for running virtual machines in data centers today. IHS expects the number of servers running hypervisors to fall from 37% to 30% by 2019.
"That's a transition away from server virtualization potentially toward software containers," IHS analyst Clifford Grossner said. "End users are looking to use more container-[based] software."
IHS found 77% of companies planned to increase spending on servers with the number of physical devices expected to double on average. Enterprises plan to run hypervisors or containers on 73% of their servers by 2019, up from 70% today.
"We're seeing that progression where more and more servers are multi-tenant -- that is running multiple applications," Grossner said. "We're seeing the density being packed tighter on servers."
High density and multi-tenancy on servers are also attributes of cloud-focused data center architectures.
The rise of the one-socket server
Whenever possible, companies are buying one-socket servers to lower capital expenditures. IHS expects the cheaper hardware to account for 9% of corporate servers by 2019 from 3% today.
"The one-socket server market is offering more powerful options that are able to satisfy the needs of more workloads at a better price point," Grossner said.
Finally, IHS found an upswing in storage spending. Fully, 53% of companies planned to spend more on software-defined storage, 52% on network-attached storage and 42% on solid-state drives.
As enterprises rearchitect their data centers, they are also spending more on public cloud services and infrastructure. IDC expects spending on the latter to reach $160 billion this year, an increase of more than 23% over last year. By 2021, spending will reach $277 billion, representing an annual increase of nearly 22%.