VMware NSX-T gets revamped UI, more automation
The latest iteration of VMware NSX-T includes a revamped UI and other features meant to improve its ability to provide virtual networking in hybrid, private and public clouds.
Since the release of NSX-T in 2016, VMware has been gradually bolstering the virtual networking and security product to make it the company's premier software-based infrastructure for applications running on hybrid and multi-cloud environments. With the latest release, version 2.4, NSX-T gets a simplified user interface and features for automating more networking tasks.
In the newest iteration of NSX-T, VMware has rebuilt its management interface using HTML5, making the product easier to use, according to the vendor. For example, the new console provides direction on completing network configuration tasks faster.
Other improvements in VMware NSX-T 2.4, released this week, include Ansible modules for automating repetitive tasks and a new API model that takes a declarative approach toward automating network configuration. In essence, engineers specify the end state of the network infrastructure using JSON, and NSX-T makes it happen. JSON is a text-based, human-readable data interchange format.
For the cloud networks of enterprises and service providers, VMware has added support of IPv6 and the Data Plane Development Kit, which is a programmable forwarding module and API for virtual switching. The vendor also said it has added enhancements that let users manage "tens of thousands" of unique virtual networks per NSX-T instance.
The future for VMware NSX-T
Since NSX-T's introduction, VMware has dedicated ever-increasing resources to the product, with the intention of convincing users of NSX-V in the data center to migrate to NSX-T for the cloud, said Brad Casemore, an analyst at IDC. VMware customers use NSX-V to provide networking and security to applications running on VMware's vSphere server virtualization platform.
"It makes sense to have a network virtualization platform that can support traditional [data centers], as well as cloud-native application environments, especially within the context of hybrid IT and multi-cloud," Casemore said.
VMware customers using NSX-V today are also running containerized applications in cloud environments that are not attached to VMware products, he said. The vendor wants those customers to add NSX-T for cloud environments.
"VMware recognizes that the larger market, as well as its own customer base, will be running applications across heterogeneous infrastructure and on multiple clouds, with containers and microservices setting the agenda for the next wave of growth," Casemore said.
The market for private and public cloud infrastructure products, which include servers, storage and Ethernet switches, grew 47.2% year over year in the third quarter of 2018 to $16.8 billion, according to IDC. The research firm expects total spending on cloud IT infrastructure in 2018 to reach $65.2 billion, an increase of 37.2% over 2017.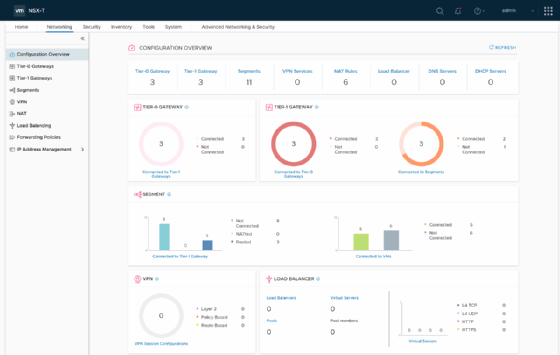 VMware NSX-T's evolution
In general, NSX-T is a software-defined networking product for kernel-based virtual machine, Red Hat Enterprise Linux or Ubuntu. Over the last three years, VMware has been closing the feature gap between NSX-T and NSX-V.
Initially, NSX-T had a distributed firewall, microsegmentation, and logical routing and switching for virtual machines. After the release of 2.1 last year, NSX-T had network virtualization, microsegmentation for containers, and support for Layer 4 and Layer 7 load balancing. VMware had also added integration with the Pivotal Container Service (PKS).
The PKS integration lets NSX-T users configure container-based applications with network virtualization from Layers 2 through 7. Companies do the actual configuration from Pivotal Cloud Foundry, which large enterprises in banking, the auto industry and retail use to manage container-based applications in a cloud platform.
NSX-T works in conjunction with NSX Cloud, which provides a single management console for delivering networking and security to applications running on multiple private and public clouds.
Dig Deeper on Cloud and data center networking