kentoh - Fotolia
Perform a NSX-V to NSX-T migration with Migration Coordinator
Learn how you can migrate from NSX-V, VMware's NSX for vSphere, to NSX-T, the primary version of NSX. An automated move or greenfield migration depends on your current setup.
Customers that run NSX for vSphere, or NSX-V, soon must migrate to NSX-T Data Center, or NSX-T. VMware has stopped development for NSX-V, and the end of general support for NSX-V is Jan. 16, 2022. So, customers should start a migration plan. If you want to take advantage of any new NSX features, you require an upgrade to NSX-T.
You can take one of a few migration paths. One possibility is to migrate from NSX-V to NSX-T with VMware's Migration Coordinator.
You can also install NSX-T alongside NSX-V in a greenfield deployment and migrate your workloads. Whatever path you take, plan carefully, and consult VMware's official NSX-T Data Center Migration Coordinator Guide, even if you don't plan to use the Migration Coordinator.
The Migration Coordinator Guide explains which NSX-V features NSX-T does not support -- such as Open Shortest Path First -- and how to translate your distributed router and edge configurations into tier 0 and tier 1 gateways.
If you use Migration Coordinator, the software migrates the components for you. It contains a pre-check you can run multiple times to ensure you can successfully perform a migration. Still, this is not a straightforward process, especially for a large enterprise deployment, so seek support from a VMware technical representative, such as your technical account manager, if you run into issues.
NSX-T greenfield deployment
If you elect to make a greenfield deployment of NSX-T, you essentially install NSX-T on a new cluster in your data center, configure all required features and networking paths, and when the setup is complete, migrate your VMs over to the new cluster.
This approach comes with a simple fallback plan: Because your old cluster is still there, you can easily migrate workloads back if you encounter trouble. Another advantage of this approach is that you can take more time to set up and test your new NSX-T setup and get familiar with it before you make the leap.
NSX-T introduces many new concepts, especially with regard to routing, so when you can run the old and new versions at the same time, you buy yourself more time to practice using NSX-T and get used to it before you make the switch.
Using Migration Coordinator
If you plan to use Migration Coordinator to migrate to NSX-T, you must start by setting up the NSX-T appliance in your data center. With Migration Coordinator, you don't need a new cluster for NSX-T. Depending on resources, you can run that appliance alongside your NSX-V appliance in your management cluster.
You can find the migration feature in the NSX-T management interface under the System tab. You must manually start the service, so you require access to the NSX Manager command-line interface (CLI) to start the migration-coordinator service, which runs Migration Coordinator.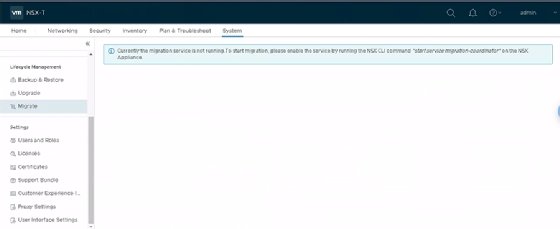 Once the service has started, two migration options should become available. One should say Migrate NSX for vSphere.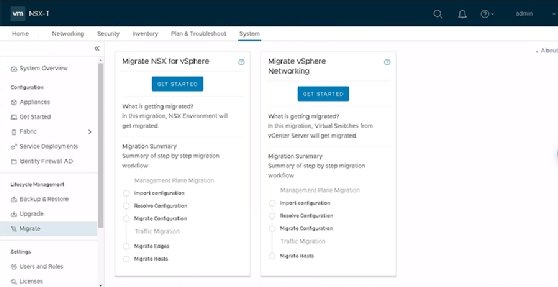 Start the migration by providing the server addresses -- i.e., vCenter and NSX Manager -- and credentials for your existing environment. The system then performs a pre-check on all components that are candidates for migration. There's a fair chance that, the first time you run this process, some components show errors.
If that's the case, the software tells you exactly what's wrong so that you can troubleshoot and try again. You can repeat this process as many times as you need to until all steps are successful.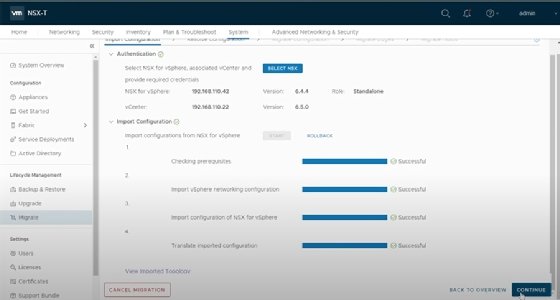 After the pre-checks are complete, you can prepare for the actual migration. You must provide details such as the IP address for edge nodes, which require a TCP port in NSX-T but did not in NSX-V. In this part of the process, you work your way through a series of steps until all of them are successfully processed.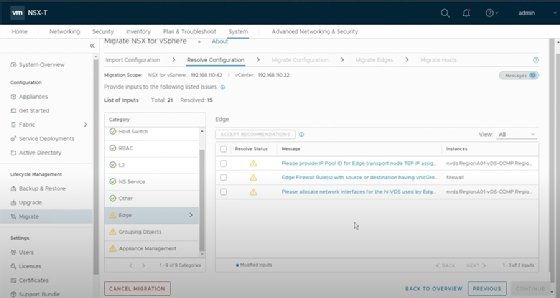 The next step of the process takes anywhere from a half-hour to several hours, depending on how much software you must migrate. Migration Coordinator should update you on the status and progress during the migration.
After the migration, your workloads should automatically run again -- but now they should connect to your segment port groups on NSX-T rather than your logical switch port groups for NSX-V. Your routers should also be replaced by tier 0 or tier 1 gateways, and your edge appliances should show up as NSX-T Edges.
VSphere migration
You can also use Migration Coordinator to migrate networks from vSphere to NSX-T with the Migrate vSphere Networking option. This migration option is not necessarily for customers already running NSX-V but uses the same system as an NSX-V to NSX-T migration.
The vSphere networking migration software takes an inventory of your entire vSphere environment and translates your distributed port groups to segments for NSX-T. This migration configures your ESXi hosts for NSX, creates tunnel endpoints and migrates your workloads onto the new segments.
Just as with the NSX-V to NSX-T migration, you can also complete a vSphere networking migration with a greenfield NSX-T deployment in a new cluster and a migration of your workloads to the new cluster.