VMware remakes NSX for companies using multiple clouds
VMware designed NSX+ to simplify multi-cloud networking for customers. The update will eventually replace NSX and the more advanced NSX-T within VMware Cloud.
VMware introduced a SaaS-based version of its NSX network virtualization software on Tuesday to bring consistency in networking and security across public and private clouds.
VMware launched NSX+ on the opening day of the VMware Explore conference in Las Vegas. The multi-cloud technology will eventually replace NSX and the more advanced NSX-T within VMware Cloud, which comprises Cloud Foundation and various infrastructure services. Cloud Foundation is an integrated software stack bundling NSX with VMware computing (vSphere) and storage (vSAN) in a single platform.
"We are now evolving NSX to NSX+ to simplify our customers' journey to multi-cloud, essentially bringing the cloud-operating model to multi-cloud," said Umesh Mahajan, VMware senior vice president of networking and security, during a pre-show news conference.
VMware introduced NSX+ at Explore last year, under the codename Project Northstar. The SaaS product centralizes security policy creation and enforcement, provides visibility across networks and applications, and delivers automated load balancing and network detection and response.
Today, large enterprises, telecom operators and governments use NSX or NSX-T for Layer 2 to Layer 7 virtual networking. Features include switching, routing, firewalls, load balancing and advanced threat protection.
"Existing NSX customers can easily transition to NSX+ through a software upgrade to our latest 4.0.1.1 release," Mahajan said.
The update would simplify multi-cloud networking by offering consistency in network design, automation and policy management across public cloud providers, Mahajan said. It also provides application visibility through a service called NSX+ Intelligence to identify security gaps.
All NSX+ services are available through its SaaS-based console.
VMware is one of many vendors offering different forms of multi-cloud networking to serve enterprises using cloud providers based on their strengths and a desire to avoid being overdependent on one provider. A 2022 survey of more than 300 senior IT professionals found that 86% used two or more public cloud infrastructure providers in their IT environments, according to TechTarget's Enterprise Strategy Group (ESG).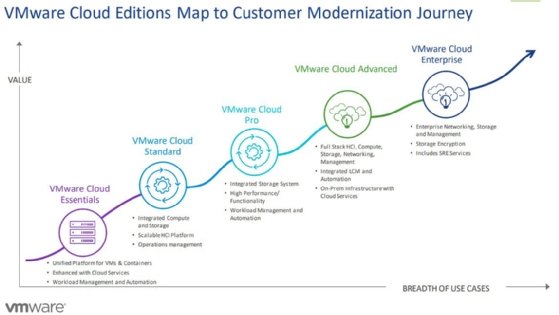 The outlook
VMware's success will depend on whether the benefits it brings to multi-cloud users are similar to what the company did for private data centers through server virtualization, ESG analyst Bob Laliberte said.
"This is all about driving operational efficiency," Laliberte said. "That's the proof point."
Other vendors addressing the multi-cloud market include Cisco; Aruba Networks, an HPE company; and various startups, including Aviatrix, Arrcus and Prosimo.
Aruba, Cisco and VMware focus on helping their massive customer bases, said Shamus McGillicuddy, an analyst at Enterprise Management Associates. At the same time, the startups target companies less tied to the incumbent networking vendors.
"We might see NSX+ pivot to non-VMware Cloud environments in the future, but not right now," McGillicuddy said. "For the time being, the startups have the field to themselves."
During the news briefing, VMware wouldn't discuss its pending $61 billion acquisition by Broadcom, a semiconductor and infrastructure software maker. Both companies focus on providing multi-cloud technology, but what they'll deliver as a combined company is unclear.
However, Broadcom could use its chips to enhance how VMware software runs on the cloud, McGillicuddy said.
"That's pure speculation, but we've seen Broadcom try to build synergies between its silicon products and its software acquisitions in the past," he said.
VMware introduced other enhancements to VMware Cloud, including vSAN Max storage and improvements to VMware Ransomware Recovery. VSAN Max, sold by subscription, delivers petabyte-scale disaggregated storage. Ransomware Recovery provides isolated recovery environments to help companies regain operations from ransomware attacks.
VMware also launched a preview of its ESXi lifecycle management service in vSphere+. Other updates to vSphere include doubling GPU capacity per virtual machine to drive AI and machine learning workloads.
At Explore, VMware launched five editions of VMware Cloud ranging from the basic version, Essentials, to the most advanced Enterprise option. The various choices address different stages of organizations' migration to multi-cloud environments.
In the first half of next year, VMware plans to offer VMware Cloud as a managed service on Equinix data centers. Meanwhile IBM Cloud expects to deliver VMware Cloud as a managed service by the end of the year.
Antone Gonsalves is networking news director for TechTarget Editorial. He has deep and wide experience in tech journalism. Since the mid-1990s, he has worked for UBM's InformationWeek, TechWeb and Computer Reseller News. He has also written for Ziff Davis' PC Week, IDG's CSOonline and IBTMedia's CruxialCIO, and rounded all that out by covering startups for Bloomberg News. He started his journalism career at United Press International, working as a reporter and editor in California, Texas, Kansas and Florida. Have a news tip? Please drop him an email.
Dig Deeper on Cloud and data center networking