VMware Tanzu portfolio reshuffled ahead of Broadcom close
VMware Tanzu incorporates Aria AIOps and FinOps products as a $69 billion acquisition by Broadcom looms, putting the product line's future in question.
As U.K. regulators cleared the way for Broadcom to close its deal to buy VMware this week, IT analysts expressed skepticism about the future of the VMware Tanzu portfolio post-merger.
Broadcom's $69 billion acquisition of VMware is now expected to close Oct. 30, after the U.K.'s competition regulator approved the merger Aug. 21. The deal has raised concerns among VMware users and employees about the future of VMware's product research and development since it was first disclosed in June 2022. Now, as VMware's messaging about the Tanzu product line becomes muddied amid its absorption of products from the VMware Aria portfolio, some industry watchers expressed doubts about its long-term future.
"If I were a betting man in Vegas, Tanzu would be on the chopping block after the acquisition closes with Broadcom in October," said Rob Strechay, lead analyst at TheCube, an enterprise tech media company. "It would make more sense to partner in this space."
For example, VMware also revealed a new partnership with IBM this week that includes IBM Cloud for VMware as a Service, a hybrid cloud managed service offering built on VMware's vCloud Director, part of VMware's vCloud Foundation infrastructure portfolio. VMware Tanzu is not mentioned in that partnership press release.
A significant proportion of Red Hat's OpenShift is deployed on vSphere, according to Strechay. "Parts of Tanzu might get subsumed by [VMware] NSX [software-defined networking products] and vCloud Foundation."
Muddy messaging accompanies Tanzu update
This week, VMware moved AIOps, FinOps and IT automation products from its Aria product line into Tanzu, rebranding four Aria products as Tanzu Intelligence Services and Tanzu Hub, now positioned alongside the existing Tanzu Application Platform (TAP).
TAP was updated this week with the addition of Tanzu Application Engine, a fresh layer of abstraction released to private beta this week that platform engineers can use to provision infrastructure based on developers' intent-based requests. Tanzu Application Engine uses Tanzu Application Spaces to field developer self-service requests for application deployments while platform and security engineers adjust the underlying infrastructure behind the scenes.
"Other goals include the ability for platform engineers to back up and restore Tanzu Application Spaces and perform Space rescheduling for non-disruptive cluster upgrades," according to a VMware blog post.
Tanzu Intelligence Services includes VMware Tanzu CloudHealth, formerly Aria Cost powered by CloudHealth for FinOps; Aria Guardrails policy-based management as Tanzu Guardrails; Aria Migration for cloud migration automation as Tanzu Migration, and an in-development Aria business intelligence product, Aria Business Insights, renamed Tanzu Insights. Tanzu Hub is a rebranding of the existing Aria Hub and Graph AIOps product. Tanzu Intelligence Services also includes a tech preview of a generative AI chatbot, dubbed VMware Tanzu with Intelligent Assist as of this week.
"I do think some of the reorganization and renaming might be confusing for customers/potential customers, and in some ways distracts from the more innovative announcements," such as the new Tanzu Application Engine, said Katie Norton, an analyst at IDC. "But I think the end goal [of] working toward pulling together currently disparate products into a single platform to support multi-cloud application development and delivery will resonate."
It seems like a collection of different services that they're trying to pull together, but they've had a lot of time to do that and it's still confusing.

Tim CrawfordCIO strategic advisor, AVOA
Other industry experts aren't so sure. VMware included a reference to a Tanzu customer, health insurance provider Discovery Ltd., in a press release this week, but in general, the target buyer and use cases for Tanzu products have not been as clearly defined as they should be, said Tim Crawford, CIO strategic advisor at AVOA, a research and advisory services firm in Rolling Hills Estates, Calif. This strategic picture has only grown murkier with the addition of Aria products into the Tanzu portfolio, according to Crawford.
"Tanzu is really confusing in its own right, as to who this is targeting, and what is the problem they're trying to solve," Crawford said. "It seems like a collection of different services that they're trying to pull together, but they've had a lot of time to do that and it's still confusing."
In an analyst briefing last week, VMware focused on Tanzu feature updates, but not how customers are using Tanzu products currently, according to multiple analysts who attended, including Crawford. How the former Aria products will be licensed and packaged was especially unclear, he said.
"Even when they did kind of get into the licensing, one of the things they did mention is that they're not pushing bundles, which then makes it even more confusing, because you wouldn't use just one feature of Tanzu," Crawford said.
Another analyst who attended the briefing said he'd like to see more clarity about which security features are included in the basic license for TAP. For example, VMware added a new developer portal with software supply chain security features to TAP this week, but whether it's included with the base TAP license was unclear, said Larry Carvalho, an independent analyst at RobustCloud.
"My feeling is, customers need to look at who is delivering a product that will help overcome all security issues, and reduce risk overall from start to finish," Carvalho said. "That's where the differentiation lies, given all the issues that we are having with hacks -- the differentiator [in DevOps platforms] will be security, and I still don't see VMware reaching that that stage."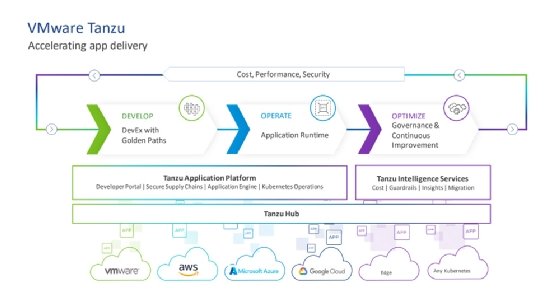 Enterprises hold back awaiting Broadcom close
VMware did not comment on how its new Tanzu products, including security features, will be licensed as of press time. It also did not comment on how it will reconcile another new product rolled out this week, NSX+, a multi-cloud networking service, with its Tanzu Service Mesh, and the open source Antrea project it has co-developed under the brand VMware Container Networking.
For now, enterprises are staying on the sidelines with purchasing decisions until they see how the Broadcom merger affects VMware Tanzu, said Gary Chen, an analyst at IDC.
"The Broadcom acquisition is a big factor for Tanzu, which in some ways negates any competitive advancements they make with the product," Chen said. "Many customers are holding new investments with VMware, which disproportionally affects Tanzu as it's newer, until they see how the Broadcom deal works out."
VMware also did not comment on this topic as of press time.
Beth Pariseau, senior news writer at TechTarget, is an award-winning veteran of IT journalism. She can be reached at [email protected] or on Twitter @PariseauTT.