VMware unveils Aria for multi-cloud management
The Aria product portfolio includes a software console powered by a central data store to deliver a map of the applications running in a multi-cloud environment.
SAN FRANCISCO -- VMware has attacked the complexity of managing a multi-cloud architecture by consolidating its products under a single brand and centralizing the data store that feeds them.
On Tuesday, VMware launched its new Aria management portfolio at VMware Explore 2022, formerly VMworld, to address enterprise IT's increasing reliance on multiple clouds.
Nearly 60% of enterprises polled by Enterprise Strategy Group expected hybrid and public clouds to account for most of their spending on application infrastructure over the next 12 to 18 months.
The face of the new Aria portfolio is the Aria Hub central console, a software platform that provides controls and a map of the applications running on a multi-cloud environment.
Powering the Hub is Aria Graph, a GraphQL-based data store introduced in a technical preview called Project Ensemble last year. Graph captures critical data, including configurations, dependencies, performance metrics and security policies.
Along with the new Aria technology, VMware has added current products, including CloudHealth, Tanzu Observability and pieces of the vRealize Suite.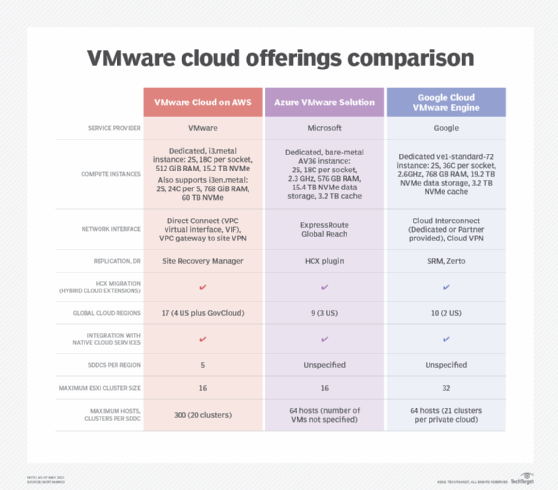 Aria Graph drives the portfolio
VMware did not provide much technical data when it rolled out Aria during a media briefing last week. But in general, the portfolio's core technology, Aria Graph, collects and organizes data on millions of objects using an event-based approach to recording changes.
"It's focused on relationships between entities and the data," said Shamus McGillicuddy, an analyst at Enterprise Management Associates. "It's more about understanding the topology and how things fit together."
Graph has a public API that lets developers use the query language GraphQL to find critical information. The API can also integrate the Graph data store with third-party observability and application performance management products.
Other cloud management vendors, such as Riverbed Technology and Micro Focus, are also building central repositories for their products, McGillicuddy said. However, VMware's Graph appears more advanced.
"It looks like VMware is moving relatively quickly," McGillicuddy said. "They introduced the idea a year ago, and they're already rolling it out."
Other new Aria products include Aria Guardrails, Aria Migration and Aria Business Insights.
Aria Guardrails enforces security, performance and cost policies across public clouds. Tasks that Guardrails play a part in include setting up cloud accounts and managing authentication and access permissions. VMware plans to release Guardrails by the end of September.
Migration and Business Insights will be available in public preview until VMware releases the Aria-branded portfolio early next year.
Migration helps IT staff understand the application topology to help determine the cost of running the software in the public cloud. Determining price is critical to deciding whether to run an application in a public cloud or private data center.
Business Insights applies machine learning to metrics and data from events, logs, and traces to synthesize and correlate the information with application data to provide "appropriate business insights," said Purnima Padmanabhan, general manager of VMware's cloud management products. She did not provide further details.
Existing VMware products heading for Aria include vRealize Operations Cloud, which VMware will rename Aria Operations. Operations Cloud manages hybrid clouds built on VMware technology. The system monitors and troubleshoots applications and infrastructure and manages capacity and cost.
VMware vRealize Automation, which provides governance policies, network security, IT service delivery, infrastructure-as-a-service, and billing, will be renamed Aria Automation.
Tanzu Observability will become Aria Operations for Applications. The family of products and services deliver observability for Kubernetes-based cloud-native applications.
VMware's CloudHealth software will also fall under Aria. The product tracks and optimizes cloud costs by clearly identifying public cloud resources used by developers. It is also helpful in monitoring cloud spending by various IT teams and departments and delivers alerts for spending anomalies or possible budget overruns.
Enterprise Strategy Group is a division of TechTarget
Antone Gonsalves is the news director TechTarget Editorial. He has deep and wide experience in tech journalism. Since the mid-1990s, he has worked for UBM's InformationWeek, TechWeb and Computer Reseller News. He has also written for Ziff Davis' PC Week, IDG's CSOonline and IBTMedia's CruxialCIO, and rounded all of that out by covering startups for Bloomberg News. He started his journalism career at United Press International, working as a reporter and editor in California, Texas, Kansas and Florida.
Dig Deeper on Cloud infrastructure design and management