Rawpixel - Fotolia
VMware partners craft managed services for AWS offering
VMware Cloud on AWS: Partners are stepping up to provide managed services around the hybrid cloud offering that combines VMware's virtualization products and the AWS public cloud.
VMware Cloud on AWS is catching on among VMware partners and AWS specialists.
Indeed, several IT service providers migrating customers' on-premises VMware-based workloads to the public cloud find that VMware Cloud on AWS can enhance their ability to drive a cost-effective, easy to install, on-demand and scalable hybrid cloud architecture. Introduced at VMworld 2017, the VMware Cloud on AWS integrates VMware's compute, storage and network virtualization products -- vSphere, vSAN and NSX -- along with vCenter Server management and AWS' cloud infrastructure, according to VMware.
VMware's union with AWS promises to help managed service providers (MSPs) and VMware partners build new services around VMware Cloud on AWS, creatively reshaping their own cloud offerings.
"There are a number of things that makes VMware Cloud on AWS very attractive for MSPs and other IT service providers," said John Drake, vice president of strategic alliances at Faction Inc., a multi-cloud platform-as-a-service provider based in Denver.
Faction, a VMware partner since 2009, has extended support for its professional and managed services capabilities and its cloud-connected products to VMware Cloud on AWS.
Drake said the infrastructure footprint AWS in the U.S. and other regions worldwide allows Faction to provide large-scale data center services without purchasing IT assets, which allows Faction to evolve its business model.
"Where we used to run the complete private cloud stack compute, network, and storage at Faction's managed facilities, we can now also deploy and manage the VMware Cloud on AWS infrastructure-as-a-service capabilities, which do not require any hosting or data center operations on the Faction side," Drake said.
There are a number things that makes VMware Cloud on AWS very attractive for MSPs and other IT service providers.

John Drakevice president strategic alliances, Faction Inc.
He said one the biggest advantages utilizing VMware Cloud on AWS is being able to deliver services in an asset-light fashion. As a result, less time is needed to onboard customers.
"On the deployment side, we are not contending with hardware vendors to supply and install servers and devices in data centers, meaning we can spin up in a new environment in VMware Cloud on AWS in about 2 hours, reducing the amount working capital we need," Drake said. "This allows us to be much more responsive to customers' demands. To be able to spin up their environment in a very short period time and then provide scale-out capabilities when onboarding additional folks in less than 10 minutes is amazing."
Furthermore, customers are already familiar with VMware technology and management tools, employing on-site personnel who have worked on the VMware platform for a number years. Customers' IT staff can quickly redeploy this tooling and expertise, speeding up their time to market.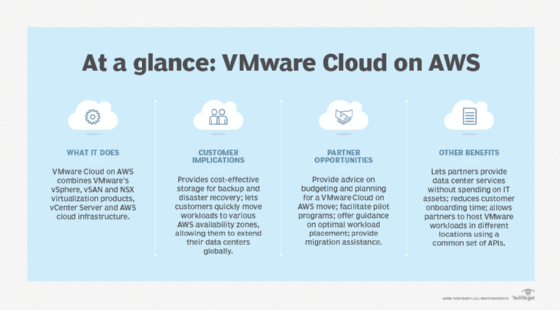 Other VMware partners on board
Other service providers have launched offerings around VMware Cloud on AWS in recent months, reflecting a trend that is gaining momentum.
Among those is 2nd Watch, an MSP in Seattle that provides cloud management services. The company recently announced a service that helps VMware customers understand, budget and for a move to VMware Cloud on AWS.
Part the reason 2nd Watch believes its four-week program will be successful is that many companies want to optimize their VMware environments and need a pilot program that demonstrates how those environments will run on VMware Cloud on AWS. Furthermore, companies need the scalability, agility and flexibility that VMware Cloud on AWS offers, said Jeff Aden, executive vice president and co-founder of 2nd Watch.
"VMware is in virtually all enterprises today. Companies that want to move to the cloud and are interested in implementing VMware Cloud on AWS want to either quickly scale with some computing power potentially used in storage for backup or archiving, or they want to extend data centers for performance reasons into other regions," Aden said.
Apps Associates LLC, an IT professional services firm focusing on cloud, analytics and integration, also launched a managed services offering for VMware Cloud on AWS. To support its plans, the company said it has achieved the VMware Cloud on AWS Solution Competency.
In addition, CloudJumper, a Garner, N.C., workspace as a service (WaaS) provider, recently made its Cloud Workspace Management Suite (CWMS) software available to customers of VMware Cloud on AWS. CWMS aims to help companies manage business applications on desktop-as-a-service and WaaS platforms, as well as in virtual desktop infrastructure environments.
Faction's VMware partnership evolves
VMware Cloud on AWS takes Faction's partnership with VMware one step further, a collaboration that now includes co-developed offerings.
For example, VMware Cloud on AWS includes built-in hyper-converged infrastructure that combines compute and storage. But one of the drawbacks of the hyper-converged model is limited storage and compute capabilities that often aren't enough for enterprise customers.
"Where we have parlayed our business model into a partnership with VMware is the challenges their hyper-converged infrastructure," Drake said. "We've worked with VMware's software development team to actually integrate our traditional business model, which is running large-scale enterprise storage for clients, into the VMware Cloud business model to extend the storage footprint that runs behind VMware Cloud. This allows customers to no longer be constrained with the hyper-converged element of VMware Cloud," Drake said.
He added that the new hyper-converged capabilities help customers take advantage of all the asset-light benefits from a compute standpoint, while scaling the storage elements using Faction behind the VMware Cloud environment to balance the cost-benefit equation.
"It makes disaster recovery and other storage-intensive workloads look a lot more advantageous from a cost perspective and allows us to, at the customer's request, tie in additional services seamlessly into the VMware MSP program. These are the elements that come together in our partnership with VMware Cloud on AWS," Drake said.
He cited the ability to revisit Faction's existing client pipeline to offer a more compelling disaster recovery offering.
"We were not able to address those client's needs before," Drake said. "We are now able to help them and it's a really refreshing position to be in, just being able to harness the horse power of AWS and VMware Cloud on the back end."
The multi-cloud trend
As MSPs and cloud providers build businesses around VMware Cloud on AWS, the cloud computing market continues to see unprecedented growth. The worldwide public cloud services market is projected to grow 17.3% in 2019 to $206.2 billion, up from $175.8 billion in 2018, according to market estimates from Gartner Inc.
A report from Market Research Future estimates the global hybrid cloud market will grow to $140 billion at a compound annual growth rate of 24% through 2023.
The broader context of this development is the nonhomogeneous nature of cloud, said Charles Weaver, CEO at MSPAlliance.
"While the larger public cloud vendors would have us believe their solution is the only one needed, that is only true for less demanding clients -- less demanding in terms of privacy, security, regulation and transparency," Weaver said.
Weaver added that everyone else, including enterprise customers, as well as midmarket and portions of the SMB sector, need a more flexible approach to cloud, which invariably involves having different cloud environments for different purposes and different data.
"This is why you see everyone from Rackspace, IBM, and others, pursuing this approach. Multi-cloud, or hybrid cloud, is not unique; it is the norm and it is the future of cloud computing and managed services," Weaver added.
The opportunities to service customers with multi-cloud platforms that need help with standard workflows, consistent APIs and easier access to native services across clouds are some of the features of VMware Cloud on AWS that appeal to Rackspace, a managed hosting company based in San Antonio.
The company launched in November its Rackspace Managed VMware Cloud on AWS, a service it said will create new approaches for customers to deploy workloads across public and private clouds in different locations, with a single, industry standard set of tools and processes.
Peter FitzGibbon, vice president and general manager of Rackspace's managed services for VMware, said one of the most challenging issues with a multi-cloud strategy is catering to the different tools, processes and APIs offered by the different clouds. He said Rackspace lets customers host multiple VMware workloads at different locations -- the customers' data centers, Rackspace's data center and VMware Cloud on AWS -- using a common set of APIs and workflow.
He added that Rackspace will provide guidance on the optimal location for each workload based on the requirements of that workload.
"We will certainly have customers where Rackspace only manages workloads on a single destination, but I expect to have multiple customers running private cloud in Rackspace's data centers and in the customers' data centers, while leveraging Rackspace Managed VMware Cloud on AWS for workloads that would benefit from accessing native AWS services, or need to be deployed in a specific geographic region," FitzGibbon said.
VMware Cloud on AWS partners see growth
FitzGibbon added that the demand for VMware Cloud on AWS increased over the past six months as the product has matured and VMware has extended support globally.
"We have seen significant interest from our existing customers, including both VMware and AWS customers," FitzGibbon said.
Drake said Faction is seeing a high level of customer demand and is anticipating more workloads from Windows clients. As customers become comfortable with VMware Cloud on AWS the expectation is that Faction will sign up more referenceable customers.
Meanwhile, the current group of VMware Cloud on AWS partners may have an edge on the broader population of VMware partners.
2nd Watch's Aden said many VMware partners aren't ready to help their customers adopt VMware Cloud on AWS.
"VMware partners or traditional technology partners are not implementing at scale on AWS, so they may not have the skill set or the employee base to be able to help accelerate this type of product or offering," Aden said.