Symphony Ventures acquisition: Deal underscores RPA growth
Sykes Enterprises' acquisition of Symphony Ventures, a robotic process automation consulting firm, sheds light on the meteoric rise of the RPA market; other news from the week.
Sykes Enterprises' pending acquisition of Symphony Ventures, a robotic process automation consulting firm, underscores the growth of the RPA market and could spark additional deals.
Sykes, a business process outsourcing firm based in Tampa, Fla., operates call centers and contact centers for clients across a range of industries.
The Symphony Ventures acquisition, expected to close by Nov. 1, will provide Sykes with consulting, implementation and managed services resources in the intelligent automation space.
In addition, Symphony Ventures contributes robotic process automation (RPA) software partnerships with vendors such as Blue Prism and UiPath.
Ian Barkin, co-founder and chief strategy officer at Symphony Ventures, based in London, said the transaction fits Sykes' broader vision of creating an intelligent customer experience to better serve its clients' customers.
"They knew that intelligent automation was going to be a very strategic component of their overall offering and vision," Barkin said.
Barkin said Sykes had been doing work in RPA, but recognized the need to supplement the company's expertise and send "a strong signal to their existing customers in the market that they were serious about focusing on this."
Symphony Ventures acquisition: Terms of the deal
Sykes said it has agreed to purchase Symphony Ventures for about 52 million euros, or $69 million based on an exchange rate of 1 euro to $1.32. The purchase price is about two times the consulting company's projected 2019 revenue, according to Sykes.
"The Symphony acquisition is definitely a sign that the RPA market continues to heat up," said Ron Schmelzer, managing partner and principal analyst at Cognilytica, a market research firm in Washington, D.C., specializing in AI, machine learning and cognitive technologies.
Schmelzer said Symphony Ventures' sales price and revenue history sheds light on the growth of the RPA market. Symphony Ventures generated about $1.3 million in its first 14 months of operations -- a period ended Dec. 31, 2015. The top line climbed to about $5 million in 2016 and eclipsed the $10 million mark in 2017, according to financial statements filed with United Kingdom government. The revenue multiple Sykes plans to pay suggests Symphony Ventures expected about $35 million in 2019.
"That's a big jump from 2017," Schmelzer said.
Pure-play investment
Barkin said the Symphony Ventures acquisition is also notable as an investment in a pure-play RPA service provider. He said most investments in RPA have been in software, with the exception of deals such as Accenture's 2017 purchase of Genfour, an intelligent automation service provider based in the United Kingdom.
Barkin said Symphony Ventures, at some 200 employees, is the largest of the pure-play RPA service firms, noting that others are less than half that size.
At that level of employment, "there's no reason to doubt that they've built the largest consultancy focused as a pure play on RPA and [intelligent automation], Schmelzer said.
The Symphony acquisition is definitely a sign that the RPA market continues to heat up.

Ron Schmelzermanaging partner and principal analyst at Cognilytica
Schmelzer said Symphony Ventures' services competitors may have more total staff, but noted those companies usually offer RPA as a division of their organizations, as opposed to RPA as the sole focus. He said it's hard to tell whether RPA divisions within service providers like Capgemini, Deloitte, PwC, Infosys, Mphasis and Wipro are larger than Symphony Ventures.
That said, the Symphony Ventures acquisition could prompt such companies to purchase RPA service providers.
"This acquisition could definitely heat up the market, and firms like qBotica might be more attractive to some of the larger firms that are looking to build out their divisions," Schmelzer said.
Based in Phoenix, qBotica is an RPA and AI services company.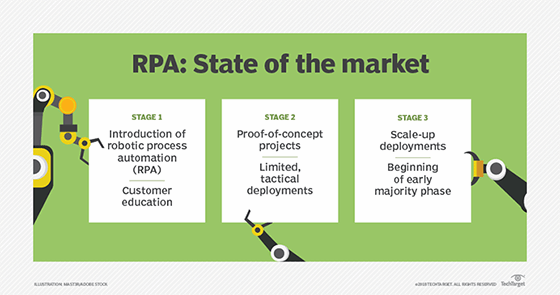 Evergreen Services Group: Integritek buys Acutech
In other acquisition news, Integritek, an Evergreen Services Group platform company, has acquired Acutech Network Services Inc., a managed service provider (MSP) in Orange, Calif.
Evergreen, a holding company pursing MSP acquisitions, invested in Integritek, based in Austin, Texas, in August 2018. That deal brought the investor's MSP revenue to more than $40 million. Evergreen's approach, for the majority of its MSP transactions, is to pay in cash upfront, rather than structure deals around earn-outs or seller notes.
Integritek's Acutech purchase is the company's first acquisition since the Integritek investment and its fifth purchase within the last 12 months. Integritek is one of five platform companies in Evergreen's portfolio. The others are Executech, an MSP in South Jordan, Utah; Wolf Consulting and Jenlor, MSPs in Monroeville, Pa., and Bridgeville, Pa., respectively; and Interlaced LLC, an MSP in San Diego.
Ramsey Sahyoun, head of M&A at Evergreen, said he anticipates announcing as many as seven additional acquisitions by the end of 2018. The company purchases platform companies, generally MSPs with more than $2 million in earnings before interest, taxes, depreciation and amortization, and also invests in add-on acquisitions that are folded in the platform companies.
Sahyoun said Evergreen and its MSPs are working out ways to collaborate across the group of companies. For example, Interlaced might be able to offer its Apple-related services to other Evergreen company customers. Similarly, Integritek could market its voice-over-IP business phone systems across a broader customer base.
DRaaS update: Rackspace, Faction partner with vendors
Cloud services providers Rackspace and Faction both unveiled vendor alliances in the disaster-recovery-as-a-service (DRaaS) market.
Rackspace, based in San Antonio, said it is using DR software from Zerto in its DRaaS offering, which will include managed services for DR planning, testing and management. Rackspace will also provide customer recovery service-level agreements around the Rackspace DRaaS for Zerto offering, which spans on-premises, colocation and multi-cloud environments.
Henry Tran, vice president and general manager of managed hosting and colocation at Rackspace, said the new offering extends Rackspace's DRaaS offerings to include "a wider spectrum of customer workloads running on premises and in colocation."
Previous Rackspace DR offerings focused on Rackspace data centers and public clouds, as opposed to customer data centers.
Meanwhile, Faction, a multi-cloud platform-as-a-service company, launched a partnership with Cohesity, a vendor of hyper-converged secondary storage. Faction, as a Cohesity service provider, offers a suite of data protection services, including DRaaS and data backup as a service.
IBM updates Storwize strategy
IBM has ramped up its partner focus in the storage market.
The company this week introduced a new Storwize V7000 system with integrated non-volatile memory express (NVMe) and said the Storwize product line will now be sold exclusively through IBM business partners.
According to a blog post by Kelly Robinson, vice president of global storage channel sales at IBM, the announcement, made in conjunction with new storage product releases and updates, links to new investments IBM is making in its storage channel. Among those investments are plans to launch preconfigured offerings and add staff to support storage channel sales.
In addition to the V7000 system with NVMe, IBM revealed preconfigured versions of Storwize V5010. Robinson said Storwize V5010 packages include all-flash, entry-level, flash-and-disk storage combination, and capacity-based offerings.
Other news
Datto revealed its CEO, Austin McChord, will resign from his role at the company. McChord, Datto's founder, will remain active as a member on the board of directors and a company shareholder. Datto's president and COO, Tim Weller, will oversee the company's strategic and daily operations during the executive search for a new CEO, Datto said.
Data analytics vendor Tableau Software said it will expand its global partner program, adding new training and certification programs and support for bundled offerings. Tableau also unveiled a developer program and plans to bolster its business intelligence and data visualization platform with new features in 2019.
IT service management vendor SolarWinds MSP introduced a network device monitoring feature to its remote monitoring and management The feature monitors customers' switches, printers, routers, firewalls, servers and workstations from a single pane of glass, SolarWinds MSP said.
ConnectWise's professional services automation software now integrates with Datagate, a SaaS-based telecommunications billing provider, and Vircom's modusCloud cloud email security and compliance product. The Datagate integration lets MSPs use Datagate's billing technology within the ConnectWise Manage environment, Datagate said. ModusCloud, meanwhile, integrates with ConnectWise Manage to delivers user counts and billing information, according to Vircom.
Mission, a managed services and consulting company, is partnering with CloudCheckr, a cloud management platform. Mission provides services around such cloud platforms as Amazon Web Services and Microsoft Azure.
2nd Watch, a cloud consulting partner, launched a migration service for VMware Cloud on AWS. The offering, a four-week engagement, includes an analysis of the customer's current VMware environment, an outline of a plan for running the customer's infrastructure on VMware Cloud on AWS and an implementation pilot.
Distributor Ingram Micro took the wraps off a new Integrated Solutions team and facility. The Integrated Solutions group aims to support partners in customized computing products and advanced integration. The Integrated Solutions Center, located at the distributor's Mira Loma, Calif., location, provides system design, compatibility and regulatory engineering, among other services, Ingram Micro said.
Networking vendor Extreme Networks debuted the Extreme Dojo training program for its global partners. The program offers free online training, covering topics such as Extreme's business model, portfolio, vertical positioning and solutions-selling strategies, the vendor said.
ESentire, a provider of managed detection and response (MDR), has purchased Versive, a company focused on cybersecurity and AI. ESentire will extend Versive's technology to select partners, enabling "solution providers to integrate AI capabilities on premises and become more involved in tuning, setting up and implementing the MDR environment," an eSentire spokesperson said in an email. The spokesperson added that Versive's ability to work with large data sets will help eSentire and its partners enter the upper enterprise segment.
Imaging technology vendor Lexmark launched cloud services for remotely monitoring and managing printers. Lexmark Cloud Services provides partners with cloud print and fleet management, as well as document management and printer analytics, Lexmark said.
Xerox rolled out the Xerox Express program to make it easier for agents, document technology partners and solution providers to sell printers and multifunction printers in the small and medium-sized business The Xerox Express portfolio includes nine VersaLink, WorkCentre and Phaser products, the vendor said.
Sungard Availability Services said it has been designated an AWS MSP Partner.
Market Share is a news roundup published every Friday.
Dig Deeper on Emerging technologies for MSPs