spainter_vfx - stock.adobe.com
Tableau new features include NLP, AI, machine learning
Tableau unveiled AI and NLP tools intended to improve users' experience with its BI platform by adding smart capabilities to Tableau 2019, now out in a public beta.
NEW ORLEANS -- Tableau Software will add a range of smart capabilities to its BI and data visualization platform...
Continue Reading This Article
Enjoy this article as well as all of our content, including E-Guides, news, tips and more.
in Tableau 2019, led by natural language processing for a new Ask Data query tool.
Unveiled at Tableau Conference 2018, the Tableau new features include the ability to find insights by entering questions in Ask Data in text form, more data modeling automation and Tableau Prep Conductor, an add-on product that gives users centralized administration and scheduling options for managing data preparation workflows.
Many of the features are available now in the public beta version of Tableau 2019.1, which was also unveiled at the conference.
The natural language processing (NLP) capabilities had been among the more anticipated Tableau new features. Many BI and enterprise software vendors have been looking to add NLP to their products, and it's a technology that Tableau itself hinted at earlier this year as part of a broader move to embed augmented analytics features.
Essentially, Tableau users can type questions about their data into a search bar using plain language -- even with some slang -- and receive the answer.
However, David Menninger, an analyst at Ventana Research in Bend, Ore., who attended the conference, noted the tool could benefit from further development, which he said Tableau executives have indicated will happen.
While the current capabilities will make some querying easier, I expect users will find the limitations frustrating.

David Menningeranalyst, Ventana Research
"While the current capabilities will make some querying easier, I expect users will find the limitations frustrating," Menninger said.
Menninger's sentiments were at least partially shared by Tableau CEO Adam Selipsky. In an interview after his conference keynote, Selipsky said Ask Data is still a work in progress.
The module represents "Day One for natural language processing" for Tableau, Selipsky said.
Developed by Tableau with the help of technology from ClearGraph, an NLP software vendor that Tableau acquired in mid-2017, Ask Data is currently available in the public beta of Tableau 2019.1. Feedback from that beta, Selipsky noted, will likely be used as part of the Tableau product roadmap to further develop the tool.
Still, Selipsky said, Ask Data is able to pick up on user intent, giving users relevant answers to their questions. When asked to provide details, such as the percentage of times it correctly answered user questions, Selipsky said, "It's too early to tell."
Also added in the 2019.1 beta is the yet-to-be-released Tableau Prep Conductor, which aims to add more visibility into data health and cleanliness by monitoring data preparation flows created with Tableau Prep, a self-service data prep tool released last spring. Tableau Prep Conductor also is expected to provide tools to automate data prep flows.
Among the Tableau new features in the add-on module are enhanced scheduling, sharing and administrative options.
Tableau Prep Conductor, which can be used with Tableau Online and Tableau Server, is a separately licensed product, unlike the NLP Tableau new features, which will be integrated.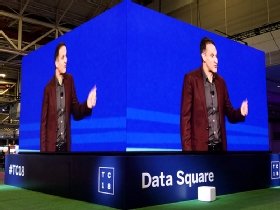 Selipsky declined to give a price point for Tableau Prep Conductor, saying pricing will likely be announced next year as the tool leaves the beta stage.
While not available in the new beta release, a number of automated data modeling capabilities are expected to come to Tableau products sometime in 2019.
Tableau intends for the tools' machine learning and AI capabilities to help provide users with a simpler way of creating new relationships in their data with a drag-and-drop experience. Also, Tableau plans to offer the capability for multiple levels of detail in a single source, which is meant to make it simpler for users to interact with multidimensional data.
Although the Tableau new features don't appear unique to the self-service BI vendor, Menninger said, Tableau still is "in the group leading the pack."
"Users don't really know enough about machine learning to ask for these features, and they may not even know how they are using them, but they can streamline analytics and reduce errors," he added. "Soon, they will come to expect these features in all aspects of data and analytics."
Again, that appeared to be Selipsky's thinking, too. Ultimately, the Tableau new features -- particularly the NLP technologies -- are designed to give users a simpler experience, Selipsky said, by automating chunks of work that otherwise would have had to have been done by an experienced data scientist.
One analyst said the Tableau new features should, indeed, better Tableau users' experience.
"Automated insights and natural language queries that Tableau will unveil will make it easier for business users to find relevant insights and converse with their data," said Wayne Eckerson, founder and principal consultant at Eckerson Group.
Meanwhile, the Tableau CEO also acknowledged that automating BI processes isn't necessarily new. Many vendors are doing or attempting to do similar things. But automation, and making self-service analytics platforms continually easier to use, is the future, Selipsky said.
"Analytics, and analyzing data, is going to become ubiquitous," he said. "You can argue whether it will or won't be Tableau that will lead to that space. But if it's not us, I'm highly confident it will be somebody else, because the opportunity is too significant and the need is too great."
However, Eckerson said it could well be Tableau to lead the AI space.
"They are not the first BI vendor to offer these features, but given its market share, Tableau will popularize the use of AI for business intelligence," he said.
Tableau also unveiled a new partner developer program and said it would earmark $100 million in software, training and funding through its foundation over the next seven years to projects that require data to help solve social problems. Tableau Conference 2018 is being held Oct. 23 to 25 at the Ernest N. Morial Convention Center.