cutimage - Fotolia
Tableau extensions get more dev tools for integrations
With the Tableau Developer Program, developers will be able to use a Tableau Online development sandbox and sample codes, among other free resources.
NEW ORLEANS -- In a move to boost customizability and garner more third-party integrations, Tableau Software has launched a new Tableau Developer Program that builds off the Tableau Extensions API.
The program, introduced at Tableau Conference 2018, uses the Tableau Extensions API feature introduced in a software update earlier this year, which opened the self-service platform to enable users and developers to create and share dashboard extensions for a range of BI applications.
Tableau stresses platform
With the Tableau Developer Program, developers now can use free resources. These include the Tableau Online development sandbox and sample code that can be used to create new Tableau extensions, as well as more easily build data science platform integrations, custom data connectors and automated workflows.
[Company executives are] stressing Tableau as a platform. Tableau has lagged in this area, and the developer program is one aspect of addressing these issues.

David Menningeranalyst at Ventana Research
David Menninger, an analyst at Ventana Research in Bend, Ore., said the new program clearly shows that Tableau leadership is "stressing Tableau as a platform."
"Tableau has lagged in this area, and the developer program is one aspect of addressing these issues," Menninger said.
At the conference, Tableau highlighted a number of third-party integrations and extensions that bring new capabilities to the BI and data visualization platform.
New or expanded third-party tools available in the list of Tableau extensions include a geospatial analytics extension from Mapbox; an Azure SQL Data Warehouse connector that will let users connect directly to their stored data from within Tableau; and integrations for programming languages R and Python with Tableau Prep, the data preparation software that Tableau released last spring.
User welcomes third-party resources
Tableau user Sharon Graves, BI tools evangelist at GoDaddy, a domain registrar vendor based in Scottsdale, Ariz., said Tableau's third-party support is a positive development.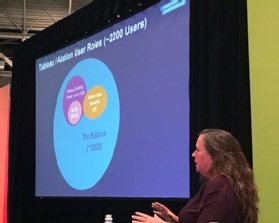 GoDaddy, which has many Tableau end users, from business managers to IT professionals, also uses data-cataloging products from Alation.
For its part, Alation has been able to integrate its own technology with Tableau more and more, recently using the extensions program to make its software run more seamlessly with the Tableau BI platform and enable users to see how their data is being created.
GoDaddy adopted Tableau in 2013, and it took on Alation as a partner in 2015.
"Since then, we've just been expanding out our data catalog to more and more data sources to really build out the documentation within the tool," Graves said.
"Obviously, we've been using a lot of this metadata that Alation has gathered up, and that was a substantial thing in and of itself."
"But then being able to add in our flavor with Tableau on top, our context on top, is a huge step forward," Graves said.
Tableau also expanding by acquisition
While Tableau is expanding its third-party partnerships and integrations to help increase the number of Tableau extensions that are available to users, it's also building its own tools and is buying up startups like Empirical Systems and ClearGraph to help do so.
"We are going to continue to build the broadest and the deepest analytics platform in the world," Tableau CEO Adam Selipsky said in an interview. "Our partner ecosystem is going to be absolutely vital to that platform."
Tableau will be guided by its customers, Selipsky said, on whether it will create its own tool for something or rely on a partner.
Even so, Selipsky noted that "one of our jobs is to ... make it easier and easier to embed and use Tableau and get the benefits of analytics in all sorts of different contexts."
"There will be more and more of those going forward," he asserted.