Warakorn - Fotolia
Tableau Prep tool aims to ease Tableau data preparation work
Tableau users who previously had to rely on software from other vendors to prepare data now have a new option: Tableau Prep, the BI vendor's own data preparation tool.
Tableau Software Inc. last week released Tableau Prep, a tool designed to make it easier for users of the company's...
Continue Reading This Article
Enjoy this article as well as all of our content, including E-Guides, news, tips and more.
self-service BI and data visualization software to prepare data for analysis -- at least at a basic level.
The Tableau data preparation product offers an alternative to tools from other vendors that users have had to turn to until now to combine, filter, aggregate and clean up data sets. Tableau is bundling Tableau Prep with its Tableau Desktop analytics software at no extra charge under an updated subscription pricing model also announced last week. In addition, existing Tableau Desktop customers with conventional software licenses can use the new tool without paying more for the next two years.
Previously code-named Project Maestro, Tableau Prep lets data analysts and other end users do common data preparation tasks in a drag-and-drop UI without any coding or scripting required, said Francois Ajenstat, Tableau's chief product officer. The tool also includes built-in algorithms to automate repetitive data prep work, such as harmonizing punctuation in a data set.
While Tableau Prep is a separate tool, users can view data preparation workflows in Tableau Desktop and utilize its data connectors and data access permissions as part of the preparation process, Ajenstat said. Prepared data sets can be published to either Tableau Server or the Seattle-based company's Tableau Online hosted platform and then shared with other users, he added.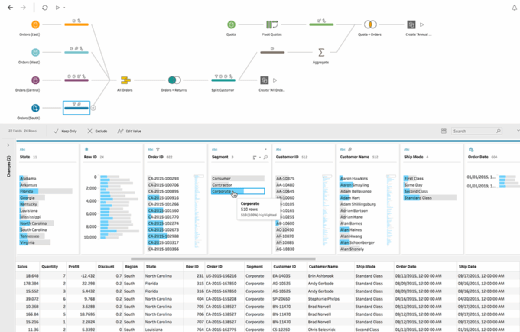 A partial answer to data prep needs?
However, whether the new tool can fully handle Tableau data preparation workloads at companies remains to be seen. That's still an open question at The Charles Schwab Corp., a large Tableau customer that has been testing a beta version of Tableau Prep made available to users late last fall.
About 100 Schwab employees are currently using Tableau Prep in a proof-of-concept initiative, said Gessica Briggs-Sullivan, Tableau administrator at the San Francisco-based financial services firm, which has 16,000 Tableau users overall. Based on the testing, it looks like Tableau Prep could make "basic data preparation tasks easier and faster than they were before," Briggs-Sullivan said.
There's some hardcore data work going on in Alteryx that Tableau Prep can't handle now.

Gessica Briggs-SullivanTableau administrator, The Charles Schwab Corp.
She added that if Tableau delivers on its long-term roadmap, Tableau Prep might be able to take over half or more of the 100 seats that Schwab has for Alteryx Designer, a data preparation tool from Alteryx Inc. that's used by the company's data scientists and other analytics power users. But the Tableau data preparation technology isn't ready to oust Alteryx's software at this point, according to Briggs-Sullivan.
"Tableau Prep doesn't have everything functionally that we need it to have to replace Alteryx," she said. "There's some hardcore data work going on in Alteryx that Tableau Prep can't handle now."
Schwab, which has 526 Tableau Desktop users among its overall user base, plans to roll out Tableau Prep for production use in some fashion, but the scope of the deployment has yet to be determined. "We're still analyzing what we can do with Tableau Prep," said Deepak Reddy Mogulla, an information systems engineer who works with Briggs-Sullivan on Schwab's IT team.
Tableau Prep aims for visual appeal
The "human-centered" design of Tableau's BI software is what sets it apart from the vendor crowd, said Jen Underwood, founder of Impact Analytix LLC, a product research and consulting firm in Tampa, Fla. She credited Tableau for bringing the same kind of focus to the new data preparation tool's visually driven UI.
"From testing Tableau Prep, I feel that they have once again created a user experience that is powerful, practical and enjoyable," Underwood said. Besides simplifying data preparation tasks and reducing the time it takes to complete them, the software "makes analytics 'grungy work' fun," she added.
"Tableau Prep has smarts -- and very useful smarts at that," agreed Donald Farmer, principal of analytics consultancy TreeHive Strategy in Woodinville, Wash. "For the desktop analyst with a few data sources to mash up, the process promises to be simple and effective."
However, based on high-level tests he has run, Farmer said the Tableau data preparation software's performance "feels slow and notably less interactive" with large data sets. Also, making it a separate product from Tableau Desktop "does break the traditional workflow for the Tableau user," he said -- although he added that doing so may not be a big deal to users who would have had to rely on Alteryx or another outside tool to prepare data, anyway.
Besides Alteryx, other data preparation vendors include Datawatch, Paxata and Trifacta. Tableau Prep could steal away users at the lower end of the data prep spectrum, Farmer said. "But this has been coming for some time, and Alteryx has already moved up the stack to emphasize data science, mapping, governance and advanced integration," he noted. Likewise, Datawatch has developed a new platform called Datawatch Swarm that supports team-based data preparation plus data governance and cataloging.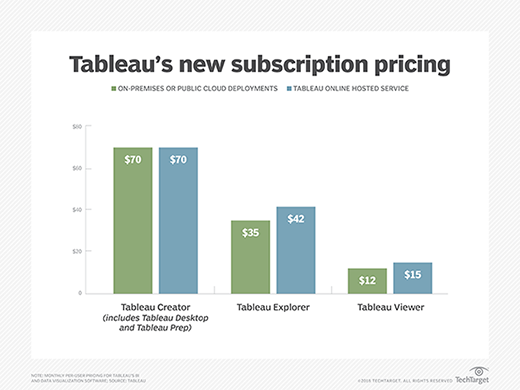 All in on software subscriptions
Tableau, which shifted to monthly subscriptions as its primary pricing model a year ago, is selling Tableau Desktop and Tableau Prep together as part of a new Tableau Creator subscription. That replaces the Tableau Desktop Professional Edition subscription previously offered by the company without changing the price: $70 per user monthly, both on premises and with Tableau Online hosted systems.
The modified pricing scheme announced by Tableau also includes two lower-cost options: a Tableau Explorer subscription for users looking to analyze data sets that have already been prepared and made available by others, and a new Tableau Viewer one for users who only need to view published reports and BI dashboards. Explorer, which is akin to the previous Tableau Server subscription, costs $35 per user monthly in on-premises deployments and $42 in hosted ones; Viewer is $12 and $15, respectively.
Existing customers with perpetual software licenses can continue to make new purchases under that format, Ajenstat said. But new buyers no longer have that choice, he added; for them, Tableau has now switched over completely to subscription-based pricing.