Sergey Nivens - Fotolia
Nationwide sees ups, downs with self-service Tableau tools
Tableau provides users at insurer Nationwide with a versatile, self-service analytics platform. But the IT team faces some challenges with the self-service software.
With assets totaling in the hundreds of billions of dollars and customers in the millions, Nationwide Mutual Insurance...
Continue Reading This Article
Enjoy this article as well as all of our content, including E-Guides, news, tips and more.
Co. is a behemoth that regularly inputs and outputs massive amounts of data.
The Columbus, Ohio, company's IT teams have turned to self-service analytics software -- in particular, self-service Tableau tools -- to handle Nationwide's data-reporting demands.
Tableau, IT and analytics at Nationwide
Michael Warling, a data strategist for infrastructure delivery analytics at Nationwide, speaking ahead of the Tableau Conference 2018 in New Orleans, at which he is scheduled to give a presentation, explained that the IT team's efficiency is due, at least in part, to the ease of use of self-service Tableau tools.
Meanwhile, over the last few years, as analytics and infrastructure tools have become more automated and simpler to use, the IT department at Nationwide has grown more streamlined and focused on aiding other departments in a hands-off, supporting role.
For Warling and his team, their top responsibilities involve finding actionable data insights for other departments. Using self-service tools, like the self-service Tableau analytics software, the team creates dashboards and applications to enable business users to dig into the data themselves.
It's ultimately up to the user to decide how the information is presented and in what platform, but, largely, the team uses Tableau, Warling said.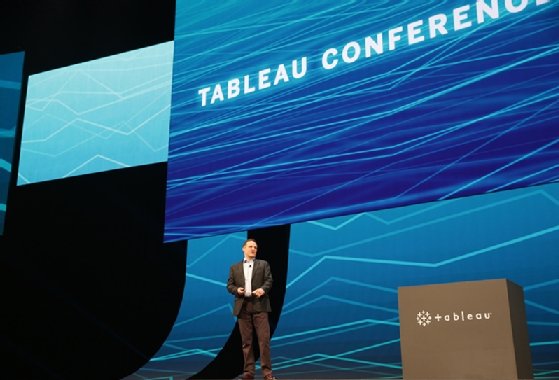 Benefits and pitfalls
[Tableau is] the Maserati of our BI tools.

Michael Warlingdata strategist for infrastructure delivery analytics, Nationwide
The vendor's self-service BI and data visualization tool is fast, easy to use and versatile, Warling said, noting that the platform's recent steps to integrate AI and machine learning capabilities for more automated insights have been particularly helpful.
To the team, Tableau is seen as the "Maserati of our BI tools," Warling said, referring to the high-end Italian auto manufacturer. Still, he added, "sometimes you need a pickup truck."
Other self-service BI tools, like Qlik and Microsoft's Power BI, sometimes offer particular features that Tableau might not offer, or they might be more efficient at taking on the problem at hand, Warling said.
"There are some gaps in what Tableau can functionally do," Warling said. However, he added, in the past, the company has "never let those gaps go for more than a couple iterations" of the software.
Education and guidance
Still, he and his team sometimes face difficulties when presenting users with their dashboards.
"When we produce a self-service tool and give it to the business customer, we can assume that's all we need to do," Warling said. "Well, that's not always true."
The team is working on providing customers with more guidance on how to use features like self-service Tableau analytics tools -- the topic about which Warling is scheduled to speak at the Tableau Conference 2018.
It's a common problem, Warling said, and the team's efforts to deal with it hopefully will offer others useful experience-based guidance for overcoming it in their own organizations.
The Tableau Conference 2018, scheduled for Oct. 22 to 25, is set to host thousands of attendees, who will take part in talks, workshops and hands-on events with employees, partners and users of Tableau.
The event is a way for Tableau and its partners to connect with current and potential customers and for attendees to learn more about some of the latest BI tools and interact with other users and vendors.