Fotolia
Tableau unveils first integration with Einstein Analytics
Tableau adds AI power via an integration with Salesforce's predictive BI tool, the first collaboration between Salesforce and Tableau since the CRM giant acquired the BI vendor.
Tableau and Einstein Analytics are joining forces.
Ever since CRM giant Salesforce acquired analytics vendor Tableau for $15.7 billion in June 2019 and the companies received regulatory approval to complete the deal the following November, there's been speculation about how Tableau and Einstein Analytics -- Salesforce's own business intelligence platform -- might come together.
Finally, on Tuesday during the keynote address of Tableau's virtual user conference, Tableau president and CEO Adam Selipsky and chief product officer Francois Ajenstat outlined the plan for blending Tableau and Einstein Analytics.
They revealed that the two platforms -- Einstein is cloud-based and known for its augmented intelligence capabilities, while Tableau can be deployed on premises or in the cloud and specializes in data exploration through its visualizations -- will combine over time through a series of integrations, the first of which will be incorporating Einstein Discovery into Tableau.
Einstein Discovery is a tool within the Einstein Analytics suite that uses AI and machine learning to discover patterns within an organization's data to enable predictive modeling and subsequent prescriptive recommendations. While Einstein Discovery in Tableau isn't ready yet for general consumption, it's expected to be made generally available in early 2021, the vendor said.
"Now that we're combined with Einstein Analytics, we can bring an AutoML capability, advanced predictive capabilities and prescriptive capabilities directly into the Tableau platform," Ajenstat said during a media briefing before the conference. "This means that Tableau no longer just does descriptive analytics looking at what happened, but ... will be able to see what might happen -- the predictive component -- and what to do about it."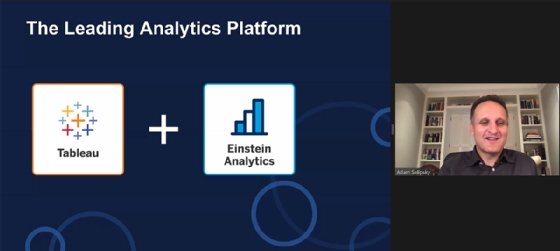 Beyond unveiling the first integration between Tableau and Salesforce, Tableau revealed that Einstein Analytics is being rebranded Tableau CRM and that the analytics teams at both Salesforce and Tableau have been combined and are now under Selipsky's guidance.
"All things analytics are now with us," Selipsky said. "We have two unbelievable teams that have come together across all these business functions and are now working together in a really integrated fashion to make analytics even more powerful."
While it's taken almost a year since receiving regulatory approval for Salesforce and Tableau to combine forces, it's no surprise to analysts that Tableau and Einstein Analytics are being blended together.
Boris Evelson, principal analyst at Forrester Research, said that while there are small differences between the two platforms, there's also plenty of similarity between the two, including data preparation and data visualization capabilities.
Tableau no longer just does descriptive analytics looking at what happened, but ... will be able to see what might happen -- the predictive component -- and what to do about it.

Francois AjenstatChief product officer, Tableau
"Even though at the time of the acquisition it was announced that both products would continue to operate independently, it was obvious that it'd only be time before we'd start to see integrations," he said. "There's no reason for the combined company to have redundant and overlapping technologies, so the convergence has to happen."
The integration of Einstein Discovery's AI capabilities into Tableau, Evelson added, is a logical place to start.
"It's also no surprise to me that the first integration is bringing advanced, augmented analytics capabilities of Einstein into Tableau," he said. "Tableau users will most certainly benefit from highly advanced augmented BI/analytics capabilities of Einstein."
Beyond the integration of Einstein Discovery into Tableau, the roadmap for joining Tableau and Einstein together includes:
natively connecting Tableau to the Einstein Analytics data store to take advantage of performance optimizations and reduce security problems;
developing data preparation capabilities that read and write to both Tableau and Einstein Analytics so that data is properly governed as it's made ready for analysis; and
connecting Tableau and Einstein Analytics so content can easily be moved between the two and accessed by users of both platforms.
Once future integrations are developed, just as Tableau customers stand to benefit quickly from the AI and machine learning capabilities of Einstein Discovery, Salesforce customers eventually stand to benefit as well, according to Doug Henschen, principal analyst at Constellation Research.
"The most immediate beneficiaries will be Tableau users, who will gain Einstein Discovery's predictive capabilities, both in the data analysis environment and within Tableau Prep," he said. "[But] the roadmap calls for Tableau Prep to be able to publish data to Tableau CRM -- formerly Einstein Analytics -- but that's further down the road."
Henschen added that the roadmap Salesforce and Tableau have put together makes sense, but that beyond technological compatibility other issues still need to be addressed.
"Building two-way integrations between the two environments and leveraging the best of both worlds is the correct and obvious initial path," he said. "Harder to do will be making sense of licensing and subscriptions over the short term -- which will be particularly important for joint Einstein Analytics/Tableau customers -- and rationalizing the separate portfolios over the long term."
Selipsky, meanwhile, noted that joining two analytics platforms to take advantage of the best qualities in each is a work in progress. Given the complexities involved not just in blending technologies but in everything ancillary to the software -- pricing being one example -- will be a process.
"Over time -- it's going to take time, of course -- these capabilities are going to work more and more seamlessly together and are going to unlock really amazing experiences," Selipsky said.