razihusin - Fotolia
Salesforce acquisition of Tableau details emerge as CEOs speak
The Salesforce and Tableau CEOs appeared together for the first time at Tableau Conference 2019, five months after the analytics vendor agreed to be acquired by the CRM giant.
LAS VEGAS -- Just over five months after the Salesforce acquisition of Tableau was first revealed, and more than three months after the deal closed, the CEOs of the respective companies finally appeared together in public for the first time Wednesday.
The meeting between Salesforce's Marc Benioff and Tableau's Adam Selipsky came in the form of a fireside chat during the keynote address at Tableau Conference 2019, the analytics vendor's annual user conference here.
But despite the joint appearance, and all the time that has passed since the Salesforce acquisition of Tableau closed on Aug. 1, the CEOs said little about how Salesforce will eventually integrate Tableau, and what the combination of the two vendors will ultimately mean for Tableau's users.
Instead, with the deal held up until Nov. 5 by regulators in the U.K. investigating how the Salesforce acquisition of Tableau might affect competition, Benioff and Selipsky spoke about how the corporate cultures of Salesforce and Tableau align.
"I don't think for Salesforce there are very many companies in the industry that feel like us and act like us, and have customers who are our customers where there are so many similarities and common values between the companies," Benioff said.
He used gender equality -- in particular, equal pay for equal work -- as an example, after Selipsky opened his keynote speaking about the topic.
"The cultural alignment is so important to me as well," Selipsky said.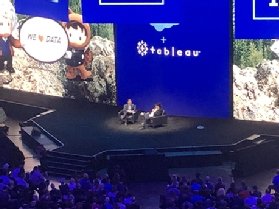 And while cultural alignment may not be what Tableau customers concerned about their analytics platforms most wanted to hear about, cultural alignment is no small issue when two companies attempt to join forces.
In fact, according to Doug Henschen, principal analyst at Constellation Research, if Tableau were to be acquired by anyone, Salesforce may be the right company.
"The key point that stuck with me [from the conversation between Benioff and Selipsky], and to me made the acquisition make sense, was Benioff's point about how technology changes but values and culture endure," Henschen said.
He added that while the Salesforce acquisition of Tableau has sparked questions about how the respective technologies of the companies will be treated, it's the cultural alignment that leads to the belief they'll make it work.
"A lot of people scratched their heads a little bit when the acquisition was announced because Tableau is very on-premises and Salesforce has been the no-software company," Henschen said, "but I think that cultural fit has always made sense, that Salesforce is the one company that could acquire Tableau and not crush the life out of its culture. I think they're a good fit. They'll figure it out, I think."
Tableau users still in the dark
That said, five months later, what the Salesforce acquisition of Tableau ultimately means for the technology to which Tableau users are famously loyal remains shrouded in mystery.
When the Salesforce-Tableau acquisition was made public June 10, Benioff and Selipsky said the plan was for Tableau to maintain its autonomy, but given the legal holdup there's been no update since.
"The only thing is I think we've been given some indication Tableau is going to operate independently, which users probably would appreciate," said Dave Menninger, senior vice president and research director of data and analytics research at Ventana Research. "My experience in the past is that when an acquired company gets to operate independently, you're more likely to have continuation and more likely to have a stronger commitment to the product."
Christopher Gardner, business intelligence senior analyst at the University of Michigan -- a customer with nearly 100,000 Tableau users -- wanted to hear some assurance about product stability going forward.
Tableau is doing it, they're doing it right. ... Don't fix it -- it's already good.

Christopher GardnerBusiness intelligence senior analyst, University of Michigan
"I'd like to see consistency," he said. "Tableau is doing it, they're doing it right. They've got the right type of software. Don't fix it -- it's already good."
Neither Benioff nor Selipsky addressed the technology, but their comments on the day the companies revealed the Salesforce acquisition of Tableau did, to some degree.
And now that the vendors are finally free to begin integrating, in the near future there might be some indication of what will truly become of Tableau.
"What we need to learn is what the integration plans are for the two technology stacks," Menninger said. "They operate in different environments today, Salesforce being entirely a SaaS offering and Tableau being largely on-premises with some SaaS offerings, so it will be interesting to see what they announce."
Similarly, Henschen said he is eager to hear specific plans.
"I'd like to see roadmap," he said. "I think there's a lot of stuff in augmented analytics that Salesforce has that Tableau could take advantage of to accelerate their use of AI and machine learning, augmented capabilities, natural language processing. And I think Salesforce could definitely accelerate Tableau's move into the cloud."