Ronald Hudson - Fotolia
$15.7B Salesforce-Tableau acquisition a direct shot at Microsoft
By acquiring Tableau, Salesforce dramatically strengthened its BI and data visualization capabilities. The move boosts Salesforce's ability to compete with Microsoft.
With the Salesforce-Tableau acquisition, another BI and analytics vendor got gobbled up, after Google's acquisition of Looker. Both moves, analysts said, are direct shots at Microsoft, but will likely produce different outcomes.
Salesforce, of course, is shoring up its CRM business and augmenting a BI and data visualization platform that can get its cloud software before CFOs, "where they don't have a strong footing right now," and go beyond CRM functionality, said Ray Wang, founder of Constellation Research.
Google might not be strong in CRM, but acquiring Looker was the same idea: Getting its brand and cloud enterprise business tools more attention in the C-suite. With the Salesforce-Tableau acquisition, the CRM giant will take direct aim at Tableau's biggest competitor, the Microsoft Power BI platform.
As the biggest-ever acquisition for Salesforce, the stock-swap deal will have to satisfy stockholders, too, some of whom weren't sure last year's $6.5 billion MuleSoft acquisition would pay off. Tableau brings $350 to $400 million in revenue to Salesforce's 2020 fiscal year projections, Salesforce said in a release.
Defensive and offensive
Salesforce already has analytics that can extend outside its platform and into back-office systems such as HR and payroll tools to help execute tasks such as computing commissions and reporting. Wang said Tableau's visualization and analytics tools will represent a significant upgrade when they manifest as features in future releases.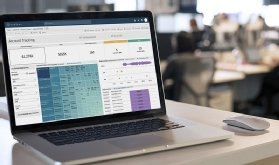 The Tableau user community already has made deep integrations with Salesforce, so some of the development load has been taken care of, with the caveat that only a third of Tableau's customers are in the cloud -- setting up for a potentially rocky mass migration if it's not done right.
Wang said he think's last week's Google-Looker deal hastened the Salesforce-Tableau acquisition.
"It's partially a defensive move, in the sense that if somebody bought Tableau it would put Salesforce in some kind of jeopardy," Wang said. "But it's partly an offensive move in a sense that it's getting them to CFOs they couldn't before."
What it means for Tableau
Much of the tech world had been expecting some kind of major consolidation in the self-service analytics, BI and data visualization market as the technology has become commoditized, with platforms from Tableau, Microsoft, Qlik and others offering enterprises equivalent capabilities.
It's partially a defensive move, in the sense that if somebody bought Tableau it would put Salesforce in some kind of jeopardy, but it's partly an offensive move in a sense that it's getting them to CFOs they couldn't before.

Ray Wang Founder, Constellation Research
By being acquired, Tableau gains a more stable position given that it has been dealing with extreme price pressures, especially from Microsoft, which prices Microsoft Power BI below what Tableau has been able to, said Boris Evelson, a Forrester analyst.
"It's a very mature market. How is an independent vendor like Tableau going to compete?" Evelson said. "It will be interesting to see what Salesforce's plans are now. Will they integrate Tableau or keep it separate?" Evelson said.
As for Tableau users, not much should change for them, Evelson said. "It's business as usual," he said.
The same goes for Tableau's other independent competitors, including Qlik and MicroStrategy, Evelson said.
But the Salesforce-Tableau acquisition puts Salesforce on a firmer footing against not only Microsoft, but also Oracle, SAP and IBM, which also have full-featured BI platforms, as well as CRM systems, he noted.
What new features may look like
When Salesforce bought MuleSoft 14 months ago, it led to Customer 360 omnichannel customer communication microservices unveiled at the Dreamforce conference later in the year. That was a turnabout from conventional thinking that MuleSoft would show up on the Salesforce platform as less-sexy, back-end integration tools.
Tableau's potential integration with Salesforce will give users better visualizations of data, which customers at Salesforce World Tour Boston earlier this year said was serviceable now but far from best-of-breed, which is why several third-party BI and visualization tools had deep hooks into the platform.
However Salesforce chooses to roll out Tableau-based features on its platform, Wang said, it likely will be straightforward for the admins and end users, to keep them from being tempted by Microsoft counterpart.
"Power BI is growing very quickly, easy to use, you don't pay a lot for it, and it's getting a lot of traction," Wang concluded.
Shaun Sutner, news director for SearchCustomerExperience and SearchBusinessAnalytics, contributed to this story.