Sergey Nivens - Fotolia
Google acquisition of Looker to boost Google Cloud analytics
By acquiring Looker, Google will enhance its analytics and BI capabilities available through Google Cloud, while becoming a formidable force in the enterprise-level BI space.
Google entered into an agreement to acquire Looker, a startup vendor of a business intelligence platform, for $2.6 billion. Once the all-cash transaction is completed, Looker will join Google Cloud, expanding the tech giant's cloud analytics capabilities to better compete with cloud leaders AWS and Azure.
The Google acquisition of Looker -- the first major acquisition for new Google Cloud CEO Thomas Kurian -- will bring new data ingesting, analytics and machine learning capabilities to Google Cloud.
Revealed June 6, the deal "gives Google a mature, battle-tested BI tool and team that is tailor-fit for Google BigQuery and other data services Google offers," said Wayne Eckerson, founder and principal consultant at Eckerson Group.
A look at Looker
Headquartered in Santa Cruz, Calif., Looker sells a BI platform that features a host of analytics and data visualization capabilities. In addition to its standard self-service BI platform, the 2012 startup sells purpose-built applications for specific analytics uses, including marketing and web analytics.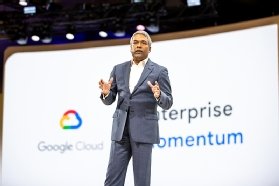 Looker had previously been seen as a competitor to Periscope Data, a 2012 BI startup that was recently acquired by business analytics vendor Sisense.
Looker has a unique and flexible modeling language, LookML, that makes the platform extremely extensible, said Dave Menninger, senior vice president and research director at Ventana Research in Bend, Ore. It is also a good match with developers, Google's target market, he added.
From the start, the platform was built for cloud deployment, Menninger said, and it will fit in well with the Google Cloud portfolio.
"Will this make Google the world's leading BI platform? If Looker becomes the front end for Google Analytics, with its unique data and vast customer base, then why not?" said Donald Farmer, analyst at TreeHive Strategy.
Even if Looker remains a stand-alone platform, the Google acquisition of Looker "gives Google a complete analytics stack, building on their existing capabilities in data ingestion, streaming, storage and querying at the highest scale," Farmer said.
Natural fit
The deal is also understandable from both a product and cultural perspective, given Google and Looker have partnered for years and have 350 joint customers, Kurian said during a virtual press conference.
[The acquisition] gives Google a mature, battle-tested BI tool and team.

Wayne EckersonFounder and principal consultant at Eckerson Group
"[The companies have] a very common culture and very common view of what analytics and business intelligence looks like," Kurian said. "We anticipate this will work really well."
Google plans to invest in Looker's product and sales teams, he added.
Google has been impressed with how well Looker supports its customers and can learn from its practices to improve how Google Cloud operates overall, Kurian said.
The Wall Street Journal and other media recently reported that the U.S. Department of Justice will open an antitrust probe into Google's business. Kurian did not address those reports directly, but said Google doesn't expect antitrust issues will hold up the Looker deal.
"We're buying a software capability, a BI tool, and we're not buying any data along with this transaction," he said. There are also many other analytical tools in the market besides Looker, he added. "We don't have a clear timeline, but expect [approval] to be relatively quickly."
Remaining multi-cloud
Looker also runs on AWS and Azure. Asked whether this will change after the transaction closes, Kurian was adamant. "No. Period," he said. "We will continue to support multiple clouds both as a runtime platform for Looker and as an underlying set of data sources. We feel that's what customers want."
Kurian declined to reveal much about Google's roadmap for Looker, but said Google will share more details once the deal gets regulatory approval. One point of integration will be between Looker and Google's natural language processing technology, which could serve as a front-end interface to Looker's platform, he said.
Kurian led product development at Oracle for many years before taking the Google job in November 2018. While at Oracle, Kurian oversaw dozens of acquisitions and, hence, was expected to make mergers and acquisitions a part of his strategy at Google, particularly for SaaS applications, such as Looker.
Google sees Looker as complementary to prominent SaaS applications sold by other vendors, Kurian said. "There are many customers who want to source data from SaaS companies like Salesforce," he said. "Looker already provides that capability."
It's not likely that Google will acquire SaaS companies in areas such as customer relationship management and ERP, though, said Maribel Lopez, founder and principal analyst at Lopez Research.
"Their goal isn't to go compete with a Salesforce or SAP," Lopez said. "It's to put together the best portfolio of analytics tools. They're not going to become a SaaS company in the traditional way, but rather for new-world stuff that isn't even developed yet."
Kurian stressed repeatedly during the conference call that Looker would remain multi-cloud. That position ties into other big moves Google Cloud has made of late, such as launching Anthos, a Kubernetes-based platform for running application workloads on any cloud, as well as on premises.
As for Looker, multi-cloud is a requirement, given customers may not ever want to move data into Google Cloud for regulatory or other reasons, according to Lopez. It also makes sense for Google's own business, given its third-place standing in the cloud market behind AWS and Azure.
"They absolutely have to be multi-cloud," she said. "I don't think it's a long-term differentiator, but they're trying to take objections off the table for using Google Cloud. I think their thing is, if you get to Google Cloud, you'll love it and you'll stay."
More analytics capabilities
Boris Evelson, vice president and principal analyst at Forrester, called the acquisition "a big deal."
"We've been wondering how long it's going to take before Google enters the enterprise business intelligence-analytics space to compete with AWS, IBM, Oracle, SAP, Microsoft, SAS, Tableau and Qlik," he said.
Google has Data Studio, but that's a basic BI product, not meant for enterprise use, Evelson continued.
The Google acquisition of Looker, a platform without legacy encumbrances, will enable Looker to concentrate more on modern graphical user interface, including conversational interface, natural language generation and augmented analytics.
"We already track Looker as a formidable competitor in the space," Evelson said. "Now, with the influx of Google resources, I'd expect Looker to rank even higher among competition."