Sergej Khackimullin - Fotolia
Looker 7 advances embedded BI capabilities of vendor's suite
The latest update of Looker's business intelligence platform, unveiled Wednesday at the vendor's user conference, is highlighted by improved embedded analytics capabilities.
Enhanced embedded analytics capabilities highlight Looker 7, the latest update to the analytics vendor's business intelligence platform.
Looker, founded in 2012 and based in Santa Cruz, Calif., revealed Looker 7 on Wednesday at JOIN 2019, the vendor's annual user conference. The update's features will not be generally available until the first quarter of 2020.
Looker 7 improves the vendor's BI platform in three key areas, the company said.
First, it includes out-of-the box tools that seek to make self-service analytics easier for users as well as improve interactivity between users. The goal, according to Looker, is to go beyond traditional BI dashboards, infusing data into day-to-day devices and workflows to make it easier and faster for an organization to glean insights from its data.
In addition, Looker 7 provides a development framework -- including an in-product marketplace for add-ons -- that enables developers to customize their organization's data analytic workflow, and improved enterprise-grade security with expanded options for multi-cloud data management.
"The idea behind the Looker 7 launch is … seeing data as something you don't just analyze," said Pedro Arellano, Looker's vice president of product marketing. "Reports and dashboards will always still be critical, but that's not the only way to see data. We want to give companies all sorts of ways to use data and create data experiences."
While an indication of continued progress by one of the new breed of cloud-based BI providers, despite its enhanced embedded analytics features, Looker 7 does not introduce new BI capabilities but instead improves upon existing ones already included in previous iterations of Looker's platform.
It represents improvement, but not necessarily cutting-edge innovation, according to Boris Evelson, an analyst at Forrester Research.
Looker continues to build out its enterprise BI functionality to compete with industry leaders.

Boris EvelsonPrincipal analyst, Forrester Research
"Looker continues to build out its enterprise BI functionality to compete with industry leaders," he said.
Evelson added, however, that Looker 7 doesn't differentiate the vendor's platform from those of other cloud-based BI providers and shows incremental progress rather than the introduction of new capabilities.
But what, indeed, may be a differentiator, according to Mike Leone, analyst at Enterprise Strategy Group in Milford, Mass., is the emphasis on tools for developers.
"I love the heavy focus on developer enablement, between the development framework, new [software development kits] and developer portal," he said. "The in-product marketplace will serve as a quick on-ramp for developers and analysts alike, as self-service is key to the next wave of adoption and usage. Many vendors are looking to better enable developers, but I think Looker is taking a different approach that will improve operational efficiency at a whole new level."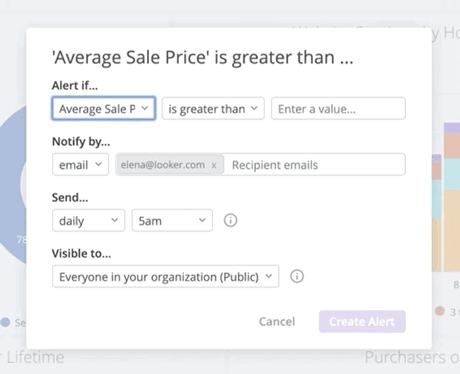 Overall, Leone called Looker 7 "a fantastic step in the right direction for Looker."
The introduction of Looker 7 comes nearly five months after Looker reached an agreement to be acquired by Google for $2.6 billion. The deal, however, has not yet closed, and is reportedly under review by the antitrust division of the Justice Department.
Despite the uncertainty, Arellano said it's normal operations for Looker since the purchase was first made public.
"There's a lot of excitement around the acquisition, but at this point we're still very separate companies," Arellano said. "We're working with Google the same way we always have, which is a partnership -- we have joint customers. But we're pushing our own roadmap and go-to-market strategy."
Beyond the three main areas Looker 7 advances Looker's BI platform, the update includes a new integration with Slack that will deliver insights directly into Slack conversations, along with new third-party integrations for Dropbox, Box, Google Drive, Auger.ai, mParticle, Matik and Spiff.com.
It also includes an analytical alert feature that will notify users when there are changes in their data with the alerts delivered through whatever medium -- such as text, email or Slack -- a user prefers.
"Many of these are being beta tested right now, and we're fine-tuning them to be available as soon as possible," said Elena Rowell, Looker's senior product manager.