peshkova - Fotolia
Looker adds mobile app, developer tools to analytics suite
While Looker revealed no new integrations with Google, a mobile app and additional tools for developers highlight the new features the BI vendor unveiled during its virtual user conference.
A new mobile app and additional tools for developers are among the features Looker added to its analytics platform with its latest update.
Looker, a cloud-based analytics vendor founded in 2012 and based in Santa Cruz, Calif., unveiled the updates on Tuesday during the keynote address of JOIN@Home, the vendor's virtual user conference.
Looker was acquired by Google in June 2019, and during Google Cloud Next in August the two companies revealed that the Looker analytics platform is now fully integrated with the Google Marketing Analytics Suite. The integration marked the first collaboration between Looker and its parent company.
Looker's latest platform update, however, does not appear to include any further collaboration with Google, according to Mike Leone, senior analyst at Enterprise Strategy Group.
"These announcements are heavily focused on their existing customer base, and fact of the matter is that many of their customers are leveraging Looker in other clouds," he said. "If anything, it's refreshing to see that Google Cloud hasn't come in and forced integration stories and customer migration paths."
Leone added that while Looker and Google Cloud had significant customer overlap at the time of the acquisition -- one of the reasons analysts said the companies were a good fit for each other -- Looker's platform update shows evidence that Google Cloud CEO Thomas Kurian has been faithful to his word when he said Looker would remain multi-cloud.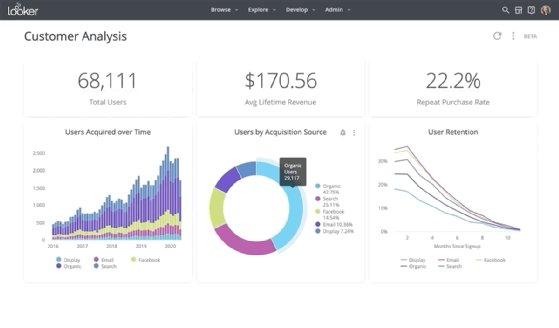 "It's Google Cloud putting their money where their mouth is in enabling multi-cloud and delivering value to customers across environments," Leone said.
Regarding the features that are included in the update, beyond added tools for application developers and a native mobile app, Looker is adding a new integration with Slack, a new report visualization and an Explore feature that will enable smarter queries to its analytics platform.
Each, according to a blog post by Pedro Arellano, director of Looker product marketing for Google Cloud, is driven by customer feedback. And overall, Looker's product development helps create a platform that's easy to use, according to Jennifer Redmon, chief data evangelist at Cisco, where Looker is among the BI tools the tech giant uses for data analysis.
It's Google Cloud putting their money where their mouth is in enabling multi-cloud and delivering value to customers across environments.

Mike LeoneSenior analyst, Enterprise Strategy Group
"Looker is in a very important space as far as being able to really understand our data, to visualize our data," she said. "It's key to making the best decisions possible."
In particular, Redmon continued, Looker easily enables Cisco to develop and customize queries, and its ease of use empowers users with varying degrees of expertise.
The new mobile app, now generally available, is the first for Looker. BI vendors have long struggled to develop a strong mobile experience for customers given the challenges posed by the small screens on phones and tablets. The rich visualizations that help users understand and act on data are too big for mobile devices, so vendors have to create an entirely different experience.
Some vendors, however, have figured out how to solve the problem, with Yellowfin, MicroStrategy and Domo among those that offer vibrant mobile experiences.
Looker now is joining the fray, enabling users to access data and monitor key performance indicators anywhere and anytime.
Looker, meanwhile, has long focused on enabling developers.
Looker 7, for example, released in November 2019, included a new application development framework and enhanced embedded BI capabilities. And in August, when the vendor unveiled its first collaboration with Google Cloud, it also unveiled new integrated development environments to make workflows more intuitive and foster more collaboration.
The next feature for developers will be a new public library of user interface components, which is currently in beta testing. Once available, it will speed up the development of custom data applications using components from Looker's internal design system, which are now available on collaborative design platforms Figma and React.
The integration with Slack will enable users to get alerts via a Slack DM or Slack channel and is designed to help customers stay on top of their data even when they're not inside the Looker platform.
And finally, Looker is adding a prebuilt visualization for financial reports and other line-item data, as well as a search tool called Explore that is designed to help users quickly take action on their analysis.
"While not directly calling it out, I think several of these features are pointing to a focus on embedded analytics," Leone said. "The combination of the mobile app, the new public library of UI components, and marketplace feature updates are critical for developers to rapidly create custom applications for end users based on their requirements."
That focus on embedded analytics, he continued, could be a harbinger of integrations with Google Cloud to come.
"I think this provides a hint at what's coming next, particularly with Google Cloud," Leone said. "We're starting to see an angle where the Looker/Google Cloud relationship could really take off and that's through embedded analytics and focusing on developers. This gives both organizations a launching pad for collaborative enablement and joint storytelling."
In fact, Arellano has said he expects the Looker analytics platform will feature greater integration with BigQuery before the end of 2020, and in 2021 Looker plans to work with Google to improve its augmented intelligence capabilities, including natural language processing.