Guido Vrola - Fotolia
Looker's acquisition by Google seen in a good light for users
Overshadowed at the time by Salesforce's acquisition of Tableau, a few months later, Google's acquisition of Looker is still seen as a major positive for Looker's users.
As the initial excitement over the deal fades nearly two months after the deal was made public, the sense remains that Looker's acquisition by Google is a good move for both the analytics and BI software vendor and its existing customers.
Somewhat overshadowed just a few days later when Salesforce acquired Tableau for $15.7 billion, Looker, based in Santa Cruz, Calif., and founded in 2012, was sold to Google June 6 for $2.6 billion.
In the immediate aftermath, response in the industry was positive given that Looker's platform was built for cloud deployment and should fit in well with the Google Cloud portfolio.
And now that some time has passed and there's been more opportunity to examine the potential synergy between Google and Looker and any potential pitfalls that might arise as the vendors attempt to align, analysts remain positive about Looker's acquisition by Google.
"It's a good thing for Looker," said Wayne Eckerson, founder and principal consultant of Eckerson Group, based in Hingham, Mass. "They were a strong partner of Google to begin with, so the architectures mesh pretty well. I think this gives them a lot more heft to go after Google's installed base, as well as other simpatico prospects, other companies that might benefit from its approach to BI.
"I think in the end it's a great thing for Looker," he added. "One of the key questions with any acquisition is how the merging companies will coexist.
When we talk about the forward roadmap for Looker and being able to reach more people with more powerful data, [Looker's acquisition] clearly makes a ton of sense. This accelerates our ability to deliver on that vision.

Nick CaldwellChief product officer, Looker
Google Cloud CEO Thomas Kurian, speaking at the time about Looker's acquisition by Google, noted that Looker and Google have worked together for years and shared 350 mutual clients at the time of the deal.
He also said that Looker's clients currently using other cloud platforms will not be forced to migrate to Google Cloud, and Looker will continue to employ a multi-cloud strategy.
Meanwhile, Nick Caldwell, Looker's chief product officer, reiterated to SearchBusinessAnalytics that remaining multi-cloud was crucial.
"Us and Google are 100% aligned on the need to continue supporting multiple clouds," said Caldwell, who noted that users expressed concern about whether Looker would remain multi-cloud at the time the acquisition was made public but have since been reassured.
That freedom to remain a multi-cloud platform, according to analysts, will play a major role in ultimately determining whether Looker's acquisition by Google turns out well for Looker users.
"I'm sure Looker will continue to support and remain committed to the most popular customer deployment choices -- such as Redshift, Snowflake and Azure SQL -- but I'd watch for changes in the product roadmap and partner ecosystem," said Doug Henschen, analyst at Constellation Research. "It could be that third-party vendors will pull back from Looker if they perceive the Google Cloud platform ties as working against their interests."
As a result, despite noting that Google will help Looker grow and that he expects Looker to be left free to invest in research and product development, Henschen advised caution amid optimism.
"Our advice to existing customers is always to pause on big new commitments, listen to what the vendors have to say about their direction, and watch vendor announcements and actions in the wake of the deal," he said.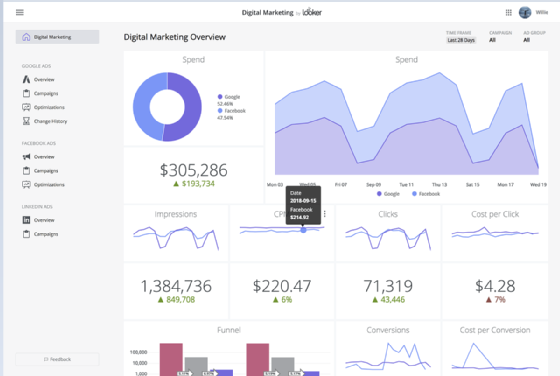 According to Caldwell, Looker will be aggressively rolling out upgrades and new products during the second half of the year, likely coinciding with Looker's JOIN user conference Nov. 5 to 7 in San Francisco.
Among the technologies Looker will be working on during the rest of the summer and fall are a platform to support user experiences and a marketplace to highlight some of them, including custom visualizations and data blocks. Caldwell said Looker is also adding more multi-cloud support for Amazon Web Services, Google Cloud and Microsoft Azure to give customers flexibility.
In addition, Caldwell said Looker plans to invest in improving the performance of its products.
"When we talk about the forward roadmap for Looker and being able to reach more people with more powerful data, [Looker's acquisition] clearly makes a ton of sense," he said. "This accelerates our ability to deliver on that vision."
Short-term, there's been little but good news coming out of Looker's acquisition by Google. But short-term hasn't even reached the point at which the deal has been finalized.
Long-term is when all the details will become clear and it remains to be seen just how independent Looker will stay, and how its affiliation with Google will or won't wind up helping Looker expand its BI capabilities.
"It all depends on how the companies handle the acquisition," Eckerson said. "A lot of these acquisitions are really just bad ideas and they never pan out because cultures clash, so a lot of it depends on cultural fit."
"I think Looker should remain independent while it cashes in on all of Google's clients, so I think it's a good thing for them in the end," he continued. "It seems like the cultures and the architectures are pretty aligned."