Sergey Nivens - Fotolia
Looker 6 update adds analytics applications to BI tool
With Looker 6, users of the BI platform can now access packaged applications that are designed for uses such as web analytics and digital marketing analytics.
Looker Data Sciences Inc. is adding a set of plug-and-play applications for specific analytics uses to its BI and...
Continue Reading This Article
Enjoy this article as well as all of our content, including E-Guides, news, tips and more.
data platform as part of a Looker 6 update that also enhances many of the software's core features.
Announced during the company's annual user conference in San Francisco, Looker 6, for the most part, offers users upgraded BI and data visualization functionality, rather than entirely new capabilities. However, the purpose-built analytics applications are a brand-new element that industry analysts pointed to as a highlight of the update.
Looker initially will offer applications for digital marketing analytics and web analytics; they're available in beta releases now and due for general availability in early 2019. The vendor, based in Santa Cruz, Calif., said it also plans to develop more applications, including a sales analytics one and another to help DevOps teams monitor cloud systems.
The Looker applications aim to provide users with deeper and more-curated data sets than they can get from specialized analytics tools, while remaining relatively simple to set up and use, with a familiar look and feel that differs from the standard Looker UI.
Expanded enterprise reach eyed
It's not necessarily a new approach in the BI market, said Brandon Purcell, an analyst at Forrester Research. But in the case of the marketing analytics application, the Looker BI tool potentially can give online marketers "a more holistic view" of their customers and marketing campaigns than single-purpose tools can, Purcell said.
Purcell, who attended Looker's Join 2018 conference, said Looker 6 sets the software down the path of being more of a "data platform for the enterprise." The new applications could also help broaden Looker's use in organizations, he added -- especially if the company can get business partners to sign on "and start building this ecosystem of applications."
They are trying to show how they are different from now-traditional Qlik and Tableau BI and analytics platforms.

Hyoun ParkCEO and principal analyst at Amalgam Insights
Hyoun Park, CEO and principal analyst at consulting firm Amalgam Insights in Arlington, Mass., agreed that Looker 6 shows an increased focus on meeting enterprise analytics needs. Ultimately, the packaged applications could enable Looker to expand into additional BI and analytics uses, he said, also speaking from the Join event.
"They are trying to show how they are different from now-traditional Qlik and Tableau BI and analytics platforms," Park said.
A focus on particular analytics users
The packaged applications are essentially prebuilt data models that narrow down the Looker BI tool's capabilities to apply to specific users. The beta version of the digital marketing analytics application, for example, offers access to customizable reports from tools like Facebook Ads Manager and Google Ads. It also suggests optimizations to ads and gives users a unified, cross-channel dashboard.
Meanwhile, the beta web analytics application offers an interface and sharing link for Google Analytics 360 reports, as well as various types of analytics capabilities and mechanisms to set customized goals and alerts.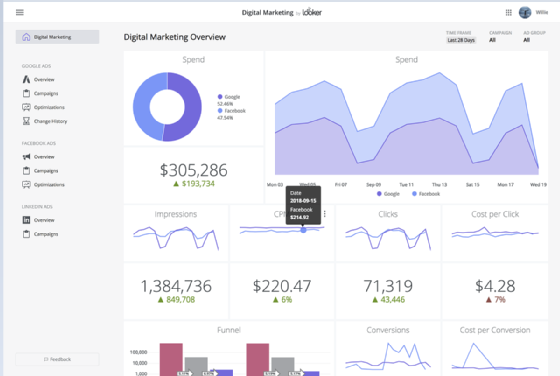 Daniel Mintz, chief data evangelist at Looker, said the applications are meant to make the Looker software a viable option for people who have experience using technologies like Google Analytics, with UIs that resemble the ones in those tools instead of a typical BI user interface.
"If I say I can give you more data, but also a new UI, that's a hurdle," Mintz said. Instead, prospective users should "already know how to use tools that look like this," he added. "We want it to feel natural and familiar to them."
At first, the applications will only be accessible by purchasing the entire Looker platform, but Mintz said that might change after more of the planned applications are developed.
Also coming in Looker 6
Looker 6's other new features will start to become available by mid-November, according to the company. They include a set of development tools for data analysts, increased data visualization options, support for MongoDB databases, improvements to the platform's data validator and remote data input capabilities.
In addition, users will now be able to do more customization in Looker. For example, there's more flexibility on report scheduling, plus the ability to customize the look of dashboards in embedded BI applications and use custom data fields for on-the-fly exploration of data sets. Looker 6 also offers new security measures, including encryption key management and SOC 2 Type 2 compliance certification.
Localization support for the Japanese, French and German languages is being added, too. After that feature is implemented, users will be able to translate entire dashboards, which will let them build a dashboard once and deploy it in different languages, Mintz said.