macrovector - Fotolia
Yellowfin 9.3 features embedded app development upgrades
New application programming interfaces to help app designers build embedded BI apps are among more than 25 new features in the latest update of the Yellowfin analytics platform.
Enhanced embedded application development capabilities highlight the release of Yellowfin 9.3.
Yellowfin BI, an analytics vendor founded in 2003 and based in Melbourne, Australia, unveiled its latest platform update on Oct. 14, and each of the more than 25 new features in the release are now generally available.
One of the vendor's main goals is to bring data science and analytics together embedded throughout its customers' workflow, and just as Yellowfin 9.2 focused on furthering that mission, so too does Yellowfin 9.3 by adding new capabilities to its application programming interfaces (APIs).
It's a mission that Donald Farmer, principal at TreeHive Strategy, said is key to enabling an audience beyond data scientists to take advantage of analytics as part of their workflows.
"Enabling insights in the regular workflow of business operations is the last barrier to more widespread [analytics] adoption," he said. "Data analysts or specialists already have the tools they want and need. But the call center operator who needs insights for their next call, or the maintenance engineer who needs to understand performance trends don't have time or the tools to become analysts.
"They need analytics embedded where they are already working," he continued.
Meanwhile, Doug Henschen, principal analyst at Constellation Research, pointed out that while embedding analytics is not new, it is noteworthy that the embedding is no longer being done exclusively by the software vendors themselves. Instead, end users are being given the features and tools to build custom embedded applications that best suit their business.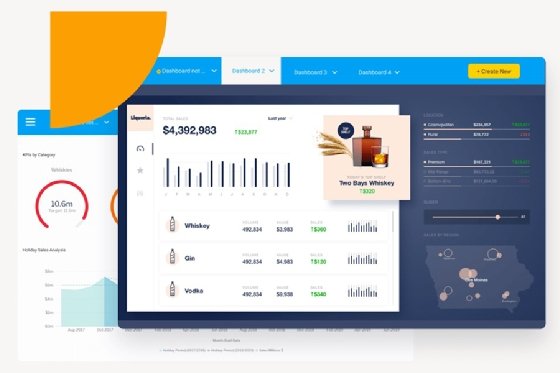 Yellowfin is just one vendor now enabling those end users; Logi Analytics, for example, is another.
"The new and interesting embedding opportunity, to me, is end-user organizations that are building custom analytic applications, embedding analytics into existing applications, and becoming providers of breakthrough analytic software and services in their own right in the context of their respective industries," Henschen said.
Enabling insights in the regular workflow of business operations is the last barrier to more widespread [analytics] adoption.

Donald FarmerPrincipal, TreeHive Strategy
Among the upgrades and new features included in Yellowfin 9.3 aimed at enabling embedded application developers are enhancements to Yellowfin's JavaScript API and REST API.
The JavaScript API now includes support for Assisted Insights, Drill Through and Export to enable greater access to automated analysis on embedded content. Assisted Insights is the ability to ask, "Why?" of data within Yellowfin with the click of a mouse and get analysis. Drill Through enables users to click on hyperlinks to toggle from one report to another to show more detail, and Export uses modules to help users move content within Yellowfin.
The REST API, meanwhile, now makes it easier to automate processes around user, tenant and data source management. In addition, the upgraded REST API enables administrators to more easily manage multilanguage deployments and upgrade clusters.
Both, according to Farmer, are practical updates that will help developers.
"The API updates are useful because they now enable better administration and management of analytics artifacts using the APIs," he said. "In other words, you can now manage your embedded analytics from the host application by using the APIs."
Beyond the enhanced APIs, some of the other new and upgraded features in Yellowfin 9.3 include:
Dashboard Broadcasting, which enables users to schedule or broadcast dashboards as a link or PDF;
an enhanced image widget that helps users find images and add them directly onto their dashboards;
enhanced text widgets that make editing and formatting text easier, including keyboard shortcuts for faster edits;
a new image manager that includes the ability to tag images as corporate images and make them visible only to users in appropriate roles; and
improved export to PDF for dashboards capabilities.
"I am sure the text and image widgets will be popular," Farmer said. "It means that users have even more control over the visual experience of their analytics, which is something that advanced users always want. And it is also important for developers who embed analytics, because they often need to include more visual components to be 'on brand' with the host application."
He added that, in total, Yellowfin 9.3 marks solid progress for Yellowfin's platform.
"The new Yellowfin release is another very promising milestone for them," Farmer said. "They really are maturing as a company in both their expectations and their execution. A strong, but incremental release."