itestro - Fotolia
Logi Analytics unveils new platform for developers
With ease of use and customization capabilities in mind, Logi unveiled Logi Composer, a new platform for developing embedded applications.
Logi Analytics unveiled Logi Composer on Wednesday, marking the launch of a new platform for developers to create embedded analytics applications.
Logi, founded in 2000 and based in McLean, Va., specializes in providing tools for developers to build applications. CEO Steven Schneider said that the release of Logi Composer, which is now generally available, is the culmination of more than seven years of research and development and is the most significant new product in the vendor's history.
The new platform doesn't replace existing Logi products such as Info and can be used in concert with Logi's other analytics products.
"This is our most significant release since our founding," Schneider said. "All of our other product releases are essentially add-ons to Logi Info to extend its capabilities. Composer is the first product that we took with the experience of having done [embedded application software development] for 17 years and built from the ground up to optimize around this use case for applications."
Logi Composer has a cloud-ready, microservices architecture and comes with data connectors that help users access their data and speed up queries. Meanwhile, using the platform, developers can customize and embed data visualizations and embed self-service features, which can be tailored to the skill level of the end users.
And beyond its technological capabilities, the platform was designed with both ease of use and customization in mind, according to Schneider.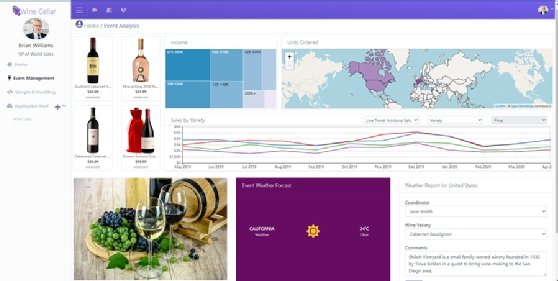 "We believe we cracked the code between ease of use -- an application you get into production and make it easy to use and create new content -- and ultimate control," Schneider said. "There are a lot of products out there that are pretty easy to embed and pretty easy to deliver, but when you really want to customize the end-user experience down to the nth degree, it's really hard to do that."
Key to its capabilities, Schneider added, is that Logi Composer was built independently of other Logi analytics tools and not as an add-on. In addition, he said, Logi's 2019 acquisition of Zoomdata and partnership with ERP vendor QAD played roles in the development of the final product.
Analysts, meanwhile, view the new platform as a significant tool for embedded application developers.
"I think this announcement is a doubling down of sorts for the company," said Mike Leone, senior analyst at Enterprise Strategy Group. "Logi has had a fantastic presence with developers already and this announcement is enabling them to empower even more developers to build faster, iterate faster, integrate more, and the result will be an improved level of time-to-value."
Similarly, Doug Henschen, principal analyst at Constellation Research, noted that the release of Logi Composer is a substantial move for the analytics vendor.
Composer is the first product that we took with the experience of having done [embedded application software development] for 17 years and built from the ground up to optimize around this use case for applications.

Steven SchneiderCEO, Logi Analytics
"Logi is clearly upping its game on developer-oriented microservices, APIs and support for containerized deployment," he said. "They're also taking advantage of query engine and performance-enhancing back-end improvements leveraged from last year's Zoomdata acquisition. The announcement brings progress on multiple fronts."
While Logi has specialized in providing a platform for developers, it isn't the only analytics software vendor equipping developers with the tools they need to create applications.
Both Salesforce and Microsoft have tools geared toward low-code/no-code application development. And among vendors specializing in analytics, Looker, Sisense and Yellowfin all recently introduced new tools for developers.
Logi, however, remains one of the analytics vendors most focused on tools for developers.
"Logi Analytics was early to specialize in embedded capabilities aimed at developers, so it has a great deal of experience in catering to this market, but it does face increased competition," Henschen said. "It's an important announcement for Logi, but it's not going to put it way out ahead of competitors."
Leone, however, posited that the release of Logi Composer, with its focus on development teams rather than end users, differentiates Logi's platform.
"I would argue that Logi is one of the better BI players when it comes to being developer-centric," he said. "I think this announcement keeps them there and if anything, separates them a bit more. While virtually all players in this space are focused on the developers … a majority are coming from a business analyst point of view. Logi's existing presence within development teams enables them to expand that presence."
Schneider, meanwhile, said he recognizes that other vendors are adding tools for developers to their platforms but sees a significant difference in the way Logi is going about it.
"This is all we do," he said, adding that when competing for business he rarely sees potential customers looking at BI vendors for their embedded application development needs.
With Logi Composer now on the market after seven years in the pipeline, self-service analytics and the needs of DevOps teams will remain a focus for the vendor with product development focused in those areas.
Adding more capabilities related to monitoring and scale is prominent on the vendor's roadmap, Schneider said, as is ease of use.
"We have a pretty aggressive list of things we want to add to the product," he said.