Getty Images/iStockphoto
Cloud-agnostic ethos key for Qlik as an independent vendor
The vendor has developed relationships with many of the key cloud providers and is intent on enabling its users to house their data on the cloud of their choice.
Qlik wants to meet customers on the cloud of their choice.
Last month, the analytics vendor unveiled new integrations for Qlik Sense and Qlik Data Integration with Amazon Redshift Serverless, a newly launched cloud data warehouse from Amazon Web Services.
The integrations enable Qlik customers to easily load data into Amazon Redshift Serverless through Qlik Data Integration and then access it for analysis through Qlik Sense. They also further the collaborative relationship between Qlik, founded in 1993 and based in King of Prussia, Pa., and AWS.
In 2021, for example, Qlik worked with AWS to develop a tool that enabled joint customers to upload access data from SAP into AWS in real time via Qlik Data Integration. And since 2020, Qlik has been an AWS Advanced Technology Partner with both Qlik Sense Enterprise SaaS and Qlik Data Integration, available on the AWS Marketplace.
"Amazon has always been a great partner of ours," said Drew Clarke, Qlik's chief strategy officer. "These integrations allow us to work with our customers who are using Redshift and want to scale out to use the serverless option. We can feed it, and then we can work with it on the analytics side."
But AWS isn't the only cloud provider with which Qlik has a close relationship.
Cloud-agnostic
Qlik offers its own cloud, and its analytics and data integration tools interact the most seamlessly with that proprietary cloud.
But like its peers among independent analytics providers -- including Domo, MicroStrategy and Sisense -- and those that focus on data integration, such as Informatica and Talend, Qlik enables its customers to use the cloud of their choice and provides support for those clouds. The most prominent cloud integrations include the Google Cloud Platform (GCP) and Microsoft Azure.
Qlik is a Microsoft Gold Partner, integrates with a host of Azure tools and has a strategic partnership with GCP that includes integrations with BigQuery and other GCP capabilities.
We need to be able to work where our customers want to work, so we've been investing in those relationships.

Drew ClarkeChief strategy officer, Qlik
Beyond the three most prominent clouds -- AWS, GCP and Azure -- Qlik also has partnerships with Snowflake and Databricks that enable users to store their data on those vendors' platforms.
Through a tool called Forts that Qlik introduced in October 2021, it also enables connections with cloud data repositories hosted by vendors that are less vendor-agnostic, including Oracle and IBM. Forts uses a containerized approach and enables users to work with data no matter where it resides.
"We need to be able to work where our customers want to work, so we've been investing in those relationships," Clarke said. "To maintain our independence as an analytics system of record for a company, we have to be able to access and work on any infrastructure. Otherwise, if we were only available on one cloud, our credibility as an independent provider of analytics would be compromised."
He added that virtually no enterprise stores all its data in one place, so to fully serve the needs of organizations at scale, Qlik needs to be able to work with any data repository. That cloud-agnostic philosophy, meanwhile, is critical for independent vendors, according to analysts.
Not only does it enable the vendors to work with customers on various clouds, but it also helps differentiate the independents from those like Microsoft Power BI, Google Looker and Amazon QuickSight that are part of one tech giant's portfolio of tools and closely aligned with the rest of that tech giant's suite.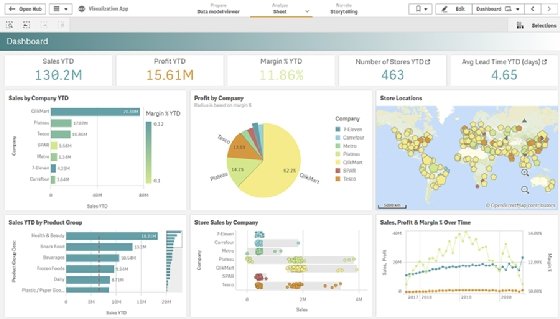 "Almost all independent analytics and data integration vendors are accentuating their hybrid-cloud and multi-cloud support precisely because it is differentiating and attractive to midsize and larger organizations that want flexibility and choice, even if [those organizations] work primarily with one cloud provider today," said Doug Henschen, analyst at Constellation Research.
Flexibility alone, however, is not enough, he continued.
Organizations also want tight integrations between their analytics and data integration providers and their cloud services. Independent vendors tend to offer tight integrations to an array of cloud providers better than platforms that are closely aligned with a single provider, according to Henschen.
"In my view, independents tend to offer more complete solutions and suites, whereas the cloud vendors tend to offer collections of low-level services that can be hard for customers to bring together and manage across multiple use cases," he said.
Meanwhile, Mike Leone, analyst at Enterprise Strategy Group, noted that most enterprises store their data in multiple locations -- not just on premises and in the cloud, but also across multiple clouds. Vendors can help those enterprises reduce the complexity of their analytics operations by working in each of those locations, he said.
"Data environments are distributed, and organizations are multi-cloud, whether they want to be or not," Leone said. "Being cloud-agnostic enables organizations to standardize on [one vendor's] technologies and drive down operational complexities that are commonly found in technology- and vendor-diverse environments."
Cloud emphasis
Qlik began to emphasize cloud-native capabilities as far back as 2016, when it introduced Qlik Sense Cloud Business.
That offering, however, came with limits -- including a cap of 50 users. In 2019, it was replaced with Qlik Sense Business, a fully managed SaaS version of the vendor's enterprise analytics platform deployed on Qlik's own cloud.
In 2020, the vendor added to its cloud-native offering by introducing a client-managed option to enable customers to deploy Qlik on the cloud of their choice.
Meanwhile, Qlik began emphasizing its cloud-native versions over its on-premises platform in 2021, and now rolls out new capabilities to its SaaS customers as soon as they're ready, rather than waiting to do a major platform update every three months.
Most recently, in June, the vendor launched Direct Query for Snowflake. The tool enables users to access and query data directly in Snowflake without first importing it into Qlik and then exporting it back into Snowflake when finished. Direct Query was introduced during Qlik's virtual user conference in May, and now that a version for Snowflake has been released, versions for other clouds will be rolled out over the next six months.
The Qlik Roadmap
In May, Qlik outlined its product development plans for the near future.
Among the capabilities Qlik revealed were Direct Query, the launch of AutoML so that users can build machine learning models without writing code, enhancements to Hybrid Data Delivery to better enable users to migrate from on-premises to the cloud, and new security and compliance features.
According to Drew Clarke, chief strategy officer at Qlik, now that Direct Query for Snowflake has been released with versions for additional clouds slated for general availability over the next six months, AutoML -- a result of Qlik's 2021 acquisition of Big Squid -- will be the next Qlik tool to hit the market.
Following the release of AutoML, Qlik will add more data governance capabilities to its platform with a data gateway tool that will enable system administrators to more easily set parameters on which employees can access what data.
Before releasing the first Direct Query tool, major additions to the vendor's analytics platform included an integration with robotic process automation vendor UiPath and the general availability of Forts.
The addition of Forts, in particular, was significant, according to Leone.
"One aspect particularly important and challenging for organizations in multi-cloud environments is governance and sovereignty," he said. "Qlik's approach with Qlik Forts is particularly valuable at enabling organizations to securely and confidentially extend Qlik analytics capabilities to wherever customers' data resides."
But while Qlik continues to expand its presence in the cloud and add functionality to its platform, it still has room for improvement, according to analysts.
Henschen noted that Qlik has methodically added capabilities through acquisitions in recent years, including purchases that added data integration (Attunity and Blendr.io) and automated machine learning (Big Squid). However, he said, it could still improve its extract, transform and load (ETL) capabilities.
"I could see either organic development or more tuck-in deals to support emerging trends such as ELT -- approaches often used with cloud data platforms like Redshift -- reverse ETL and real-time streaming data requirements," he said.
Leone, meanwhile, said that providing peace of mind to customers in a competitive field of analytics and data integration vendors is important.
He noted that Qlik has filled gaps in its product portfolio through acquisitions, but must continue to ease any concerns customers might have with respect to future integrations, the packaging of its portfolio and its pricing. Qlik Sense Business starts at $30 per user, per month, while the pricing of Qlik Sense Enterprise SaaS and Qlik Sense Enterprise Client-Managed is not public.
"This is especially critical as they continue to migrate existing customers to Qlik Sense," Leone said. "Any change or adjustment to existing operating models represents an opportunity for customers to explore other options."
Enterprise Strategy Group is a division of TechTarget.