WavebreakMediaMicro - Fotolia
Qlik Sense Business improves Qlik's cloud, AI capabilities
Qlik's new product shows the vendor's strategy of providing a cloud-based service for users that's rich in augmented intelligence and machine learning capabilities.
With the release of Qlik Sense Business on Tuesday, Qlik extended the reach of its cloud-first capabilities.
The offering replaces Qlik Sense Cloud Business, which the analytics and business intelligence vendor, based in King of Prussia, Pa., debuted in 2015.
In addition, Qlik rolled out Qlik Sense September 2019, the latest update of its central BI product.
Qlik Sense Business is a SaaS offering built on third-generation BI capabilities -- augmented intelligence and machine learning. It differs from Qlik Sense Cloud Business by removing limits on the number of users, connecting more seamlessly to Qlik Sense Enterprise and providing expanded AI and machine learning capabilities.
Among other features, Qlik Sense Business includes automated AI-generated insight suggestion, connectivity directly to more than 40 data sources, a personal space for users to create and share their own content, plus five shared spaces where users can team up to develop and control applications.
"Qlik Sense Cloud Business was very much what I would call a sandboxed kind of environment in that it was limited to 50 users, while Qlik Sense Business is open to any number of users that want to take advantage of our capability," said James Fisher, Qlik's senior vice president of strategic marketing. "But more important, Qlik Sense Business is part of exactly the same platform as our enterprise offering. That means we're able to create a seamless journey for customers."
Regarding the architecture, Fisher said that simply adding to Qlik Sense Cloud Business didn't make sense given the technological limitations of the old product. It didn't connect as well to Qlik Sense Enterprise, and didn't allow for the expansion of modern BI capabilities.
"By unifying on that singular platform we're able to ensure that a lot of the capabilities you might not get in just a sandbox cloud environment are fully available," he said. "Everything we do around augmented analytics, AI and cognitive technologies, all of that is available across both products, so that analytical experience users get is ultimately unified as well."
The introduction of Qlik Sense Business demonstrates Qlik's strategy of improving its cloud capabilities, according to Doug Henschen, analyst at Constellation Research.
In addition, it gives users added flexibility, he said.
Qlik continues to empower organizations of all sizes to embrace a data-centric culture. They're continuing to innovate outside of the traditional BI approach where the focus has been on the analysts.

Mike LeoneSenior analyst, Enterprise Strategy Group
"Qlik stepped up on cloud capabilities this year, porting Qlik Sense to Linux, the de facto operating system of the cloud, and introducing a containerized 'for Kubernetes' versioning of its software for use in hybrid and multi-cloud deployment," he said. "Qlik is also using this software for its own SaaS services, and the benefits include better performance, lower cost … and easier administration in the cloud."
Similarly, Mike Leone, senior analyst at Enterprise Strategy Group, based in Milford, Mass., said he likes where Qlik is headed with the release of Qlik Sense Business.
"Qlik continues to empower organizations of all sizes to embrace a data-centric culture," Leone said. "They're continuing to innovate outside of the traditional BI approach where the focus has been on the analysts. It's no longer just about data engineers, data stewards and data architects.
"This helps developers, operations and many other folks across the line of business to harness the power of data to further data-driven initiatives," he continued.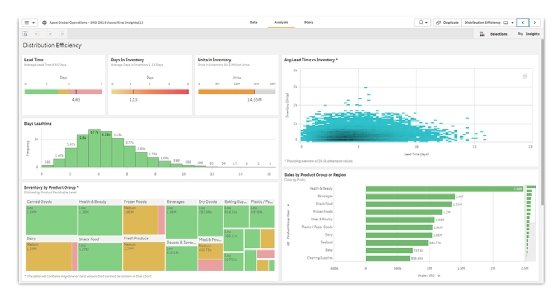 Not everyone, however, is as bullish on the evolution of Qlik's cloud-based offerings.
The release of Qlik Sense Business is more of an attempt to catch up to the rest of the market when it comes to offering a cloud-based option in addition to on-premises tools, said Wayne Eckerson, president of Eckerson Group.
"Qlik has always taken a measured approach to the cloud, preferring to offer customers a natural migration path since many were wedded to their on premises versions," he said. "Their acquisition by a private equity firm, internal management changes and recently their acquisitions of third-party companies put that journey on hold a bit. It now appears to be back on track."
Eckerson was referring to Qlik's acquisitions of Attunity and Podium Data, as well as its purchases of Crunch Bot and Crunch Data.
While Qlik Sense Business completely replaces a product Qlik deemed no longer good enough to meet the needs of modern business users, Qlik Sense September 2019 builds on the existing capabilities of Qlik's primary BI product.
The latest version adds new natural language processing capabilities, supporting natural language searches and interactions.
In addition, it contains updated connectors to Salesforce and Snowflake that will allow customers to access their data wherever they choose to store it.
"[Qlik] will continue to innovate with a great team and progress down their robust roadmap with a goal of transforming the way organizations not only analyze, but leverage data," said Leone. "Qlik's priority is all about enabling higher levels of data literacy and improving the time-to-act based on derived insights."
Dig Deeper on Business intelligence technology