Qlik multi-cloud, Kubernetes options drive cloud-first vision
Qlik advances its plan to be a cloud- and SaaS-first analytics vendor with new multi-cloud and Kubernetes deployment options. But on prem still is a priority -- for now.
GRAPEVINE, Texas -- Qlik is transforming itself into a cloud-first, SaaS-based analytics platform, but it's not leaving on premises behind anytime soon. The BI and analytics vendor introduced new, much-hyped Qlik multi-cloud deployment and Kubernetes-based options -- available now -- to give users greater flexibility.
Along with allowing users to deploy the Qlik Sense Enterprise platform entirely on its own hosted cloud services environment, Qlik will let them deploy the software on Kubernetes in the public or private cloud of their choice. This allows users to deploy and manage multiple cloud deployments as one, under a single-subscription licensing model, Qlik executives said.
For context, more than 80% of companies use a multi-cloud strategy, typically comprised of a hybrid cloud model that relies on public and private clouds, according to Rightscale's 2018 State of the Cloud.
Doug Henschen, an analyst at Constellation Research, said he sees Qlik's moves around its multi-cloud and SaaS-first strategy -- revealed at the vendor's Qonnections 2019 user conference -- as the most important developments from the event.
"It's a clear sign of recognition of the long-term direction of BI and analytics deployments," Henschen said. "Today, the majority of Qlik customers remain deployed on premises. The company is not taking away any options for on-premises deployment, including Windows Server deployments, but it's clearly preparing for the cloud future."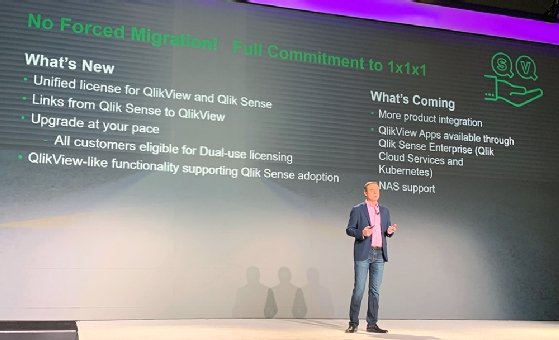 Qlik multi-cloud arrives, on premises here to stay
In a keynote, Qlik CEO Mike Capone stressed that despite Qlik's SaaS and cloud-first future, the analytics vendor is no less committed to letting users continue to run Qlik Sense in their own data centers or to QlikView, its older on-premises offering.
"We want to do this with you, not to you," Capone said. "Cloud has a little bit of inevitability to it … but that doesn't mean you have to jump there overnight. You can start to move things to the cloud at your pace and your schedule -- and we will support that forever."
The company is not taking away any options for on-premises deployment, including Windows Server deployments, but it's clearly preparing for the cloud future.

Doug HenschenAnalyst at Constellation Research
The ability to access on premises-based applications on Qlik's cloud is coming in the Qlik Sense June 2019 release. Minor updates such as NAS support also are coming to Qlik's traditional on-premises offering.
That the new Qlik multi-cloud, SaaS Kubernetes-based options use the same architecture and licensing model should help bring clarity and choice to organizations looking for deployment flexibility, Henschen added.
This flexibility is a plus for Steve Moccio, global service owner for BI and analytics at healthcare products maker Johnson & Johnson, which uses private cloud technologies -- namely, ones that run on AWS and Microsoft Azure -- along with its own internal software-defined data center.
"The [Qlik] multi-cloud architecture would fit our strategy very nicely," Moccio said. "We look for the ability to be able to leverage the best in class across all of our private cloud technologies -- the opportunity to be able to pick and choose which part of the architecture for each one of these clouds provides us either with a cheaper alternative or more computational resources."
The power of Kubernetes
Kubernetes plays a key role in Qlik's SaaS and cloud-first strategy, said Forrester analyst Martha Bennett.
"Qlik made an early bet on Kubernetes; this is really bearing fruit now," Bennett said.
A few other vendors, including IBM and MicroStrategy, have previewed or delivered Kubernetes-based deployments, but Qlik was among earliest to announce -- last year at Qonnections --- and could be among the earliest to deliver, according to Henschen.
In an interview, Qlik CTO Mike Potter said Qlik's SaaS and Kubernetes-focused strategy will bring more value to users.
"I'm actually quite excited because we have this confluence of the release of our enterprise SaaS offering, the awareness of the power of a Kubernetes environment, the flexibility that it gives a customer and their data needs. I actually think we're on the edge of a hockey stick."