hfng - Fotolia
Qlik Sense vs. QlikView: How the two Qlik tools compare
The differences between the two main Qlik software offerings may be small, but there are still some key considerations for potential customers to weigh.
When comparing the descriptions for Qlik's two main products, Qlik Sense and QlikView, you'd be forgiven for not...
Continue Reading This Article
Enjoy this article as well as all of our content, including E-Guides, news, tips and more.
fully grasping the differences between the two applications.
"There's a nominal difference at this point," said Ventana analyst David Menninger.
But while the question of Qlik Sense vs. QlikView may come down to small differences, Menninger said that's a good thing for the company.
QlikView was the company's flagship product from its founding in the early 1990s through 2014, when it launched Qlik Sense. Since that point, Qlik has devoted most of its development resources to Sense, but it has continued to maintain and update QlikView for the benefit of existing customers, which Menninger thinks is the right thing.
"I give them credit for that as a company," he said. "The emphasis has switched. [QlikView] has less frequent updates, but if you've invested in it, you can still use it."
Donald Farmer, a former Qlik executive who now heads TreeHive Strategy, a consulting group, said most new customers want to go with Qlik Sense, which the company itself recommends.
"So long as QlikView customers are breathing, Qlik will support them," he said. "On the other hand, there's not a lot of development."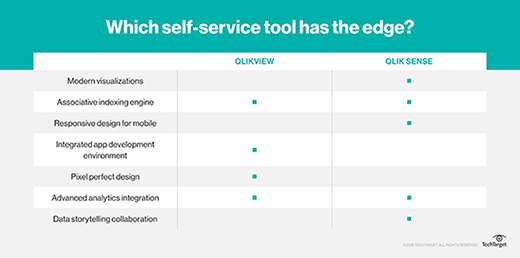 Qlik Sense vs. QlikView: The real differences
The two applications are built on the same technical core: the Qlik associative engine. This compute framework links data elements based on their commonalities rather than requiring the user to write a specific query, as is the case with most similar software applications -- an approach that supports intuitive data exploration, according to the company. This means both products are, at their most fundamental level, geared toward self-service data analytics.
But that's where the similarities stop. At a high level, Qlik Sense was designed to be more of a modern data exploration platform, similar to something like Tableau. QlikView is optimized primarily for shared business intelligence reports and data visualizations.
QlikView enables users to build applications with embedded analytics, but users need to know Qlik-specific development skills. Qlik Sense, on the other hand, is more flexible when it comes to embedding analytics in external applications. It supports general web standards like HTML 5.
Qlik Sense has a responsive design, enabling users to develop reports and visualizations that are optimized for either desktop or mobile viewing, while QlikView does not.
On the question of Qlik Sense vs. QlikView, the added functionality and modern user interface likely make Qlik Sense a better fit for most enterprises who are new to Qlik. But QlikView users should know the company is continuing to make updates to the product, diminishing the differences between the two over time. "For some period of time, there was a gap between View and Sense," said Menninger. "They've been working to minimize the gap."