Melpomene - Fotolia
Qlik readies new Qlik Sense features for cloud, AI, big data
Self-service BI vendor Qlik is beginning to add a promised set of advanced functionality to its Qlik Sense software, but the features will be delivered in stages.
A year ago, Qlik outlined long-term plans to add advanced cloud, AI and big data features to its self-service BI...
Continue Reading This Article
Enjoy this article as well as all of our content, including E-Guides, news, tips and more.
and data visualization software. Now it's starting to deliver pieces of what it promised -- and technology analysts say time is of the essence for the company.
Qlik said at its annual user conference last week that some elements of the technologies appeared in an April update to its Qlik Sense software, with more to follow in a release next month. For example, the new Qlik Sense features due in June include the ability to publish analytics data from on-premises BI systems to cloud-based ones -- the first component of a "multi-cloud" strategy designed to let users seamlessly run applications across a combined on-premises and cloud environment.
The Qlik Sense Enterprise June 2018 release will also build on an augmented intelligence feature set that aims to apply AI and machine learning functionality to assist users in analyzing and visualizing data. The April release included a feature that recommends chart designs based on fields selected by a data analyst; in June, Qlik plans to add an Insight Advisor tool that can point to key information in data sets.
More multi-cloud and augmented intelligence features will follow in subsequent versions of Qlik Sense, according to the Radnor, Pa., company, which is formally known as QlikTech International AB. The next update is due in September under a schedule of five releases per year that Qlik adopted in late 2017.
The third pillar of Qlik's advanced functionality plan, the Associative Big Data Index, is farther from fruition. It will enable the company's Associative Engine, which drives the BI software, to index information about the data in Hadoop clusters and other big data platforms. The goal is to give Qlik users rapid access to large data sets without requiring all of the data to be loaded into costly memory.
Qlik plans to release a beta version of the Associative Big Data Index during the second half of the year through its services organization, said James Fisher, the vendor's senior vice president of strategic marketing. The technology should become generally available either late this year or in early 2019, Fisher said in an interview after the Qlik Qonnections 2018 user conference in Orlando, Fla.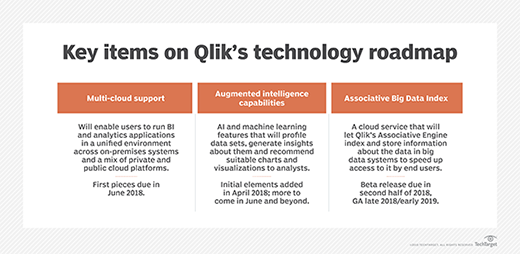 A need for more development speed
The overall tone at the conference was positive, said Donald Farmer, principal of analytics consultancy TreeHive Strategy in Woodinville, Wash. But Qlik's technology delivery and marketing efforts both "need to move up a gear," added Farmer, who led product strategy at the company until he left in late 2016 to become a consultant.
Farmer said Qlik offers better capabilities for mapping data sets than Tableau or Microsoft's Power BI, its top self-service BI rivals. Among other Qlik Sense features, he also praised new usability improvements made to the software, and the APIs and built-in integration routines that Qlik provides for developers.
However, Qlik has to ramp things up in order to keep up with Tableau and Microsoft and continue to expand its user base, Farmer said. In particular, "the promised machine learning features and the Big Data Index need to be delivered quickly if Qlik is to compete effectively against the sheer market presence of Power BI and the continuing popularity of Tableau with business users," he said. Illustrating the heavy competition, Tableau launched a data preparation tool called Tableau Prep on the first day of the main proceedings at Qlik Qonnections, although it described the timing as coincidental.
Fisher said Qlik is meeting the timeline it sketched out for the advanced functionality last year while also continuing to enhance the basic BI and data visualization capabilities in Qlik Sense. "We've largely delivered exactly on what we said we would deliver," he said. "We're extremely confident in where our focus lies today."
However, in his opening keynote at the user conference, Qlik CEO Mike Capone acknowledged the need to accelerate development of promised new Qlik Sense features and said the company is working to do so. In a similar vein, Capone, who joined Qlik in January, said in an interview the following month that he had reorganized its R&D operations "to put more people behind the keyboard coding."
Internal and external challenges for Qlik
Qlik was acquired by private equity firm Thoma Bravo in 2016, and the company had rounds of layoffs last year and in January. The acquisition and its aftermath appeared to slow down the pace of product development at Qlik, said Rick Sherman, founder and managing partner of consultancy Athena IT Solutions in Maynard, Mass. "I think it definitely set them back some," Sherman said.
Jen Underwood, founder of product research and consulting firm Impact Analytix LLC in Tampa, Fla., wrote in a blog post that Qlik competes with "massive sharks" that have broader product portfolios and stronger brand recognition among prospective users. In addition, it's operating with what looks to be "an extremely lean staffing model," she said.
My gut feel is Qlik is doing the best that they can with a limited budget.

Jen Underwoodfounder, Impact Analytix LLC
The roadmap of planned Qlik Sense features is solid, said Underwood, who thinks the augmented intelligence capabilities and Associative Big Data Index sound particularly useful. However, she said that while Capone appears to be listening to customers and trying to do the right things, "he will need to get adequate funding from Thoma Bravo for Qlik to thrive." For now, Underwood wrote, "my gut feel is Qlik is doing the best that they can with a limited budget."
Qlik also plans to incorporate some of the advanced features into QlikView, an earlier product that it still offers. In addition, the company said it will make both Qlik Sense and QlikView available to customers under a single license in the future, with a shared user experience and application hub. Full details are due later this year on that plan, which Underwood said would address "a huge, fair gripe with Qlik's customer base that prompted shopping for alternatives" by some existing users.
Dig Deeper on Business intelligence technology