Kit Wai Chan - Fotolia
Self-service BI software comparison: Tableau vs. Power BI, Qlik Sense
Three software vendors have taken the lead in the market for self-service BI tools. This chart can help you sort out the differences between these common software applications.
During the past couple of years, a handful of major players have dominated the self-service business intelligence...
Continue Reading This Article
Enjoy this article as well as all of our content, including E-Guides, news, tips and more.
marketplace.
Microsoft's Power BI, Qlik Sense and Tableau Software offer features and functionality that put them ahead of the competition in a number of key areas. But, when compared, these three vendors offer very different pros and cons. While these vendors lead the pack in the crowded self-service BI market, each enterprise will have to decide which offering is best for them, as they are not interchangeable.
Tableau has led the way on functionality and design, but it has recently started seeing strong competition, particularly from Power BI, which offers somewhat less functionality for a significantly lower price. And Qlik's software excels at producing interactive graphics using complex data.
The self-service BI software market has become crowded over the past few years, and what once was innovative -- supporting business users in getting insights from data -- is now the industry standard. This means that vendors are competing over increasingly narrow differences.
Things like support for advanced analytics functionality and cloud options have become bigger deciding factors than in the past. And now the trend of smart data discovery -- which involves using machine learning algorithms to detect meaningful insights in data, rather than forcing a person to find correlations -- is playing a role in the ability of self-service platforms to deliver ROI.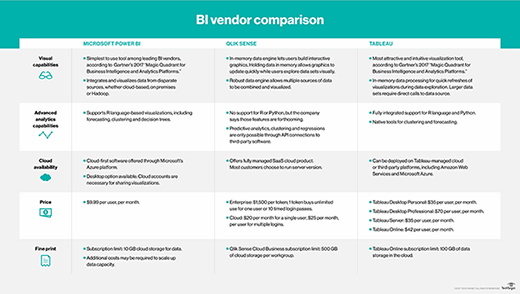 Going forward, whichever vendor can most successfully take advantage of these trends will dominate the self-service BI software market. But, for now, these three vendors have distinguished themselves from the competition. If you're evaluating Tableau vs. Power BI and Qlik Sense, review the chart to see which tool best fits your needs.
Next Steps
Consider all users' needs when implementing self-service BI tools
Self-service refreshes musty outlooks on business intelligence
PodiumData brings its data management to Qlik
Not everything is easy when it comes to implementing self-service tools
Dig Deeper on Business intelligence management