darren whittingham - Fotolia
Qlik-Podium acquisition aims to boost BI data management
With its acquisition of Podium Data, Qlik seeks to amplify its enterprise BI data management capabilities and raise the level of competition with Tableau and Power BI.
Qlik is buying startup Podium Data. The Qlik-Podium acquisition gives the self-service BI and data visualization...
Continue Reading This Article
Enjoy this article as well as all of our content, including E-Guides, news, tips and more.
software vendor new data management technology to boost its enterprise strategy and its ability to compete with archrival Tableau.
As part of the Qlik-Podium deal, Podium Data will move all 30 of its employees -- including the co-founders and management team -- from its Lowell, Mass., headquarters to Qlik's regional office in Newton, Mass. Financial terms weren't disclosed.
Podium will be a wholly owned subsidiary of Qlik and operate as a separate business unit, though with tighter connections to the Qlik platform to provide expanded BI data management capabilities, according to Drew Clarke, senior vice president of strategy management at Qlik.
Podium's namesake technology, which automates data ingestion, validation, curation and preparation, will remain open and able to integrate with other vendors' BI and analytics platforms, Podium CEO Paul Barth said.
Qlik on the rebound?
The Qlik-Podium purchase is part of Qlik's effort to rebound from business problems that led to it being bought and taken by private equity firm Thoma Bravo in 2016. Multiple rounds of layoffs and a management change ensued, and Qlik lagged somewhat behind both Tableau and Microsoft Power BI in marketing and product development.
"It's part of an acceleration of our vision," Clarke said of the acquisition in a joint interview with Barth at the Newton office. "When we looked at what's going on in big data in terms of volume of data and the management of that and making it accessible and analytics-ready, we felt that the Podium data solution was a great fit."
While Clarke maintained that Qlik has been "enterprise-class" rather than department-oriented for some time, he also said Podium's data management technology gives Qlik the ability to scale up and manage larger volumes of data.
Clarke said Podium's technology is complementary to Qlik's Associative Big Data Index, a system expected to be released later this year -- that will index the data in Hadoop clusters and other big data platforms for faster access by Qlik users. "Podium can be used to prepare data files, which supports the Associative Big Data Index creating its indexes and other files," he said.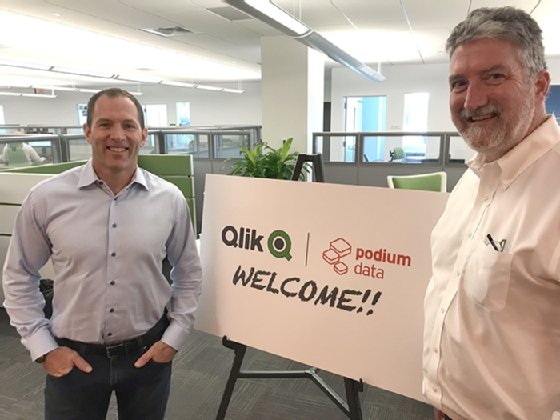 How the sale came about
Barth said that after emerging as a startup more than four years ago, Podium was mulling another round of investment in January. The company started talking to investors and "strategic technology companies" and connected with Qlik, he added.
Podium fits into Qlik's business strategy to provide data, a platform and analytics tools in the role of the data component, Barth said, "and we're going to work with them on the platform piece to deploy this both on premises and in the cloud."
For now, Podium is keeping its name, "but more information will be coming" about that within the year, including the possibility of a new name, Clarke said.
With Podium, Qlik broadens scope
Tableau released a data preparation tool for use with its BI software in April. But buying Podium enables Qlik to establish a complete data management and analytics platform in conjunction with its Qlik Sense software and improves the company's ability to compete with Tableau, said Donald Farmer, principal of analytics consulting firm TreeHive Strategy and a former Qlik executive.
This is part of a trend of Qlik expanding their scope.

Donald Farmerprincipal, TreeHive Strategy
"This is a good acquisition for Qlik," Farmer said. "In terms of competition, this more complete platform enables them to position effectively in a broader space than, say, Tableau."
Farmer said the Qlik-Podium acquisition also makes Qlik more resemble companies in the enterprise BI space like Tibco and Microsoft that offer end-to-end self-service data management, including software for acquiring, cleansing and curating data, plus analytics and collaboration tools.
"Together with announcements that Qlik made at their Qonnections conference in May about machine learning and big data analytics, this is part of a trend of Qlik expanding their scope," Farmer said.
Qlik gets data lake capabilities
Podium often is associated with managing data lake environments that feed big data applications, although it says its platform can handle all types of enterprise data. The Podium architecture is built on top of Hadoop, which Barth said makes the technology less expensive for enterprises running tens of thousands of processing jobs a night.
David Menninger, an analyst at Ventana Research, said he was surprised at the Qlik-Podium acquisition announcement.
In part, that's "because Qlik has not been particularly strong in the data lake market because of their in-memory architecture, but Podium is largely focused on data lakes or big data implementations," Menninger said.
Nonetheless, Menninger said he sees some positive potential for the deal for Qlik and its users.
"As analytics vendors add more data preparation capabilities, Podium Data's capabilities can significantly enhance the value of data processed using Qlik," he said.
News writer Mark Labbe contributed to this story.