momius - Fotolia
Independent vendors Qlik, MicroStrategy upgrade BI platforms
Independent business intelligence and analytics vendors Qlik and MicroStrategy update their platforms in a move to stay ahead of their competition.
Independent analytics vendors Qlik and MicroStrategy upgraded their business intelligence platforms, keeping both among the more active on the competitive analytics landscape.
MicroStrategy 2019 Update 2 -- the latest version of MicroStrategy 2019 -- is designed largely to increase the capabilities of HyperIntelligence, an analytics tool offered by MicroStrategy and accessed by users through web browsers and mobile applications rather than its own software application.
Qlik, meanwhile, said on June 28 that it rolled out its June 2019 Product Release. The new release includes updates to Data Catalyst, a rebranded version of the data platform that came from Qlik's July 2018 acquisition of data management vendor Podium that will open up Qlik's data structure to users of other business intelligence platforms for the time, as well as allow users to trace the lineage of data back to its source.
Both releases were delivered automatically to users through the cloud.
The MicroStrategy update enhances HyperIntelligence's web browsing capabilities, speeds up access to BI functions on iOS and Android devices, and adds information windows through email on Outlook with pop-ups containing information appearing as the user hovers over text, according to the vendor. In addition, the update aims to boost the productivity of MicroStrategy users who also work with Microsoft Power BI, Qlik, Tableau and other BI platforms -- all of which MicroStrategy supports -- by adding power to support higher data volumes.
"It's embedded BI on steroids," said Wayne Eckerson, president of the Eckerson Group. "They're taking it to the next level where they put BI inside of other applications so you don't have to context search. They're putting analytics in applications people work with every day."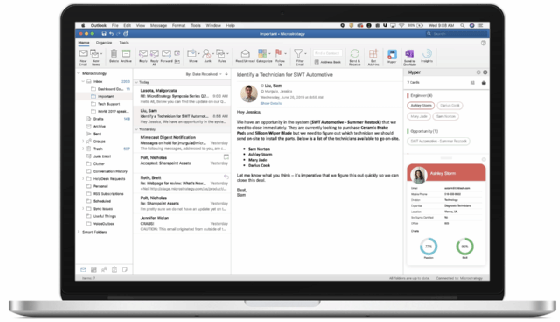 Other features of MicroStrategy Update 2 include:
HyperIntelligence for Mobile. This is a stand-alone HyperIntelligence app for Android that can be accessed on both tablets and smartphones and enables users to search within the app, and provides calendar-based notifications.
HyperIntelligence for Office. This feature is a product that connects HyperIntelligence with the Microsoft Office suite. According to MicroStrategy, insights can be delivered via Outlook through HyperIntelligence cards to web and desktop clients for both Windows PC and Mac users.
HyperIntelligence for Web. This introduces cards that include dynamic links to URLs. It is designed to enable users to get data and insights on not only their web applications but also by linking other applications.
Beyond HyperIntelligence, the MicroStrategy upgrade expands MicroStrategy's ability to connect with other BI platforms, supporting higher data flows.
"From an application standpoint, we're making data available to all applications," said Vijay Anand, vice president of product marketing, enterprise analytics at MicroStrategy. "And from a productivity standpoint, we're making data available without having to search applications or have a skill set."
It's embedded BI on steroids. They're taking it to the next level where they put BI inside of other applications so you don't have to context search.

Wayne Eckerson President, Eckerson Group
MicroStrategy's product development moves come after the Tysons Corner, Va., vendor sold the Voice.com domain name in June, raising $30 million it can invest in R&D.
Qlik, meanwhile, is trying to expand beyond its universe of Qlik users.
Previously, users needed a Qlik application to access the Qlik data structure. Likewise, while using Qlik, users were unable to access data developed on other BI platforms.
With the latest enhancements to Data Catalyst, however, Qlik users will be able to communicate data with those using Tableau, Power BI and other analytics tools.
"We're now in the open data business, as of today," said Joe DosSantos, Qlik's global head of EDM product strategy, who added that Qlik is now "multi-cloud and multilocation."
With the Podium acquisition, along with its subsequent purchase of Attunity, another data management vendor, in May, Qlik has expanded beyond the data visualizations it had been known for.
Attunity suffered a data breach that was uncovered by UpGuard on May 13, just a week after Qlik closed on its agreement to acquire Attunity, and news of the breach became public almost simultaneous to the release of the new Qlik Data Catalyst features.
Qlik has declined to comment on whether a security audit had been performed at any point during the acquisition process but said the exposed information involved internal Attunity data and not Qlik client data.
The breach is not related to Data Catalyst and Qlik's acquisition of Podium. Data Catalyst is a separate suite of tools from the Attunity products. With both Podium and Attunity in its portfolio, Qlik is one of the vendors attempting to offer a full range of analytic capabilities. Like Salesforce with its recent acquisition of Tableau and Google with its purchase of Looker, Qlik is building out from its original niche platform to try to become a more comprehensive analytics platform.
"Qlik is trying to become an end-to-end data platform," Eckerson said. "They're trying to become a one-stop shop."
Dig Deeper on Business intelligence technology