Sergey Nivens - Fotolia
New cloud features highlight Qlik analytics platform update
Enhanced SaaS capabilities and tools to help customers migrate their analytics operations to the cloud highlight the latest platform update from Qlik.
The latest iteration of the Qlik analytics platform is highlighted by an update to Qlik Sense Enterprise that gives customers the choice of selecting SaaS or client-managed versions.
The platform update was unveiled April 14 and is now generally available.
Qlik, founded in 1993 and based in King of Prussia, Pa., first introduced enterprise SaaS capabilities in April 2019. Qlik Sense Enterprise SaaS now breaks out the capabilities from the rest of the Qlik Sense offering and gives customers choosing the SaaS option the ability to deploy exclusively in Qlik's cloud.
Similarly, Qlik Sense Enterprise Client-Managed has been broken out from the overall Qlik Sense offering and is a means for customers to deploy on premises or in the cloud of their choice.
In addition, in an effort to help customers migrate to the cloud, the vendor unveiled a direct path for QlikView users to adopt Qlik Enterprise SaaS to host their QlikView documents in the cloud. As part of the Qlik Analytics Modernization Program, it allows customers to adopt Qlik Sense at their own pace without disrupting their QlikView operations.
The Qlik Sense suite of tools, first introduced in 2015, features augmented intelligence capabilities and a multi-cloud architecture that helps ordinary business users take advantage of business intelligence without the assistance of data scientists. QlikView, meanwhile, is the vendor's longstanding analytics platform that helps users glean insight from their data with visualizations.
"What we're seeing is that while multi-cloud is still critically important, a lot of organizations are looking to go down a singular path," said James Fisher, Qlik's chief product officer. "They want that flexibility of choice."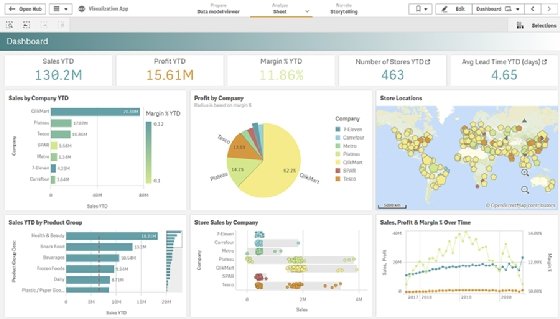 It's that need for flexibility that led to the development of Qlik Sense Enterprise SaaS and Qlik Sense Enterprise Client-Managed as specific, separate offerings, Fisher said.
"[Some customers] want to run in the vendor's cloud, and actually have the vendor provide all of the associated infrastructure and services around that, or customers making strategic commitments to other cloud platforms, or even in some other cases still on-premises, want the ability to drive in those," Fisher said. "This is really responding to that choice and making it easier for them to consume in the area that's aligned most with their strategy."
Meanwhile, taken as a whole, the updated Qlik analytics platform extends Qlik's expansion of its cloud-based capabilities, which include the vendor's release of Qlik Sense Business in October. In addition, it continues Qlik's effort to help customers migrate to the cloud.
Enabling users to move to the cloud without abandoning all they've done in QlikView through the years is key, according to Wayne Eckerson, founder and president of Eckerson Group.
Qlik Sense is geared to self-service and is where Qlik is investing for the future, so anything to migrate QlikView to the cloud and make it easier to transition to Qlik Sense is a good thing.

Wayne EckersonFounder and president, Eckerson Group
"Lots of customers love QlikView and are dependent on the apps they've built with it -- it's a developer tool," he said. "However, Qlik Sense is geared to self-service and is where Qlik is investing for the future, so anything to migrate QlikView to the cloud and make it easier to transition to Qlik Sense is a good thing."
Beyond breaking out the SaaS and client-managed versions of Qlik Sense and the expansion of the cloud capabilities of the Qlik analytics platform, new features included in the April release include eight new visualizations for Qlik Sense, new data connectors and improved data file management capabilities.
The Qlik analytics platform update comes as organizations in all industries deal with the economic slowdown created by the COVID-19 pandemic and less than a week after fellow BI vendor Domo laid off about 10% of its staff.
But while Domo has failed to turn a profit since emerging from stealth in 2015 and has significant debt on its balance sheet, Qlik, in part as a result of its acquisition in 2016 by private equity firm Thoma Bravo, is in a strong position to withstand the current crisis, according to Donald Farmer, principal at TreeHive Strategy.
"Qlik is probably in an excellent position because the private equity acquisition drove down costs relentlessly -- some would say ruthlessly," he said. "They are now profitable, trim and well placed with existing customers."
Meanwhile, Fisher said Qlik will continue to expand its SaaS offerings. Also part of the vendor's roadmap are augmented intelligence tools including search and natural language processing that enable data literacy and enabling non-data scientists to use Qlik.
"Our focus areas are around continuing to deliver out on our vision around enterprise SaaS, which is what this release is primarily about -- continuing that investment in helping our customers modernize their analytic landscape and take advantage of new capabilities," Fisher said.