Sergey Nivens - Fotolia
Tellius introduces SaaS version of its analytics platform
Tellius, an analytics startup whose platform is built on AI and machine learning, introduced a SaaS version of its tools to help customers reduce costs.
Tellius introduced Tellius On-Demand, a new SaaS version of its analytics platform designed to help businesses quickly derive insights from data.
The analytics vendor, founded in 2015 and based in Reston, Va., previously introduced Tellius Enterprise when it emerged from stealth in 2018.
On-Demand, unveiled Wednesday and now generally available, is hosted on Tellius' own cloud and comes with a consumption-based pricing model that can reduce costs by allowing customers to only pay for the data processing and compute power they actually use. Enterprise, meanwhile, is subscription-based and can be deployed on whichever cloud a customer prefers or on premises.
Tellius developed On-Demand in response to customers, according to Tellius founder and CEO Ajay Khanna. While some customers explore their data constantly, others only need to access and examine data some of the time. So for those who don't need their analytics platform every minute of every business day, Tellius developed a pay-as-you-go version of its platform.
"What we're launching is an on-demand version, which is a SaaS offering," Khanna said. "You can start with a few hundred dollars a month, and then if things go up you can transition to a subscription."
Tellius has about 20 customers for its Enterprise version, Khanna said. About 60% of those are large enterprises and 40% are small and medium-sized businesses, and most customers are in the life sciences, pharmaceutical industry and financial services. The SaaS version will allow more SMBs to get started, as well as enable large organizations to extend the platform into different departments, the vendor said.
But while offering a SaaS version is an expansion for Tellius, Donald Farmer, principal of TreeHive Strategy, noted that offering a SaaS version in addition to an enterprise version is not unique.
"There are advantages to SaaS, but these days everyone is doing it so there's no great competitive advantage," he said. "It's really a catch-up offering."
The Tellius platform is built on the vendor's philosophy of Guided Insights.
Guided Insights, according to Khanna, enables users to easily navigate the analytics process, from loading their data all the way through the point where they derive insights and can make data-driven decisions.
By using augmented intelligence and machine learning, Tellius enables users to easily and quickly search their data using natural language processing to understand what's happening in their business. Beyond that, however, Tellius takes the next step and explains why a key performance indicator may be changing, or holding steady.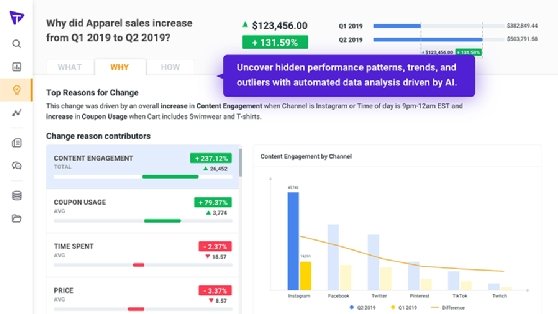 On a line graph, for example, a user can hover their mouse over a certain date and an icon will pop up asking if they want to know why there was a change on that date, or over a certain time period.
Meanwhile, the platform was developed in response to two problems Khanna said he saw in the market in 2015.
First, he said, there was a dissonance between BI tools that provided strong data visualizations and platforms that were more rooted in data science and geared toward experts in coding. The data visualization tools could provide insight into data such as a business' revenue by region, but if a user wanted to dig deeper into the data and break it down further by state or county, for example, they couldn't do so on their own.
And second was that inability to take the next step and explain the reasoning behind what was happening, and not simply for anomalies or sudden changes but for any data point.
We felt that there has to be a user experience where you can start with what happened, and then very quickly go to why things changed.

Ajay KhannaFounder and CEO, Tellius
"We felt that there has to be a user experience where you can start with what happened, and then very quickly go to why things changed," Khanna said. "We start with a search -- we built it from the ground up to support a Google-like search experience where you can ask a question in natural language and get results across billions of records -- and as soon as users start getting those answers, they can start asking why things happen."
Regarding the technological capabilities of Tellius' platform, while Farmer said that the SaaS offering is not unique, he added that the level of its AI differentiates it somewhat from the AI capabilities most other BI vendors currently offer.
"If you want to make a distinction between artificial intelligence and machine learning, meaning it's not just about algorithms and there's some genuine autonomy in the system, Tellius probably does have a more advanced platform than many of the other vendors who say they're offering augmented analytics," Farmer said.
Tellius will continue to build out its platform, focusing on adding more ways to ask and answer why, Khanna said. In addition, Tellius plans to start pushing information out to users based on learning their habits rather than forcing users to query their data before getting key information.
Dig Deeper on Business intelligence technology