apops - Fotolia
Startup Sisu's data analytics tool aims to answer, 'Why?'
With the ability to answer, 'Why?' at the core of its diagnostic tool, startup analytics vendor Sisu recently entered the market with aims of competing against established vendors.
Armed with $66.7 million in venture capital funding, startup vendor Sisu recently emerged from stealth and introduced the Sisu data analytics platform.
Sisu, founded in 2018 by Stanford professor Peter Bailis and based in San Francisco, revealed on Oct. 16 that it secured $52.5 million in Series B funding, led by New Enterprise Associates, a venture capital firm with more than $20 billion in assets under management. Previously, Sisu secured $14.2 million in funding, led by Andreessen Horowitz, which also participated in the Series B round.
On the same date it revealed the new infusion of capital, the startup rolled out the Sisu data analytics tool for general use, with electronics and IT giant Samsung already listed as one of its customers.
Essentially an automated system for monitoring changes in data sets, Sisu enters a competitive market featuring not only proven vendors but also recent startups such as ThoughtSpot and Looker, which have been able to differentiate themselves enough from other BI vendors to gain a foothold and survive -- Looker agreed to be acquired by Google for $2.7 billion in June while ThoughtSpot remains independent.
"Startups have to stand out," said Doug Henschen, an analyst at Constellation Research. "They can't present me-too versions of capabilities that are already out there. They can't be too broad and they also can't expect companies to risk ripping out and replacing existing systems of mission-critical importance. The sweet spot is focused solutions that complement or extend existing capabilities or that take on new or emerging use cases or challenges."
The Sisu data analytics platform is just that -- highly focused -- and not attempting to do anything other than track data.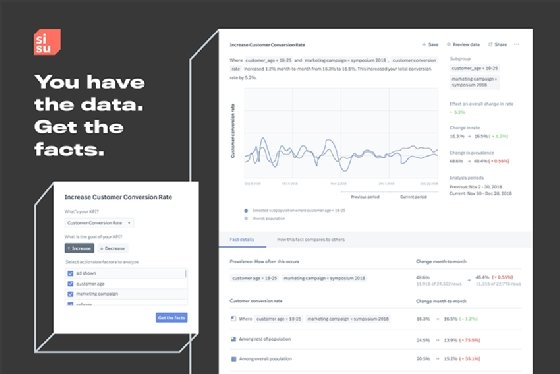 It relies on machine learning and statistical analysis to monitor, recognize and explain changes to a given organization's key performance indicators.
And it's in that final stage -- the explanation -- where Sisu wants to differentiate from existing diagnostic tools. Others, according to Bailis, monitor data sets and are automated to send push notifications when changes happen, but don't necessarily explain why those changes occurred.
Startups have to stand out. They can't present me-too versions of capabilities that are already out there.

Doug HenschenAnalyst, Constellation Research
"We're designed to answer one key question, and be the best at it," said Bailis, who is on leave from Stanford. "We want to be faster, and we want to be better. There's intense pressure to build everything into a platform, but I'm a firm believer that doing any one thing well is a company in itself. I'd rather be great at diagnosing than do a bunch of things just OK."
The speed Bailis referred to comes from the architecture of the Sisu data analytics tool. Sisu is cloud native, which gives it more computing power than an on-premises platform, and its algorithms are built on augmented intelligence.
That speed is indeed a meaningful differentiator, according to Henschen.
"The sweet spot for Sisu is quickly diagnosing what's changing in critical areas of a business and why," he said. "It's appealing to high-level business execs, not the analyst class or IT. The tech is compatible with, and doesn't try to replace, existing investments in data visualization capabilities."
Moving forward, Bailis said the Sisu data analytics platform will stay focused on data workflows, but that there's room to grow even within that focused space.
"Long term, there is a really interesting opportunity for additional workflow operations," he said. "There's value because it leads to actions, and we want to own more and more of the action space. You can take action directly from the platform."
Meanwhile, though survival is a challenge for any startup and many begin with the end goal of being acquired, Bailis said Sisu plans to take on the challenge of independence and compete against established vendors for market share. The recent funding, he said, will enable Sisu to continue to grow its capabilities to take advantage of what he sees as "an insane opportunity."
Henschen, meanwhile, cautioned that unless Sisu does in fact grow its capabilities, it likely will be more of an acquisition target than a vendor with the potential for long-term survival.
"Sometimes startups come up with innovative technology, but [Sisu] strikes me as an IP [intellectual property] for a feature or set of features likely to be acquired by a larger, broader vendor," he said. "That might be a good path for Sisu, but it's early days for the company. I think it would have to evolve and develop broader capabilities in order to go [public] and continue as an independent company."

Sisu is a Finnish word that translates loosely to tenacity or resilience, and is used by Finns to express their national character.