Sergey Nivens - Fotolia
Up-and-coming BI vendors to watch in 2020
Promising BI startups look to gain a foothold in 2020 by focusing on underserved markets and embracing next-gen technologies not available in traditional analytics tools.
The up-and-coming BI vendors to watch in 2020 are doing something different than the long-established vendors to meet the needs of previously underserved audiences.
Just a few years ago, ThoughtSpot was an unknown. But the BI analytics vendor was an early adopter of augmented intelligence and machine learning, and though founded only seven years ago, the company has already amassed $543.7 million in funding. In 2019, based on its search and natural language processing capabilities, ThoughtSpot ranks among the top analytics vendors in Gartner's Magic Quadrant for Analytics and Business Intelligence Platforms.
The up-and-coming BI vendors are similarly progressive and are doing things long-established BI vendors haven't.
"There has to be something that's an outlier about the company, but in a positive way," Vanessa Larco, a partner specializing in new technology investments at New Enterprise Associates (NEA), said when asked what she looks for in startup BI vendors.
Follow the money
NEA, founded in 1977 and based in Chevy Chase, Md., currently has over $20 billion in assets under management, and one of the industries it targets for investments is business intelligence. In the past year, NEA has invested in seven startups that operate with the BI industry -- Anyscale, Infoworks, Knotch, Metabase, Sisu Data, Stretch Metrics and WebShield.
In years past, NEA was an early investor in Databricks, Salesforce and Tableau.
When startup BI vendors attract venture capital investments from firms like NEA, it can be seen as a clear sign that the startups are on to something.
BI vendor Sisu Data, based in San Francisco, emerged from stealth in October with a platform that monitors data sets for changes, but rather than merely alert customers when key performance indicators change, it uses machine learning algorithms to explain why.
And it's with the ability to provide that explanation that Sisu attempts to differentiate itself from existing diagnostic tools.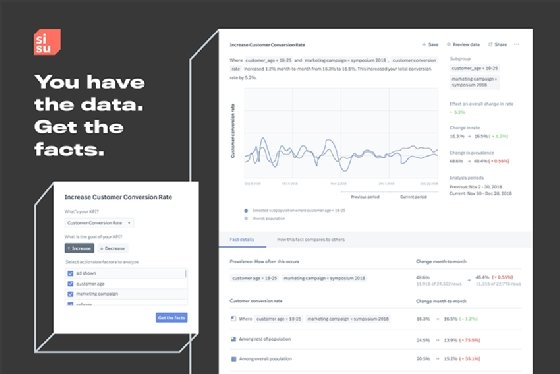 "No one is effectively solving detection -- they're either not good enough or they can't scale," said Peter Bailis, founder and CEO of Sisu. "We're working toward where every line of business user has a diagnostic tool sitting on top of their data."
Larco, whose background is in computer science and was previously the director of product management at Box, said she and her product teams often spent weeks attempting to discover why a metric changed, so when she heard about Sisu, she knew that the company had the potential to attract a substantial customer base.
Sometimes you spend all that time trying to figure out why, and then nothing comes of it, so when I saw the Sisu value proposition I thought that if this actually works it could be game-changing.

Vanessa LarcoPartner, New Enterprise Associates
"Sometimes you spend all that time trying to figure out why, and then nothing comes of it, so when I saw the Sisu value proposition I thought that if this actually works it could be game-changing," she said.
Metabase, meanwhile, is an open source BI platform that installs in minutes and lets anyone within a given organization analyze and interact with data, create dashboards and schedule email reports. To date, Metabase, headquartered in San Francisco, has attracted $21 million in financing.
Infoworks has attracted $45 million in financing to date. The vendor is based in Palo Alto, Calif., and automates the big data engineering process.
NEA is far from the only venture capital firm to target BI vendors. Andreessen Horowitz is another significant venture capital investor in technology startups, including BI vendors. The firm led Sisu's first round of funding, and participated in the second round, which was led by NEA.
Among other analytics startups in Andreessen Horowitz's active portfolio are Databricks, Instabase and RapidAPI.
Still another VC firm is Accel, which in the past invested in companies like Cloudera, MemSQL and Qualtrics, which was acquired by SAP for $8 billion in 2018. In 2019, Accel led a $19 million Series A investment in Ascend, a vendor focused on data pipelines founded in 2015 and based in Palo Alto.
"I really like the angle [Ascend is] taking -- not just simplifying the plumbing, technology integrations and data flows across data pipelines, but enabling businesses to query all data at any point using the same interface, within the same product and with the same language," said Mike Leone, analyst at Enterprise Strategy Group. "There are massive productivity gains to be had from intelligent data orchestration and I feel like nobody is talking about it."
Finding an audience
Given that NEA's Larco does just a couple of deals per year, yet discusses one or two potential deals each day, venture capital money is an indicator that a particular company is on to something -- but it's not the only indication. What startup BI vendors actually do -- and why they got the venture capital investment in the first place -- matters.
Some, like Sisu, are looking to take analytics to a new level with focused expertise. Others are taking advantage of new technologies the way ThoughtSpot did. And still others are targeting potential customers that aren't being served by the general-purpose platforms offered by most BI vendors.
Stratifyd, a customer analytics company founded in 2015 and based in Charlotte, N.C. mirrors Sisu in the sense that it hones in on one area of BI and aims to be better in that one area than any other vendor. While Sisu attempts to answer why a change in a KPI may have occurred, Stratifyd's purpose is to tell customers what to do when their KPIs change -- prescriptive analytics.
"This year I thought Sisu and Stratifyd stood out a bit in that they're both taking a focused approach to a business problem instead of being a general-purpose tool aimed at data wonks," said Doug Henschen, analyst at Constellation Research. "Sisu focuses on diagnostic analytics, why things are happening, while Stratifyd is focusing on prescriptive analytics, what to do about what's happening."
While Stratifyd and Sisu have a similar strategy, TigerGraph is based on new graph technology.
The vast majority of databases are relational, and they're limited by their ability to connect a given data point with only one other data point at a time. Graph databases offer an alternative that simplifies the connection of data points to one another and allows them to simultaneously connect with more than one.
The result is the ability to turn data into insight much faster.
Based in Redwood City, Calif., TigerGraph is a native graph analytics platform first unveiled in 2016. In 2019, the vendor rolled out TigerGraph Cloud, its first graph database as a service.
"One of the things in there that is very important and that we see as a driver in the market is real time -- being able to update information in real time and being able to link data from what's happening to provide better recommendations based on the analytics that just came in," said Todd Blaschka, TigerGraph's chief operating officer. "A second one is being able to do both analytics and transactional workloads on the data at the same time."
Yet another means for startup BI vendors to establish themselves is to target a previously underserved audience, and in recent years a host of domain-specific vendors have cropped up. Rather than target general business users with one-size-fits-all tools, they're tailoring their platforms to meet the needs of their desired audience with pre-built applications.
Flowhub, for example, targets the cannabis industry; Soundcharts is following in the footsteps of Next Big Sound -- a 2008 startup later acquired by Pandora -- by providing music analytics tools; and Sports Alliance and SportsSource Analytics gear their platforms toward -- you guessed it -- sports.
"People demand insights, and that's lacking in the music industry," said David Weiszfeld, CEO of Paris-based Soundcharts, founded in 2015. "They need understanding -- being able to filter by market, by song. Building a dashboard in Tableau would take a long time, so the return on investment would be tough. … Our user is different than the horizontal BI vendors."
And different is the key word for up-and-coming BI vendors, a business model that hints at something distinct -- capability, underlying technology, audience -- than what's already available from well-established BI vendors.