Sergey Nivens - Fotolia
Sigma Computing adds new no-code tools to analytics platform
Sigma Computing added a no-code data modeling tool to its suite along with prebuilt dashboard templates aimed at introducing new users to business intelligence.
Sigma Computing on Tuesday unveiled two no-code additions to its analytics platform: Dataset Warehouse Views and Templates.
Sigma is a startup cloud-based analytics vendor founded in 2014 and based in San Francisco with a user interface that resembles a spreadsheet rather than a dashboard. Both new tools in the vendor's platform are now generally available and represent the latest steps in Sigma's goal of making analytics accessible to business users of all levels of expertise through its no-code features.
Dataset Warehouse Views is a data modeling tool designed to give non-technical business users the ability to create data sets and then write them back to their organization's cloud data warehouse for use by others, all without having to write code.
Templates, meanwhile, is a set of template dashboards designed to help new business users begin the process of working with data sources, the first set of which is for Sigma customers using the Snowflake cloud data warehouse.
The tool provides prebuilt dashboards, underlying worksheets and secure data connections and includes Snowflake Account Usage to pull account billing information, Snowflake User Adoption to pull user adoption information and Snowflake Performance Monitoring to track database, warehouse and individual query performance.
"Traditionally business intelligence tools … focus just on visualization -- build a dashboard and it's an end point, it's the end of the conversation," said Rob Woollen, CEO and co-founder of Sigma. "What we're doing [with Dataset Warehouse Views] is we're making it so that you can contribute to the conversation and bring insights back, and then someone else in your organization that maybe you weren't even aware had a use case can pick up and go from there."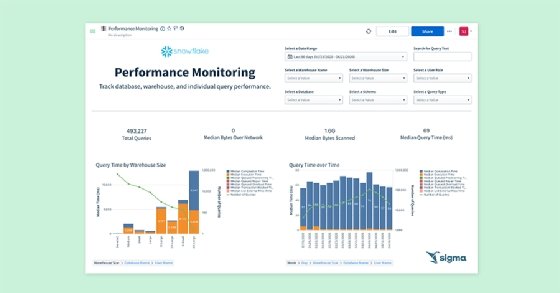 Regarding Templates, meanwhile, Woollen said that he thinks of the feature as being like a Lego set. On the box is a picture of something that can be made with the individual Lego pieces, but that picture simply represents one of many things that can be made with those pieces and serves as a starting point for the imagination.
It's key for people that have not traditionally been part of the data conversation to understand what they could do, what they could ask, and once they understand that they probably have hundreds of other questions that they want to ask.

Rob WoollenCEO and co-founder, Sigma Computing
"It's key for people that have not traditionally been part of the data conversation to understand what they could do, what they could ask, and once they understand that they probably have hundreds of other questions that they want to ask," Woollen said. "But showing them that starting point is so key."
While the new additions to the Sigma analytics platform fit in with Sigma's belief that everyone in an organization -- not only data scientists and others with an expertise in data analytics -- should be able to use data in order to make better decisions, they don't necessarily represent new capabilities in the analytics market in general, said Doug Henschen, an analyst at Constellation Research.
Looker and Domo, he pointed out, both have write-back capabilities with cloud-native databases.
Templates, however, could prove particularly useful to Sigma customers in their effort to make analytics more widely used across their organization, Henschen said.
"I do like that Sigma's first template provides prebuilt analytics for the challenge of managing Snowflake, taking advantage of the account, user-adoption and performance data behind the database service," he said. "Operational insight becomes all the more important as a BI platform, in this case, Sigma, drives more data uploads and query activity."
He added that the overall Sigma platform is successfully accomplishing its goal of opening up analytical analysis to more users within an enterprise.
"Sigma Computing has combined the longstanding business-user interest in spreadsheet interfaces with interest in using cloud data warehouses," Henschen said. "The combination ensures ease of use that opens up adoption by untrained users, but it also ensures controlled access to governed data and avoidance of new silos of data."
As 2020 progresses, and Sigma adds more features to its analytics suite, the vendor said its focus will continue to be on expanding analytics beyond the data science community and to a wider audience of users.
In addition to Snowflake, Sigma runs on Google's BigQuery, Amazon Redshift and PostgreSQL.
"You can expect us to continue to really focus on expanding the conversation to more people and letting them have a deeper conversation," Woollen said. "All of our work is really focused around making it so that everyone in your company can explore, they can … ask questions, iterate and contribute back to the ecosystem."