Kirill Kedrinski - Fotolia
Sigma analytics platform's interface simplifies queries
Featuring a spreadsheet interface designed to make queries simple for citizen data scientists, Sigma Computing is trying to make analytics available to all business users.
In desperate need of data dexterity, Volta Charging turned to the Sigma analytics platform to improve its business intelligence capabilities and ultimately help fuel its growth.
Volta, based in San Francisco and founded in 2010, is a provider of electric vehicle charging stations, and three years ago, when Mia Oppelstrup started at Volta, the company faced a significant problem.
Because there aren't dedicated charging stations the same way there are dedicated gas stations, Volta has to negotiate with organizations -- mostly retail businesses -- for parking spots where Volta can place its charging stations.
Naturally, Volta wants its charging stations placed in the parking spots with the best locations near the business they serve. But before an organization gives Volta those spots, Volta has to show that it makes economic sense, that by putting electric car charging stations closest to the door it will help boost customer traffic through the door.
That takes data. It takes proof.
Volta, however, was struggling with its data. It had the necessary information, but finding the data and then putting it in a digestible form was painstakingly slow. Queries had to be submitted to engineers, and those engineers then had to write code to transform the data before delivering a report.
Any slight change required an entirely new query, which involved more coding, time and labor for the engineers.
But then the Sigma analytics platform transformed Volta's BI capabilities, Volta executives said.
Curiosity isn't enough to justify engineering time, but curiosity is a way to get new insights. By working with Sigma and doing queries on my own I'm able to find new metrics.

Mia OppelstrupBusiness intelligence manager, Volta Charging
"If I had to ask an engineer every time I had a question, I couldn't justify all the time it would take unless I knew I'd be getting an available answer," said Oppelstrup, who began in marketing at Volta and now is the company's business intelligence manager. "Curiosity isn't enough to justify engineering time, but curiosity is a way to get new insights. By working with Sigma and doing queries on my own I'm able to find new metrics."
Metrics, Oppelstrup added, that she'd never be able to find on her own.
"It's huge for someone like me who never wrote code," Oppelstrup said. "It would otherwise be like searching a warehouse with a forklift while blindfolded. You get stuck when you have to wait for an engineer."
Volta looked at other BI platforms -- Tableau and Microsoft's Power BI, in particular -- but just under two years ago chose Sigma and has forged ahead with the platform from the 2014 startup.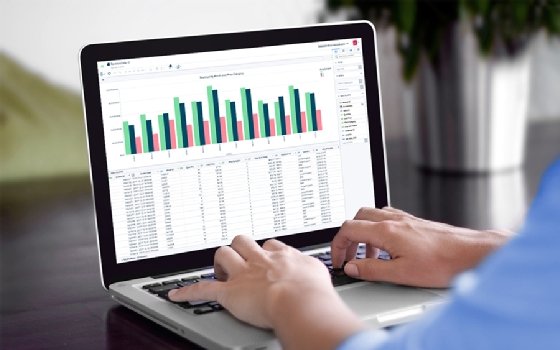 The product
Sigma Computing was founded by the duo of Jason Frantz and Rob Woollen.
Based in San Francisco, the vendor has gone through three rounds of financing and to date raised $58 million, most recently attracting $30 million in November 2019.
When Sigma was founded, and ideas for the Sigma analytics platform first developed, it was in response to what the founders viewed as a lack of access to data.
"Forrester reported that 60 to 73 percent of data is going unused and Gartner reported that only 35 percent of employees use BI tools," Woollen, Sigma's CEO, said. "I came back to that -- BI was stuck with a small number of users and data was just sitting there, so my mission was to solve that problem and correct all this."
Woollen, who previously worked at Salesforce and Sutter Hill Ventures -- a main investor in Sigma -- and his co-founders set out to make data more accessible. They set out to design a BI platform that could be used by ordinary business users -- citizen data scientists -- without having to rely so much on engineers, and one that respond quickly no matter the queries users ask of it.
Sigma launched the Sigma analytics platform in November 2018.
Like other BI platforms, Sigma -- entirely based in the cloud -- connects to a user's cloud data warehouse in order to access the user's data. Unlike most BI platforms, however, the Sigma analytics platform is a no-code BI tool that doesn't require engineering expertise to sift through the data, pull the data relevant to a given query and present it in a digestible form.
A key element of that is the Sigma analytics platform's user interface, which resembles a spreadsheet.
With SQL running in the background to automatically write the necessary code, users can simply make entries and notations in the spreadsheet and Sigma will run the query.
"The focus is always on expanding the audience, and 30 percent employee usage is the one that frustrates me," Woollen said. "We're focused on solving that problem and making BI more accessible to more people."
The interface is key to that end.
"Products in the past focused on a simple interface," Woollen said. "Our philosophy is that just because a businessperson isn't technical that shouldn't mean they can't ask complicated questions."
With the Sigma analytics platform's spreadsheet interface, users can query their data, for example, to examine sales performance in a certain location, time or week. They can then tweak it to look at a different time, or a different week. They can then look at it on a monthly basis, compare it year over year, add and subtract fields and columns at will.
And rather than file a ticket to the IT department for each separate query, they can run the query themselves.
"The spreadsheet interface combines the power to ask any question of the data without having to write SQL or ask a programmer to do it," Woollen said.
Giving end users power to explore data
Volta knew it had a data dexterity problem -- an inability to truly explore its data given its reliance on engineers to run time- and labor-consuming queries -- even before Oppelstrup arrived. The company was looking at different BI platforms to attempt to help, but most of the platforms Volta tried out still demanded engineering expertise, Oppelstrup said.
The outlier was the Sigma analytics platform.
"Within a day I was able to set up my own complex joins and answer questions by myself in a visual way," Oppelstrup said. "I always felt intimidated by data, but Sigma felt like using a spreadsheet and Google Drive."
One of the significant issues Volta faced before it adopted the Sigma analytics platform was the inability of its salespeople to show data when meeting with retail outlets and attempting to secure prime parking spaces for Volta's charging stations.
Because of the difficulty accessing data, the salespeople didn't have the numbers to prove that by placing charging stations near the door it would increase customer traffic.
With the platform's querying capability, however, Oppelstrup and her team were able to make the discoveries that armed Volta's salespeople with hard data rather than simply anecdotes.
They could now show a bank a surge in the use of charging stations near banks between 9 a.m. and 4 p.m., movie theaters a similar surge in the use just before the matinee and again before the evening feature, and grocery stores a surge near stores at lunchtime and after work.
They could also show that the charging stations were being used by actual customers, and not by random people charging up their vehicles and then leaving without also going into the bank, the movie theater or the grocery store.
"It's changed how our sales team approaches its job -- it used to just be about relationships, but now there's data at every step," Oppelstrup said.
Sigma enables Oppelstrup to give certain teams access to certain data, everyone access to other data, and importantly, easily redact data fields within a set that might otherwise prevent her from sharing information entirely, she said.
And that gets to the heart of Woollen's intent when he helped start Sigma -- enabling business users to work with more data and giving more people that ability to use BI tools.
"Access leads to collaboration," he said.