Sergey Nivens - Fotolia
10 dos and don'ts for deploying self-service BI tools
Self-service BI doesn't just happen. Organizations must ensure data quality and watch how analysts work. Experts offer 10 tips for enabling a self-service culture.
Enterprises face a number of challenges around adopting BI tools for users, ensuring the infrastructure is in place and overcoming cultural challenges in the organization. The following are some dos and don'ts to help ensure a smooth implementation of self-service BI tools.
1. Do pair employees with data experts
Self-service analytics requires a culture that not only makes data accessible to all employees, but also enables employees without data management experience to work hand in hand with data experts, said Rob Perry, vice president of product marketing at ASG Technologies, an IT service management provider based in Naples, Fla. Pairing employees with and without data management allows employees less steeped in analytics to bring fresh eyes and ideas to the table that could help the organization break out of traditional development approaches.
2. Don't let users do their own thing
It's not always a good idea to let users research and purchase BI tools.
"The chief data officer team needs to manage the selection of tools and provide the training and support structure to allow users to be productive," Perry said.
This way, employees are able to focus on learning how to use the self-service BI tools to tell a story.
3. Do create a system of truth
Create curated data sets with good validation and veracity, so the organization can consider it a system of truth. The organization should also define a business validation process that can fail data that doesn't meet quality constraints. One good strategy is to find a way to fail this data early in the data pipeline lifecycle, so errors can be corrected at the source, said Sreeni Iyer, CTO at LevaData, a cognitive sourcing service provider based in San Jose, Calif.
According to a Harvard Business Review study by Tadhg Nagle, Thomas C. Redman and David Sammon, 47% of newly created data records have at least one critical error. Data quality shouldn't be its own silo. It should be pervasive, working almost like a virus checker to ensure proper quality across the organization. And it should be done before it reaches analytics.
Additionally, lines of business need to be responsible for their own data quality, as they know their data best, advised Isabelle Nuage, director of product marketing for big data at Talend, based in Redwood City, Calif. The line of business should help curate data and collaborate with IT to contribute to overall data quality.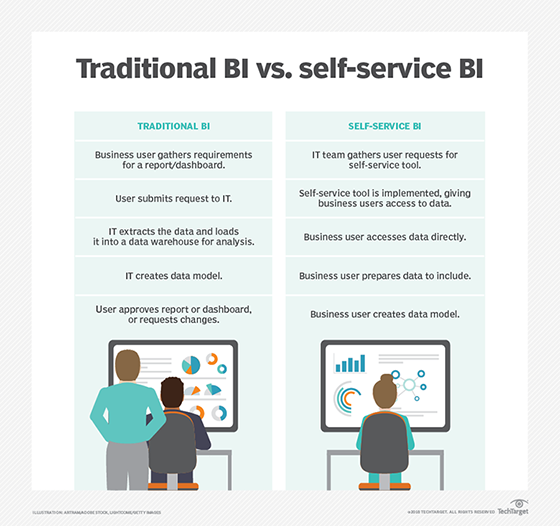 4. Don't let perfect be the enemy of good
In its "High Impact People Analytics: The 2017 Maturity Model" report, Deloitte Consulting's Bersin noted it isn't feasible to wait until all the data is clean and useable before taking action.
The trick is to identify and take action using a data set that is good enough, said Chris Havrilla, vice president of HR technology and solution provider strategy at Bersin, based in San Francisco. For example, if only 10 out of 1,000 records in a particular employee data set seem inaccurate or out of date, it would still be acceptable to run analyses.
5. Do consider underlying cultural barriers
Implementing self-service BI tools requires balancing different cultural perspectives around data sharing, LevaData's Iyer said. On the one side, there's the view that controlling data provides power, which can lead to a reluctance to share information or invite partners into the process. At the other extreme are the people who believe data should be democratized and seek to enable access. This has a lot of advantages overall, but clear governance around data access needs to be established.
6. Don't focus on one tool
While it would be great to have all analytics in one tool, automated and aligned to data governance standards, this is not a realistic goal, said Andrew Roman Wells, CEO of Aspirent, an Atlanta-based management consulting firm focused on analytics. Most businesses move quickly, with new data and analytics needed to support the changing landscape.
"Unfortunately, these initiatives are not cookie-cutter; they are very bespoke in nature," Wells said.
7. Do watch how analysts work
Analysts typically are very loyal to their tools and are reluctant to switch unless there is a compelling reason and clear benefits to them, as well as to the larger organization. Analysts will use data more readily and effectively if it can be piped into existing analytics tools, said Naras Eechambadi, CEO of Quaero, a customer data platform provider based in Charlotte, N.C.
If it is necessary to replace existing tools, then change management processes and in-depth training with ongoing support becomes critical to success.
"It is amazing how often we see powerful analytics tools sitting on PCs lying unused, because the decision-makers and implementers did not really understand how analysts work," Eechambadi said.
8. Don't combine self-service BI tools with traditional BI
"You'll create duplicate elements, and any changes to these elements will require impact analysis," said Gal Ziton, co-founder and CTO of Octopai, a metadata management tool based in Israel.
A change in the extract, transform and load process will affect not only the existing reporting systems, but also the self-service BI tools. BI groups will need to ensure all reporting systems reflect the same results. Reverse-engineering of a bug will take significant time because of multiple systems and duplicate elements.
9. Do start department by department
Begin by implementing a self-service BI tool for each department, rather than a main centralized reporting tool. Using the self-service BI tool as a main reporting tool can only be achieved after designing the requests of the data elements for each department in the organization.
"Implementing it department by department, rather than as a centralized tool, initially will allow you to implement the tool efficiently," Ziton said.
10. Don't train business users with irrelevant data
Start training users with data from their own organization or their own department. It's even better if the trainers can build relevant reports with the users during training. Otherwise, adoption will be low, and users are more likely to use the tool to export to Excel, said Dominic Go, director of analytics at Olivela, a luxury shopping site that uses analytics to support children's causes.
But don't expect this to solve all your company's problems.
"Self-service analytics is a wonderful thing to have, but it does not negate the need for real human communication between departments," Go said. "Data is not infallible."
Dig Deeper on Business intelligence management