Getty Images
Wellthy finds analytics success with ThoughtSpot
The self-service analytics specialist's platform has greatly increased the healthcare organization's efficiency after its old BI platform was too geared toward trained experts.
Before switching to ThoughtSpot, Wellthy Inc.'s business intelligence platform was a hindrance rather than a help.
But since selecting ThoughtSpot, the healthcare organization has been able to expand use of analytics beyond a centralized team to self-service users, increase the rate at which it can deliver data products to decision-makers and free up the data team to do deeper analysis.
Based in New York City, Wellthy is a healthcare concierge service seeking to revolutionize the way people -- especially children, the aging and those with special needs -- receive care.
The organization generally partners with companies to be part of those organizations' benefits plans. It then matches people with care coordinators who take on many of the often overwhelming tasks of organizing healthcare and dealing with insurance companies in the complex U.S. healthcare system.
ThoughtSpot is an analytics vendor based in Mountain View, Calif., whose platform uses natural language processing (NLP) to make querying and analyzing data accessible to a broad audience rather than only those trained in computer science, statistics and coding languages.
BI use within organizations has long stagnated at around 25% of employees. But by changing the target audience for analytics tools to business users rather than data analysts, and through technological advancements such as NLP, analytics use might finally become more widespread.
Meanwhile, studies have shown that employees empowered to make data-driven decisions spur organizational growth.
Now, ThoughtSpot is enabling Wellthy to extend its use of BI beyond a select few employees, and the company is reaping the benefits.
The problem
Until the summer of 2022, Wellthy had the wrong platform for its analytics needs.
With a centralized data team of five serving the analytics needs of more than 300 employees in a data-intensive industry, Wellthy needed an easy-to-use BI platform.
Wellthy ingests data from its own platform, including how many care projects are being created, how many current members the company has, the types of medical conditions being treated and how long it takes to complete a care project. In addition, Wellthy ingests data from Salesforce, HubSpot, surveys and Google Sheets.
To make all that data meaningful to its business users, it needed a suite that enables both self-service exploration as well as deep analysis that only a trained data expert can perform.
It felt like we were running in circles. Someone would ask a question, and we would see if we had data on that and if there was anything we could do. We'd scramble to put something together, and then someone would ask us to slice the data differently or in a different dimension. We were very reactive.

Kelly BurdineDirector of data science and analytics, Wellthy
Instead, it had a platform that required knowledge of Python and SQL to develop data products and perform analysis. The platform would work well in a large organization with a cadre of data analysts, but did not meet the needs of a 2014 startup better served by self-service analytics tools.
That meant every single data-related request had to go through Wellthy's small data team, as did even the smallest follow-up questions that naturally arise during the decision-making process.
It meant Wellthy's data team was spending all its time reacting to the litany of requests it received. And it wasn't proactively building data models and doing data science analysis that could potentially help clients and lead to marked company growth.
"Our team was stuck," said Kelly Burdine, Wellthy's director of data science and analytics. "It felt like we were running in circles. Someone would ask a question, and we would see if we had data on that and if there was anything we could do. We'd scramble to put something together, and then someone would ask us to slice the data differently or in a different dimension. We were very reactive."
Hoping to perhaps not have to scrap an entire system on which the company had built its analytics operations, Wellthy initially tried changing some processes.
In particular, it altered its data modeling to make data easier to access and query. But it wasn't enough.
"Our BI tool continued to be a roadblock," Burdine said. "It wasn't quick to do anything. And everything had to go through the data team. Someone in client success or someone on the care team couldn't answer questions for themselves, and if they had a new question, they had to go through the data team."
As a result, Wellthy needed a change. It wasn't financially feasible to add more data analysts. So in May 2022, the company decided to leave behind the BI platform it had been using and move on to one that better suited its needs.
The solution
Once Wellthy determined its existing BI platform wasn't the right fit, it began experimenting with others to discover a more suitable platform.
After its initial exploration, the company narrowed its choices to Looker, which is a part of Google Cloud; Metabase; and ThoughtSpot.
"They all had pros and cons," Burdine said.
Ultimately, ThoughtSpot proved to be the best fit.
Burdine and the data team developed a set of requirements its next BI platform needed to meet. In addition, beyond just the data team, Wellthy brought some of its business users into the evaluation process so that they could explore the different BI tools and determine which might be the best enabler of self-service analytics.
The data team scored Looker, Metabase and ThoughtSpot pretty similarly, according to Burdine. But the business users unanimously preferred ThoughtSpot.
"They said it was so much easier [than the others]," she said. "They were excited. It was much more intuitive to them."
So while the data team would have been fine with any of the three finalists, ThoughtSpot was the company's choice.
"[Our old platform] is very much designed for a data team, so we went in the other direction," Burdine said. "We had been struggling with our old approach, so we wanted to optimize for our business users."
Early in summer 2022, Wellthy made ThoughtSpot its primary BI platform. In addition, Wellthy's data management and analytics stack includes Fivetran for data ingestion and integration, DBT Labs for data transformation, and Snowflake for data storage.
ThoughtSpot has a longstanding partnership with Snowflake -- which has a $20 million equity stake in ThoughtSpot -- and recently unveiled a tight integration with DBT Labs.
"Getting data into ThoughtSpot is very easy," Burdine said. "The DBT integration was very important for us because DBT is so core to our processes and what we're doing -- it allows us to scale. There are a lot of features of DBT that when integrated with a BI tool can take it to the next level."
In particular, DBT's semantic modeling capabilities enable users to establish common definitions for different types of data that later make that data easy to find and put into production.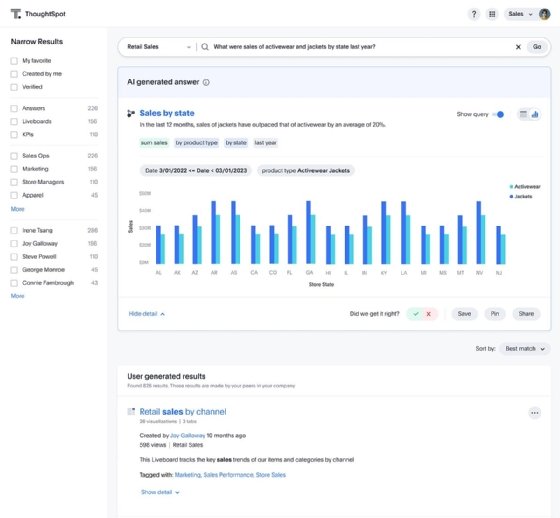 Results
Since deploying ThoughtSpot, Wellthy has realized many of the benefits it hoped for when discarding its previous BI platform.
In less than nine months -- which includes time for implementation and training -- the number of users has nearly tripled.
In addition to Burdine's small data team, only about 10 other Wellthy employees had the know-how to use the company's old BI platform. Now, about 40 employees are using ThoughtSpot on a weekly basis, and the hope is that far more will eventually use the platform as part of their workflow.
"The adoption picked up immediately," Burdine said. "That was the first thing we saw."
Beyond increased BI adoption, the data team's production has doubled.
Rather than spend copious amounts of time answering ad hoc questions that self-service users can now answer themselves, the data team is able to focus on more in-depth analysis.
"We're able to dig deeper on various topics that people have been wondering about," Burdine said.
One topic is an examination of the complexity of the different types of projects Wellthy does on behalf of its customers, and what makes one type of project more complex than another.
"That allows us to better service teams to handle those projects," Burdine said.
Even Wellthy's clients have noticed the change, she continued.
Wellthy delivers reports for each of its clients, and those had to be switched over to ThoughtSpot.
"The feedback we got was overwhelmingly positive," Burdine said. "They told us the reports were more clear. They were so much easier to read."
In addition, the interactive reports now enable clients to ask follow-up questions such as how their performance that month compares with previous months. And the clients can do that follow-up analysis on their own, she continued.
"Before, that was so difficult," Burdine said. "They would come to the data team, ask us, and then we'd scramble to create a new visualization. There was a ton of friction, and now it's so much easier."
While the results have been striking, as with overhauling any system, some surprises did arise during Wellthy's deployment of ThoughtSpot, according to Burdine.
The company's rollout to its business users was smooth, she said.
Having implemented new BI platforms at other companies, Burdine brought her past experience to the task. Rather than train all the organization's employees on ThoughtSpot at once, Wellthy instead went department by department and tailored the training to users' specific needs.
But there were some hiccups for the data team.
ThoughtSpot has its own light semantic layer so that customers can define metrics and joins between tables, and that was starkly different from Wellthy's previous BI platform. So creating all those definitions proved time-consuming and delayed ThoughtSpot's rollout.
"We had to go a little slower to make sure that semantic layer is thoughtful, because once business users get in there and start creating dashboards and [other data products], it can be difficult to change [semantics] later on," Burdine said.
Future plans
One of Wellthy's main goals moving forward is to get more of its staff engaged with ThoughtSpot.
Another is to take advantage of tools such as SpotIQ, which does anomaly detection, and Sage, which is in preview and combines ThoughtSpot's existing natural language search capabilities with large language models.
Meanwhile, as with the delay caused by having to define terms in ThoughtSpot's semantic layer, ThoughtSpot hasn't met every wish Wellthy has for its BI platform. As the analytics vendor continues to update its platform, Wellthy has a wish list that includes more functionality geared toward data analysts.
Most recently, ThoughtSpot unveiled an integration with GPT-3.
Going forward, making worksheets easier to update is one of Wellthy's wishes, according to Burdine. Another is adding version control so that administrators can make changes behind the scenes without affecting the data products employees are using.
And one that could benefit business users would be a tool -- such as those offered by Tableau and MicroStrategy -- that guides them as they do self-service analysis.
"I'm talking to the ThoughtSpot team every other day, giving feedback and suggestions," Burdine said. "I want to make it fantastic."
Eric Avidon is a senior news writer for TechTarget Editorial and a journalist with more than 25 years of experience. He covers analytics and data management.