Getty Images/iStockphoto
ThoughtSpot integrates with GPT-3 to boost analytics suite
With the integration, the analytics vendor plans to launch Sage, a tool designed to enhance natural language search and enable users to develop data products with generative AI.
ThoughtSpot on Thursday launched the private preview of Sage, a new tool within the vendor's platform that combines its existing search capabilities with GPT-3 and other large language models.
In addition, the analytics vendor unveiled an integration with GPT-3, which is a large language model (LLM) from OpenAI (also the creator of ChatGPT).
ThoughtSpot's tools are designed to enable users to query and analyze data using natural language much the same way Google enables users to explore information by entering words into a search field.
Recently, the vendor, based in Mountain View, Calif., launched a series of partnerships and integrations aimed at expanding its capabilities.
Among them were a partnership with DBT Labs to augment ThoughtSpot's self-service analytics capabilities, an integration with Google Sheets so that Sheets users can analyze their data with ThoughtSpot, and a partnership with Matillion to better enable joint users to ingest and integrate their data.
Now, following other tech vendors including Sisense, Salesforce and Microsoft that have also integrated with OpenAI's LLMs, ThoughtSpot is adding an integration with GPT-3 to further broaden its capabilities. The company said it expects to make Sage generally available within the next three months.
The integration
Both Sage and its included integration with GPT-3 aim to strengthen the existing natural language search capabilities of the ThoughtSpot analytics suite with the natural language processing and generative AI powers of LLMs.
But with Sage still in private preview, whether it actually improves upon ThoughtSpot's existing natural language search remains to be seen, according to Doug Henschen, an analyst at Constellation Research.
The proof will be in the performance and reliability of Sage and the analytic content and code it generates.

Doug HenschenAnalyst, Constellation Research
"The proof will be in the performance and reliability of Sage and the analytic content and code it generates," he said. "I'm seeing a lot of demos of new analytics capabilities built on generative AI lately, but they're all in preview -- if not private preview -- at this point. We'll have to wait and see how much time [Sage] saves and whether the content and code it generates is solid."
Assuming Sage delivers on its intent, it will make searching data more simple with ThoughtSpot while maintaining the accuracy of the vendor's analytics platform.
"ThoughtSpot says it's a case of working 'better together,' with the company's existing search experience enhanced and extended with generative AI," Henschen said.
That symbiosis is what's key about Sage, according to Sumeet Arora, ThoughtSpot's chief development officer.
Despite ThoughtSpot's focus on making data exploration as easy as possible through natural language search, the vendor's platform still requires some level of data literacy, he noted.
For example, the phrasing of business questions has to be precise to get the desired answer.
When a question is asked of the platform, it uses AI developed by ThoughtSpot to convert data to what the vendor calls search tokens. Those tokens, however, are natural language-like as opposed to true natural language, Arora said.
Therefore, users must formulate queries in ways the tokens are programmed to understand.
Sage, however, through integrations with LLMs, infuses true natural language into the search tokens, thus eliminating data fluency as a prerequisite for ThoughtSpot's use, Arora said.
"That was the bridge to cross," he said.
The search tokens, meanwhile, remain necessary because they are the piece of ThoughtSpot's platform that ensure accuracy.
One of the drawbacks of LLMs so far is a lack of accuracy. In addition, ChatGPT -- the best-known LLM to date -- has access to data through only year's end 2021.
That absence of current data combined with potential misinformation make LLMs risky tools for informing decisions that could affect an organization's trajectory.
But when the easy search that LLMs enable and their generative AI capabilities are combined with the capabilities of a BI platform -- which include accurate data discovery -- users can get the best of both tools while eliminating the potential negatives.
Unlike an LLM search that might result in inaccurate data, search tokens guarantee a 100% accurate answer, according to Arora.
He noted that unlike Google, which provides a list of responses to a search, business questions have only one answer. And that answer has to be correct or else an organization might make a critical decision based on faulty information.
"In analytics, you can't give five different values for bookings last quarter, for example," Arora said. "You can only give one value, and it has to be accurate because your business is running on it."
In addition to enhancing ThoughtSpot's search capabilities, Sage is intended to:
enable customers to use natural language to create interactive dashboards and data visualizations based on their data searches while AI works in the background to deliver narratives that explain the visualizations;
use AI to create search data models that speed natural language queries while enabling administrators to add governance to the model to ensure the proper use of their organization's data;
provide users with AI-generated questions so users can get started with data exploration; and
aid ThoughtSpot's customer service efforts with AI so agents can answer users' questions more effectively.
"Sage is essentially a new AI-powered search experience for analytics," Arora said.
It is not, however, a replacement for ThoughtSpot's existing analytics platform. It is instead designed to augment the platform, and it is included at no cost as part of customers' existing subscriptions.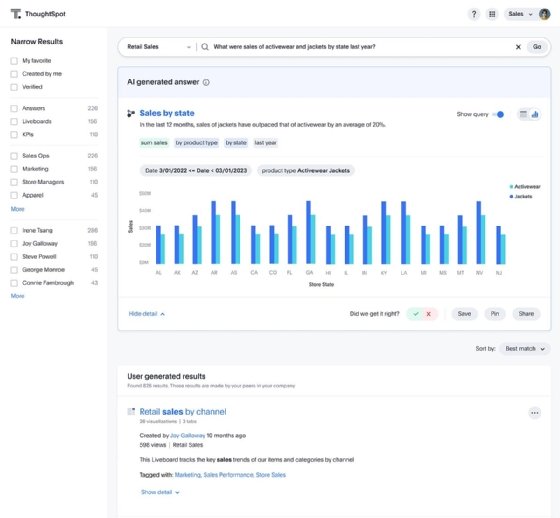 Roadmap
While ThoughtSpot's integration with GPT-3 will help form the foundation of Sage, the vendor plans to integrate with other LLMs and incorporate their capabilities into the new tool, Arora said.
In addition, security and accuracy that LLMs can't guarantee on their own will remain a focus as ThoughtSpot looks to combine its own capabilities with those of LLMs.
In that vein, one feature ThoughtSpot plans to add is a confidence meter that shows users how much they can trust the results of their data exploration and analysis.
"There are ideas that are being implemented to make the transition from natural language to search tokens to the eventual answer more accurate," Arora said. "We're going to make sure there is a confidence indicator so enterprises can use Sage with confidence."
Beyond Sage, Arora added that ThoughtSpot plans to integrate LLMs into other parts of its platform such as predictive analytics and scenario planning, and alter its user experience to better align it with human behavior and human thinking.
Henschen, meanwhile, said he'd like to see ThoughtSpot expand its home-grown tools beyond just analytics.
The vendor currently partners with other vendors to enable users to ingest and manage their data to prepare it for analysis, but many of its BI competitors -- including Qlik and Tibco -- have expanded beyond analytics and now offer their own data integration and management capabilities.
Adding similar tools through internal product development or an acquisition could make ThoughtSpot more attractive to potential customers.
"ThoughtSpot defers to partners … for data management and data modeling," Henschen said. "Coming up with their own capabilities would require a steep investment, and they've probably gauged customer interest correctly, but competitors tend to have their own features and capabilities on these fronts."
Eric Avidon is a senior news writer for TechTarget Editorial and is a journalist with more than 25 years of experience. He covers analytics and data management.