Nabugu - stock.adobe.com
ThoughtSpot unveils new tool that integrates OpenAI's LLM
The analytics vendor unveiled a variety of new capabilities, including Sage, which integrates OpenAI's generative AI technology to improve natural language search.
ThoughtSpot on Tuesday launched new and updated features for its analytics suite, including the private preview of its search tool featuring generative AI and a spate of integrations with data catalogs and productivity tools.
The capabilities were introduced in concert with Beyond 2023, ThoughtSpot's virtual user conference.
In March, the analytics vendor unveiled an integration with GPT-3, one of the generative AI systems developed by Microsoft partner OpenAI (also the creator of ChatGPT).
Through the integration, the vendor said it planned to develop a tool titled Sage, which combines the large language model (LLM) search capabilities of OpenAI's technology with ThoughtSpot's existing AI search capabilities.
Sage is now in private preview with broader availability expected during the rest of the year, though no specific date for general availability has been set.
ThoughtSpot and generative AI
Many analytics platforms were once the sole domain of data scientists and other data experts trained to use code to build reports and dashboards for their organizations. Later, they evolved to include self-service capabilities.
ThoughtSpot, however, from its inception was built around AI capabilities designed to enable self-service data exploration and analysis.
In particular, ThoughtSpot was built on natural language processing (NLP) that let customers use natural language to search their data in a Google-like environment.
But the system wasn't fully realized. Users couldn't type just anything into a search bar and get exactly what they needed. ThoughtSpot's platform still required some data literacy, with users having to phrase their business questions precisely to get the desired data.
Sage combines ThoughtSpot's existing NLP with OpenAI's LLM, which is trained on a broader base of language than previously existing NLP tools and therefore better understands freeform text. That combination eliminates the previously requisite data literacy to enable truer natural language search and potentially more than a small percentage of employees to work with data.
Analytics use has long been stuck around one quarter of employees, and any tool that help breaks through that barrier is significant, according to David Menninger, an analyst at Ventana Research.
ChatGPT has introduced the world to a new way to apply AI to natural language processing using LLMs. Sage is ThoughtSpot's effort to bring LLMs to natural language processing.

David MenningerAnalyst, Ventana Research
"I am a big proponent of natural language processing as a way to bring analytics to more people throughout organizations," he said. "It makes analytics much more accessible to non-technical people. ChatGPT has introduced the world to a new way to apply AI to natural language processing using LLMs. Sage is ThoughtSpot's effort to bring LLMs to natural language processing."
While ThoughtSpot is not the only analytics vendor to integrate with generative AI tools, it is among the earlier entrants into the fast-growing market spurred by OpenAI's release of GPT-3 in 2020 and ChatGPT last November.
Analytics specialists Sisense and Pyramid Analytics also have unveiled integrations with OpenAI. Meanwhile, both Microsoft and Salesforce have disclosed plans to infuse generative AI capabilities throughout their analytics and business intelligence suites.
According to Menninger, analytics platforms incorporating LLMs quickly and widely should broaden access to analytics.
"LLMs help solve some of the challenges with natural language processing [by] significantly reducing the effort to set up NLP systems, which often require a lot of curation of synonyms and taxonomy before they are effective," he said. "They will also likely make NLP accessible in more languages."
Ultimately, the combination of ThoughtSpot's existing capabilities with OpenAI's LLM in the form of Sage has the potential to fully realize ThoughtSpot's original goal, according to Sumeet Arora, the vendor's chief development officer.
ThoughtSpot was founded in 2012 on the idea that analytics was difficult and needed to be simplified to broaden its use, Arora said. Its means of making analytics more accessible was to combine human behavior with technology in the form of natural language search.
But there was something missing, according to Arora.
"The missing piece was to take pure natural language, with all its freedom, and accurately translate it into a data question and provide an accurate answer," he said. "The language model evolution of the last few months has provided exactly that. Now, you can ask an unbounded question, we translate that, and you get an automated answer. And we are doing that with more accuracy as we train the system."
In the two months since previewing its integration with GPT-3, ThoughtSpot has demonstrated Sage for about 300 existing and prospective customers, according to Arora. Based on their feedback, the vendor's product development team designed the tool that is now in private preview.
Arora said that as Sage becomes more broadly available over the remainder of 2023, ThoughtSpot plans to add functionality so the tool can not only support questions about what already happened but also be predictive and prescriptive.
"With natural language, Sage is expanding to answer the full range of questions people can ask," Arora said. "A second thing is that people won't even have to ask those questions. Sage will ask them for you, powered by AI."
More features
While the private preview of Sage is a significant launch for ThoughtSpot, a host of new integrations also represent substantial enhancements to the vendor's analytics platform, Menninger said.
ThoughtSpot unveiled connectors for databases including Amazon RDS for PostgreSQL; Amazon Aurora for PostgreSQL and SQL Server; two-way integrations with data catalog vendors Alation, Atlan and Collibra; and integrations with Looker, Slack, Excel and Google Workspace.
In particular, the integrations with Slack, Excel and Google Workspace stand out, according to Menninger. He noted that Slack enables collaboration that's vital to the decision-making process, while Excel and Google Workspace are productivity tools people use as part of their normal workflows.
"Integration with productivity tools such as Excel and Google Workspace will make analytics more accessible," he said. "If people can use ThoughtSpot within these tools, it will fit into their day-to-day processes more easily. Integration with collaboration tools such as Slack will have a similar effect but will also enrich analytics processes."
Decisions are rarely made by a single person, he continued. The integration with Slack will enable collaboration before the final decision, communication about the decision once it is made and collaboration about how to take action based on the decision.
Arora, meanwhile, said new features designed to provide other ways for users to consume analytics are significant.
In particular, the vendor launched ThoughtSpot Monitor for Mobile, an application that enables customers to monitor key performance indicators from any mobile device. It also added features to liveboards (interactive dashboards) that include parameters to let users conduct scenario analysis and a commenting system that enables users to share ideas and collaborate.
Beyond Sage, the integrations and a new ways to consume analytics, ThoughtSpot's platform update features the following:
The availability of ThoughtSpot SaaS built on Google Cloud Platform, enabling customers to have more choice about where they want to build their analytics stack.
The launch of Data Modeling Studio, an addition to the Data Workspace where customers can build visual models with familiar tools and take advantage of prebuilt tools such as SpotApp starter templates and reusable models.
Taken in sum, Menninger said the new features make ThoughtSpot a more full-featured vendor.
ThoughtSpot only recently shed its startup status. And though its AI capabilities immediately helped it compete for customers with more established platforms such as Tableau, Qlik and Microsoft Power BI, it didn't possess the same breadth of features as vendors with lengthier histories.
That is changing, according to Menninger.
"These announcement help put ThoughtSpot on a relatively equal footing with the more established products," he said.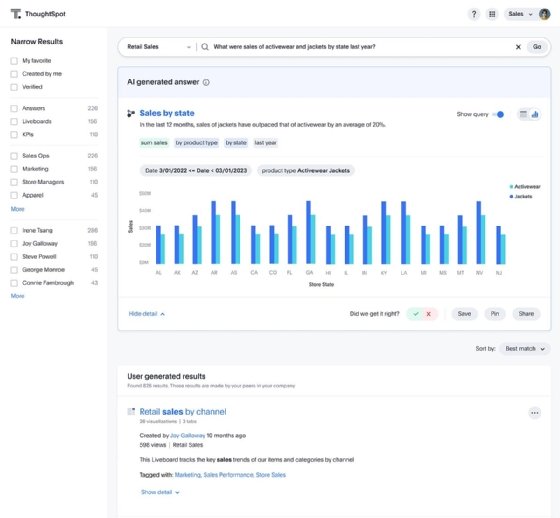 Future plans
Looking ahead, ThoughtSpot's roadmap will be guided by four pillars, according to Arora.
The first three include making sure the user experience suits every potential user within an organization, using search and AI to go from insight to foresight and remaining open so that customers can combine ThoughtSpot with any other technology they choose for their data management needs.
Finally, ThoughtSpot wants to enable customers to consume analytics wherever they are, rather than in a BI environment.
"We want to completely disrupt ourselves and make BI platforms invisible," Arora said. "It means that ThoughtSpot is there, but people get their insights in whatever app they're in."
Menninger, meanwhile, is a vocal proponent of scenario planning tools that enable users to ask "What if?" of their data and play out numerous potential outcomes to predetermine what moves to make should one of those scenarios play out.
Few analytics vendors offer such tools. Instead, organizations have to turn to specialists such as Anaplan for scenario planning.
So scenario planning is an area in which ThoughtSpot -- and other analytics vendors -- would be wise to focus some of their product development efforts, according to Menninger.
"There are still several types of analytics that ThoughtSpot and other vendors don't support including driver-based planning and advanced analytics such as optimization," he said. "I'm harping on all of them to do more."
Eric Avidon is a senior news writer for TechTarget Editorial and a journalist with more than 25 years of experience. He covers analytics and data management.