Getty Images/iStockphoto
Pyramid Analytics launches integration with OpenAI
The integration melds the research lab and vendor's generative AI tech with many parts of the BI vendor's platform, including data preparation and visualization and model training.
Pyramid Analytics is the latest business intelligence vendor to develop an integration with OpenAI's generative AI technology.
OpenAI, an AI research lab and vendor founded in 2015, launched AI chatbot ChatGPT in November. The tool builds on GPT-3, which OpenAI unveiled in 2020. And on March 14, OpenAI revealed GPT-4 with current availability in a limited form in ChatGPT Plus.
Since the launch of ChatGPT, the tool has proven useful in myriad ways, including as a search engine, querying tool, copywriter and even as an application developer.
Among BI vendors, Sisense and ThoughtSpot were the first to develop integrations with OpenAI's generative AI tools.
Sisense's integration, unveiled in January, provides users with added automation and access to third-party data. ThoughtSpot's, meanwhile, was launched March 9 and is aimed at augmenting the analytics vendor's natural language search capabilities.
Pyramid is another early adopter of OpenAI's tools, having developed an integration with OpenAI that was unveiled March 20 at the Gartner Data & Analytics Summit in Orlando, Fla. Based in Amsterdam -- with offices in Boise, Idaho; London; New York City; Seattle; and Tel Aviv, Israel -- Pyramid is an analytics vendor that offers a full-featured platform with a particular focus on decision intelligence.
Business intelligence is data analysis to inform decisions. Decision intelligence, meanwhile, builds on BI by adding augmented analytics capabilities to enhance what humans can do on their own with data.
Pyramid's integration with OpenAI comes a little less than a year after the vendor raised $120 million in venture capital to bring its total funding to more than $200 million.
The integration
Pyramid's integration with OpenAI blends in generative AI throughout the analytics vendor's platform.
The vendor already had AI capabilities, said Avi Perez, Pyramid's chief technology officer and co-founder. What the integration with OpenAI primarily adds is access to data that's in the public domain, he continued. Now, Pyramid customers can use AI to model and analyze both their own data as well as publicly available data and combine the two to gain deeper understanding of their business.
Beyond access to public data, Pyramid said the integration enables users to:
Generate SQL, DAX and MDX code to prepare data, including for use in complex extraction queries;
Automatically write Python and R code to train machine learning (ML) models;
Build spreadsheet formulas as customers build business models; and
Create designs for data storytelling content and graphics.
Key to the integration is that it enables more than just Google-like natural language search, according to David Menninger, an analyst at Ventana Research.
"OpenAI is a vendor of generative AI capabilities that can do much more than natural language search," he said. "This announcement recognizes some of the additional opportunities to apply generative AI in data and analytics processes. Other analytics vendors are pursuing similar efforts, but Pyramid is certainly early to the game."
Generative AI can be used to aid numerous tasks related to data management and analysis, many of which Pyramid is targeting with its integration with OpenAI, Menninger added.
The promise of using generative AI to create new AI/ML models can help address the shortage of AI/ML skills in organizations and make it much easier to take advantage of AI/ML.

David MenningerAnalyst, Ventana Research
And by aiding data scientists and data analysts -- in some cases fully automating repetitive duties -- the integration stands to result in higher efficiency that can both enable data experts to better use their time and organizations to deal with an ongoing shortage of data experts.
"The promise of using generative AI to create new AI/ML models can help address the shortage of AI/ML skills in organizations and make it much easier to take advantage of AI/ML," Menninger said.
Similarly, Donald Farmer, founder and principal of TreeHive Strategy, said Pyramid's integration with OpenAI has the potential to increase efficiency.
At this stage in their development, however, generative AI tools don't add new capabilities to analytics tools, he added. Instead, they augment capabilities that already exist.
"You can't do anything you couldn't do before, but it does make the experience a little more efficient," Farmer said.
He cautioned, however, that while generative AI seemingly makes some things easier, organizations still need to remain diligent about accuracy when generating code.
"Using OpenAI to generate formulas and SQL snippets is now a common scenario, but the difficulty lies in validating the generated code," Farmer said. "These features will provide useful assistance for people who know what they are doing, but beginners need to be a little careful."
Where the integration may ultimately prove most interesting is in OpenAI's ability to produce data narratives for Pyramid's customers, he continued.
"Using OpenAI to enhance storytelling is a neat idea and a good use of the ability of LLMs to generate narrative," Farmer said. "I look forward to seeing some of the stories Pyramid and OpenAI can generate."
Perez, meanwhile, noted that Pyramid developed its integration with OpenAI for four primary reasons.
One was that customers were seeing the capabilities and asking how Pyramid could incorporate it into its platform.
"They were saying, 'This is cool, so what are you guys going to do about it?'" Perez said.
In addition, Pyramid saw on its own that there were potential applications for the technology within its platform. It understood that competitors would add integrations with OpenAI and it needed to keep market analysts' attention on the company to make it stand out, according to Perez.
"The analysts drive a lot of the competition, so we need to wow them on a continuous basis to keep them interested," he said.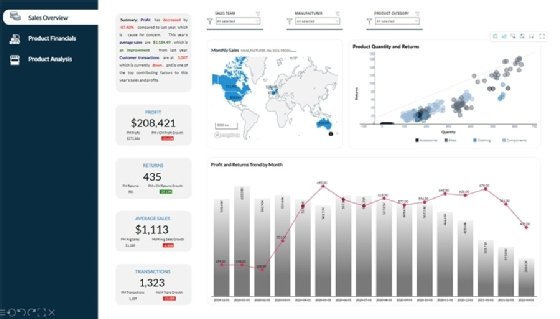 New features and roadmap
Shortly before launching its integration with OpenAI, Pyramid unveiled Tabulate and Solve in October.
Tabulate is a browser-based virtual spreadsheet that enables users to model business processes in a governed web experience. Solve enables users to build and deploy prescriptive analytics models on live data.
"[This] release is actually more significant" than the integration with OpenAI, Farmer said, adding that spreadsheets remain the most common environment for analytics.
"Tabulate enables a spreadsheet experience while still enabling the performance, scale and governance of the Pyramid platform," he continued. "Solve enables users to run [ad hoc modeling and what-if analysis] at scale with the robust, high-performance engine that Pyramid is well-known for."
Moving forward, what-if analysis -- also known as scenario planning -- will be a focus for Pyramid, according to Perez.
Scenario planning is essentially the process of asking what will happen if a certain decision is made or a given event takes place, and then using data to determine the outcome.
As part of its roadmap, Pyramid plans to continue adding predictive and prescriptive analytics capabilities that result in decision intelligence, with a particular emphasis on making the process of getting to predictions and prescriptions more simple.
"The idea is easy, but the how and why are difficult," Perez said. "Our plan is to keep expanding our footprint quite considerably in the next two or three years. The whole idea is to get that functionality as simple as building a pie chart."
Menninger, meanwhile, said scenario planning -- including the integration of generative AI with those planning capabilities -- is a ripe area for Pyramid.
Despite its correlation to business intelligence, many analytics vendors do not offer scenario planning tools and have instead left their development up to planning specialists such as Anaplan, he said. Therefore, as a specialist in decision intelligence, Pyramid, in particular, could benefit from scenario planning.
"I don't believe you can support decision intelligence properly without strong driver-based planning capabilities," he said. "I would hope to see Pyramid and others applying generative AI to the process of developing driver-based models that can be used in the decision-making process."
Eric Avidon is a senior news writer for TechTarget Editorial and a journalist with more than 25 years of experience. He covers analytics and data management.