stefanovi - Fotolia
ThoughtSpot Cloud is a new SaaS version of vendor's platform
ThoughtSpot introduced the first SaaS version of its platform on Tuesday, allowing customers to pay as they go and taking away the task of deploying and managing the software.
ThoughtSpot, a BI and analytics vendor whose platform uses augmented intelligence to simplify data exploration, on Tuesday unveiled ThoughtSpot Cloud, a SaaS version of its suite.
The release of ThoughtSpot Cloud comes just under three weeks after the vendor's most recent overall platform update, which ThoughtSpot rolled out on Sept. 2 and was highlighted by new no-code data management capabilities and an AI-fueled feature to recommend queries.
ThoughtSpot's platform has always had a cloud-based option and been able to deploy on any of the major clouds -- AWS, Google Cloud Platform and Microsoft Azure among them. In addition, it connects with customers' cloud data warehouse of choice, notably Snowflake, whose initial public offering on Sept. 16 broke records for tech companies.
Before the release of ThoughtSpot Cloud, however, whether on premises or in the cloud, customers had to manage their own deployments, thus requiring a certain level of expertise in data science.
With the SaaS version of its platform, ThoughtSpot, founded in 2012 and based in Sunnyvale, Calif., will manage the software for its customers, including initial deployment of the platform and updating the software when upgrades are available, thus lessening reliance on IT departments.
Meanwhile, having ThoughtSpot manage the platform for customers is significant, according to Doug Henschen, principal analyst at Constellation Research.
The big wins are faster deployment and reduced time to value for the business side and reduced administrative burdens for IT.

Doug HenschenPrincipal analyst, Constellation Research
"The big wins are faster deployment and reduced time to value for the business side and reduced administrative burdens for IT," he said. "It makes sense for companies that are embracing a cloud-first approach in which they're getting out of the business of deploying and administering software and focusing instead on harnessing services wherever possible."
Similarly, Mike Leone, senior analyst at Enterprise Strategy Group, said that a SaaS model is a compelling one for the vendor and will be a benefit to users.
"This has the potential to be a big deal for ThoughtSpot as this changes their operational model to some extent," he said. "To date, they've relied on partners to provide managed services for ThoughtSpot end users. This announcement will enable customers to work directly with ThoughtSpot through their own managed service."
In addition, Leone continued, by taking over management of the platform for its customers, ThoughtSpot will be able to help them unite their data across various clouds and turn it into actionable information.
"This will not only ensure operational silos don't get in the way of gaining comprehensive insight but will continue lowering the barrier to entry for all users to utilize data," he said.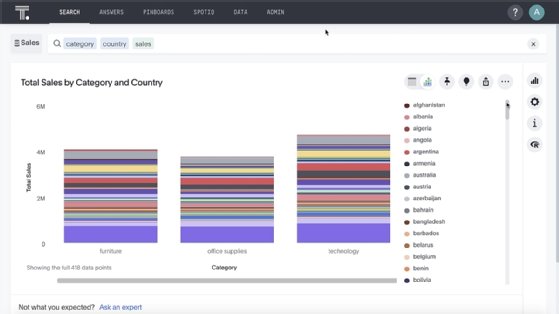 According to Sudheesh Nair, ThoughtSpot's CEO, the vendor developed ThoughtSpot Cloud in order meet customers' needs in the cloud.
With the advent of 5G technology and the growth of the internet of things, the amount of data being created in the cloud is increasing exponentially. Rather than bring that data into an organizations' data center, it makes more sense, Nair said, to keep that data in the cloud and manage it there.
In addition, he said, during the economic crisis resulting from the COVID-19 pandemic, data is changing more rapidly than ever before and organizations need to react to that changing data. Rather than do their planning on an annual or semiannual basis, organizations are now planning monthly or even weekly.
"Agility has sort of become oxygen for businesses now," Nair said. "When you put the fact that more data is being created and processed in the cloud and that decision-making has a much shorter lifespan, it made sense to go and live in the cloud."
From a larger perspective, in fact, Henschen said ThoughtSpot Cloud is evidence that migration to the cloud is accelerating amid the COVID-19 pandemic. Among major BI and analytics vendors, for example, Qlik has heightened its focus on cloud migration since the middle of March when the coronavirus first began to dramatically affect the U.S.
"This is yet another sign that the move to the cloud has only accelerated amid the pandemic," Henschen said. "There's growing demand for as-a-service offerings and declining interest administering the software behind the services that organizations want to use."
In terms of pricing, ThoughtSpot Cloud will give users a third option for deploying ThoughtSpot.
The vendor previously offered ThoughtSpot Enterprise and ThoughtSpot Extended Enterprise -- a premium version of the Enterprise platform with additional features, including certain embedded analytics capabilities. Now the SaaS version will give users the option of paying only for the data they consume and analyze rather than paying a rate no matter how much they use their data.
The option will encourage wider adoption by giving organizations more flexibility and a greater assurance of value, Henschen said.
In addition to representing a SaaS version of ThoughtSpot's platform and offering a different pricing model, ThoughtSpot Cloud includes personalized onboarding; a digital assistant that provides a step-by-step guide for users when they conduct their initial search; and a prebuilt low-code applications that help simplify data queries and the ability to run queries directly in the cloud data warehouse of their choice.
"I'm really excited to see how the personalized onboarding works," Leone said. "I think expanding those types of features is critical to ensuring more usage across the business."