whyframeshot - stock.adobe.com
ThoughtSpot buying Mode for $200M to add deeper analysis
The acquisition will extend the vendor's self-service BI platform with tools designed for data experts that enable data science, machine learning and predictive analytics.
ThoughtSpot has reached an agreement to acquire Mode Analytics for $200 million in a move aimed at complementing ThoughtSpot's existing self-service analytics capabilities with Mode's code-first platform.
The cash and equity deal was unveiled on June 26 and remains subject to regulatory approval and other due diligence measures. Following closing, which is expected before the end of 2023, Mode will become a wholly owned subsidiary of ThoughtSpot.
The acquisition will be the fourth for ThoughtSpot.
The vendor previously bought 2018 startup SeekWell in March 2021 to add bi-directional data movement capabilities powered by SQL code, purchased Diyotta in May 2021 to improve ThoughtSpot's data integration capabilities and acquired India-based SagasIT Analytics in April 2023 to expand its global reach.
Complementary capabilities
From its start in 2012, ThoughtSpot sought to enable business users to work with data on an AI-powered platform. The vendor made natural language search its focus, developing tools that let users type queries in English, Spanish, German or any of about 15 other languages rather than code.
Its platform, however, was limited in scope.
Its target audience was business users not trained in data science and deep analysis, so its capabilities weren't built for those purposes. ThoughtSpot enabled anyone, including data experts, to ask business questions of their data and analyze the results. But data scientists and other data experts had to use other tools for their more in-depth analysis.
Mode, meanwhile, offers a code-first platform that enables customers to use languages such as SQL, the R programming language and Python to build models and other data assets. The platform is targeted at trained data experts rather than self-service users.
As a result of the different the approaches to analytics ThoughtSpot and Mode have historically taken, ThoughtSpot's acquisition of Mode will add complementary capabilities to each's existing users, according to David Menninger, an analyst at Ventana Research.
He noted that ThoughtSpot and Mode are not an obvious match given their differences. But it's those differences that make them potentially synergistic.
"ThoughtSpot was all about business analysts, making it easy to access data and analytics," Menninger said. "Mode was more focused on advanced analytics and data scientists. Mode claimed to bring the world of data science and traditional BI together. But ThoughtSpot will be able to make the output of the data science process even more easily accessible."
Constellation Research analyst Doug Henschen similarly said ThoughtSpot's acquisition of Mode is a good move given that it adds machine learning, predictive analytics and code-first programming capabilities ThoughtSpot previously did not offer.
"The Mode acquisition broadens ThoughtSpot's capabilities and customer base," he said. "Mode goes places ThoughtSpot doesn't, like notebook capabilities and code-first programing in Python and R."
The Mode acquisition broadens ThoughtSpot's capabilities and customer base. Mode goes places ThoughtSpot doesn't, like notebook capabilities and code-first programing in Python and R.

Doug HenschenAnalyst, Constellation Research
More than simply adding new capabilities, the acquisition enables ThoughtSpot to keep up with competitors that have added more advanced analytics capabilities to their self-service platforms, Henschen continued.
For example, Qlik acquired Big Squid in 2021 to improve its machine learning capabilities, Salesforce is infusing Tableau with Einstein Analytics' data science and generative AI tools, and Microsoft is enhancing Power BI's AI features.
"Most of the BI/analytics market is moving toward supporting predictive analytics, ML and AI … [and] pushing further into data science," Henschen said.
Mode offers SQL Workbench, Python Workbench and advanced visualizations as its primary tools.
SQL Workbench enables users to query data using SQL and either build visualizations based on those queries or move the results into Jupyter Notebooks and other data science tools for more advanced analysis. Python Workbench enables users to develop machine learning and forecasting models. Mode's advanced visualization capabilities are built using technology acquired in 2022 when the vendor bought Muze.
By adding those capabilities alongside ThoughtSpot's existing capabilities such as SpotIQ for anomaly detection and Monitor for track key performance indicators, ThoughtSpot and Mode users will no longer have to choose between self-service capabilities and deep analytics capabilities.
They'll instead be accessible to users of either platform, with ThoughtSpot's existing generative AI capabilities -- powered by an integration with OpenAI -- able to augment Mode's code-first capabilities just as Mode's capabilities give more breadth to ThoughtSpot's offering.
That is why ThoughtSpot made the acquisition, according to Sudheesh Nair, the vendor's CEO.
"We are trying to go after the same problem, which is getting answers as quickly as possible," he said. "Mode is coming at it from the analyst side, and we are coming at it from the business-user side. We knew that if we can fuse [our capabilities] and use generative AI across all of them, we [could] have a comprehensive BI platform. That's why we did it."
The result will be that analytics consumers attracted by ThoughtSpot's ease of use will no longer have to choose between self-service and deep analytics, Nair continued.
"We were giving somewhat of a black-and-white choice to customers," he said. "Business users get excited about ThoughtSpot, but the quality of data -- how it is prepared, where it is coming from, the trustworthiness -- depends on analysts. As much as we focused on the experience, data quality ultimately makes or breaks a platform. With Mode, we can bring these worlds together."
Beyond adding complementary capabilities, acquiring Mode exposes ThoughtSpot to an entirely new set of users, something the vendor has been prioritizing in recent years.
The combined entity will have more than 1,200 customers, according to Nair. But of those, fewer than 10 already use both ThoughtSpot and Mode, meaning that the acquisition of Mode is almost entirely additive in terms of the number of customers.
Also, as ThoughtSpot tries to attract new customers, the addition of Mode broadens ThoughtSpot's potential audience. By adding Mode's capabilities, ThoughtSpot will no longer be limited to pursuing organizations focused on self-service use. It will also be able to compete for organizations interested in advanced analytics.
Access to a potential new audience is significant, according to Menninger. New customers would not only affect ThoughtSpot's revenue stream but also make it more appealing should the vendor eventually go public. ThoughtSpot has been positioning itself to go public for a few years, market conditions have not been favorable for IPOs since 2021.
"ThoughtSpot is preparing for an IPO," Menninger said. "The acquisition could be driven by a desire to expand its customer base and revenues to be more attractive if and when it goes out to do its road show."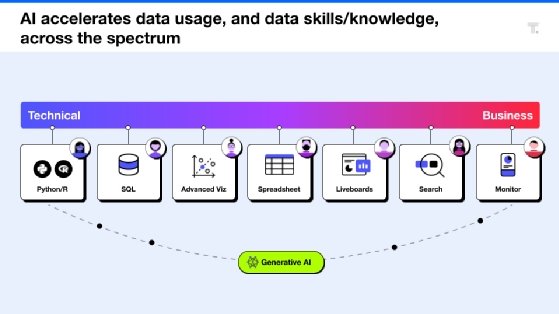 Next for ThoughtSpot
As ThoughtSpot continues to add capabilities through the combination of acquisitions and product development such as the introduction of Sage in May add infuse generative AI capabilities, the vendor's roadmap is ultimately focused on moving from descriptive analytics to predictive and prescriptive analytics, according to Nair.
"Any time you think of BI, it's about what is in the rearview mirror," he said. "What we are doing in the next few months is to look forward, which is going from what happened to why it happened, what will happen and what could be done about it. That is the continuous journey we are taking, so BI is forward looking and actionable."
Henschen said he's curious to see how ThoughtSpot and Mode are blended over time.
Initially, the two will be separate platforms able to work together with Mode becoming a subsidiary. Long-term, however, ThoughtSpot would be wise to bring Mode's capabilities into the ThoughtSpot environment, according to Henschen.
"The real synergies would be in blending the two capabilities in a single environment," he said. "I'm sure that's in the long-term planning, but we'll [have to wait until] ThoughtSpot provides deeper briefings on the deal."
Menninger, meanwhile, noted that ThoughtSpot and many other analytics vendors could do more to enable collaborative decision-making.
"Collaboration is more than just sharing data," he said. "It's discussion boards, assigning tasks and tracking those tasks to completion. It's social recognition or ratings of different data sources and analyses. Yet if you read many vendors' documentation, the only mention of collaboration is in the context of accessing and sharing the same data."
Eric Avidon is a senior news writer for TechTarget Editorial and a journalist with more than 25 years of experience. He covers analytics and data management.