Getty Images/iStockphoto
Tableau to add generative AI with Salesforce's Einstein GPT
The BI vendor unveiled plans to combine its existing capabilities with its parent company's generative AI tool to make it more simple for customers to query an analyze data.
Tableau is adding generative AI to its analytics platform.
The longtime BI vendor on Tuesday unveiled Tableau GPT and Tableau Pulse -- new capabilities that combine Tableau's existing analytics features with generative AI capabilities from Salesforce, Tableau's parent company.
Salesforce in March introduced Einstein GPT, which combines large language model (LLM) technology from OpenAI with the CRM giant's Einstein AI platform. Since then, Salesforce has also unveiled plans to integrate generative AI with Slack and Flow, among other Salesforce tools.
Now, among Salesforce subsidiaries, it's Tableau's turn to get the generative AI treatment.
Tableau GPT and Tableau Pulse -- along with a handful of other new features -- were unveiled during Tableau Conference, the vendor's in-person gathering of customers in Las Vegas. Both Tableau GPT and Tableau Pulse are in the development stage and will be available through a pilot program later this year.
Tableau gave no timetable for general availability.
The conference, meanwhile, was held just days after Ryan Aytay was named Tableau's new CEO following the December 2022 resignation of Mark Nelson.
Tableau and generative AI
Tableau GPT is built on Einstein GPT. It will combine Einstein GPT with Tableau's existing capabilities, infusing generative AI throughout the analytics vendor's platform.
However, by using Einstein GPT rather than simply combining Tableau with GPT-3 or ChatGPT, Tableau is incorporating LLM technology that includes the data governance framework already developed by Salesforce.
Those governance measures ensure the external data used by OpenAI's LLMs can be trusted -- a problem when no parameters are preset for its use -- and an organization's private data doesn't get exposed when combined with external data, according to Tableau.
It's that combination of generative AI with data security measures that will make Tableau GPT useful for the vendor's customers, according to Mike Leone, an analyst at TechTarget's Enterprise Strategy Group.
"Tableau is establishing foundational tech inside of its platform to power new experiences and add more intelligence," he said. "That means organizations will be able to leverage new conversational experiences to ask questions and gain insight. And because the foundational models are powered by Einstein, data is kept secure and governed."
Francois Ajenstat, Tableau's chief product officer, noted the importance of Einstein GPT's security measures.
Security concerns have been raised about ChatGPT -- so many that some countries have banned the generative AI chatbot.
Einstein GPT, however, includes governance measures that mitigate the risk of data escaping an organization's possession and going into the public domain.
"We want to make sure that we have trust," Ajenstat said. "You don't want your corporate data to leave and train other models. By doing it in a walled garden, we're able to prevent the data from being shipped somewhere else."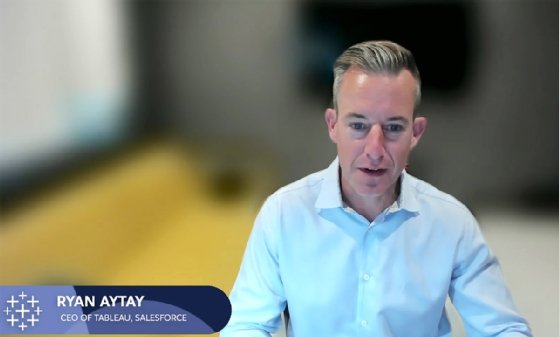 Initial plans
The first feature Tableau plans to release that combines the vendor's analytics capabilities with Einstein GPT is Tableau Pulse, a new product designed to personalize data for business users.
The tool will use Tableau GPT to automatically surface insights about personalized metrics in both natural language and a visual format as well as deliver them to users.
For example, if someone works with their organization's supply chain, the insights delivered to them with Tableau Pulse will relate to their organization's supply chain. If someone else works in human resources, the insights delivered to them might have to do with people analytics.
Ajenstat called it the "New York Times for data," with relevant news delivered in an organized way that enables users to dig deep into data without having to search for it first.
It's an example of what organizations will be able to do when analytics and generative AI are combined, according to Leone.
"I believe these integrations and/or capabilities will eventually become table stakes," he said. "They're so powerful in how they can enable stakeholders to be more efficient and effective in certain day to day tasks."
The personalized experiences enabled by Pulse will be available in Tableau as well as Slack, Teams and other applications in which users collaborate and do much of their work, according to Ajenstat.
He added that the aim of combining Tableau with generative AI is to further the vendor's goal of making data accessible to as many people within organizations as possible.
BI adoption has been stalled at around 25% for well over a decade, with most BI platforms geared toward data specialists rather than business users and a general lack of data literacy, But natural language processing has the potential to not only help organizations increase BI adoption but also make it widespread.
In recent years, Tableau introduced AI tools including Ask Data, Explain Data and Data Stories, all of which enable users to ask questions of their data in natural language and receive responses.
But until the launch of launch of large language models such as ChatGPT, NLP tools still required some level of data literacy that limited their use within organizations. LLMs change that.
As a result, Tableau is now part of a group of analytics vendors that also includes Sisense, ThoughtSpot and Pyramid Analytics that are combining generative AI with their existing capabilities.
"It feels cliché that yet another tech vendor is talking about GPT. But at Tableau, we've been trying since the beginning to democratize analytics, bring it to more people and find ways to put it in an experience that makes sense," Ajenstat said. "When you start combining what we had already been doing with these large language models, it opens up new possibilities."
More capabilities
Beyond Tableau GPT and Pulse, the analytics vendor introduced Data Cloud for Tableau and a tool for developers called VizQL Data Service. Data Cloud for Tableau, which combines Tableau with Salesforce's Customer Date Cloud, is now generally available. VizQL Data Service is scheduled for release sometime before the end of 2023.
Salesforce's Customer Data Cloud is a real-time data platform that combines all an organization's customer relationship management data and enables developers to build data pipelines using trusted data. Data Cloud for Tableau combines Data Cloud with Tableau's data visualization features so users can more easily discover insights.
Tableau is establishing foundational tech inside of its platform to power new experiences and add more intelligence. That means organizations will be able to leverage new conversational experiences to ask questions and gain insight. And because the foundational models are powered by Einstein, data is kept secure and governed.

Mike LeoneAnalyst, Enterprise Strategy Group
New capabilities on Tableau's roadmap include Instant Analytics, which will enable users to query millions of data points and analyze and visualize Data Cloud data with a single click, and Data Spaces to enable users to segment data based on characteristics, such as brands, departments and regions.
VizQL Data Service, meanwhile, will enable developers to embed data experiences and insights from Tableau into automated workflows. The tool will sit on top of published data products and existing data models and let developers build composable data assets in a simple environment that they can then embed into the workflows of business users.
Ajenstat noted that generative AI and VizQL Data Service are aimed at expanding BI adoption while Data Cloud for Tableau is designed to ensure the data used by BI consumers can be trusted.
"All of the announcements go hand in hand," he said.
Leone, meanwhile, pointed out the significance of VizQL Data Service.
Developers are increasingly becoming a target audience for analytics vendors, and the new tool is designed to help developers deliver analytics to consumers within their organizations.
"With developer efficiency and automation being so critical right now, I think the Tableau VizQL Data Service is an important announcement," Leone said. "This … will provide a simplified application development experience so developers can leverage centralized models and infuse data experiences everywhere."
One final new capability is a connector between Tableau and Amazon Simple Storage Service (S3), which provides joint customers with fast access to unstructured data stored in S3.
The connector is available to Tableau users who have adopted Tableau Cloud 2023.1, which is the vendor's most recent platform update.
Looking ahead
While much of what Tableau introduced during its user conference is not yet available and represent some of the most prominent features on the vendor's roadmap for the remainder of 2023, Tableau has a quarterly update scheduled for June.
Tableau's first-quarter update featured an updated integration with Slack and the availability of Data Stories, a data storytelling tool, in Server.
The vendor's second-quarter update will add new visualization types, according to Ajenstat. That feature is now in public beta.
"It's something that people have been wanting," he said.
Eric Avidon is a senior news writer for TechTarget Editorial and a journalist with more than 25 years of experience. He covers analytics and data management.