tiero - Fotolia
Music data visualization comes to life in Tableau collection
With its new collection of visualizations about music, Tableau demonstrates how users are using its platform to understand the information behind the music.
Beyond the sound of music, the sight of it has been a reality at least since the advent of music videos, and now with vendors such as Tableau providing the ability to turn information into images, so too is the sight of music data visualizations.
On June 24, Tableau unveiled a collection of music data visualizations created by users of Tableau Public called Data + Music. Dig if you will the picture -- as Prince sang in the lyrics to "When Doves Cry" -- of analytics and song combined.
The data visualizations contained in Data + Music weren't all done by music industry professionals, and they weren't put to use for professional purposes, but they show how people can use the combination of data and visuals to enhance the understanding of music.
"Data visualization skills are rapidly growing," said Pooja Gandhi, lead analytics engineer at technology skills platform vendor Pluralsight and creator of a visualization that examines Spotify's top tracks from 2017 and rates them in such categories as Danceability, Tempo and Speechiness.
"[Data visualization can benefit] not just the music industry, but it can help any industry that deals with data," she said. "Data is everywhere, but if you don't know what to do with it you lose opportunities to capitalize and improve your products or services."
Data + Music is not a business intelligence platform for the music industry. It's an exhibit of sorts of some of the more interesting music data visualizations made by users of Tableau Public.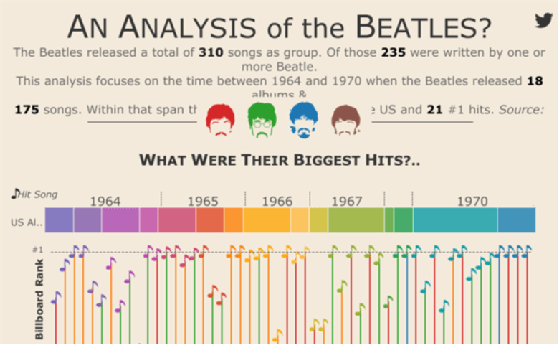 One such visualization examines the song lyrics of The Beatles, the revolutionary rock 'n' roll group that had 21 No. 1 hits between 1964 and their eventual breakup in 1970. The images show which songs were written by which member or members of the band, the breadth of the different writers' word choices, and what each artist chose to write about.
Another breaks down the 100 greatest heavy metal albums of all time, using data to determine that Black Sabbath's Paranoid, released in 1970, is the best, with Metallica's Master of Puppets (1986) ranking second.
Still other music data visualizations look at the works of mainstream artists such as Prince, Bruce Springsteen, The Cure and Fleetwood Mac.
"This was people exploring and expressing themselves," said Taha Ebrahimi, director of Tableau Public. "But then they were also teaching what they created; other users are able to download the visualization and then reverse-engineer it to figure how it was built."
Data visualization skills are rapidly growing. [Data visualization can benefit] not just the music industry, but it can help any industry that deals with data.

Pooja GandhiLead analytics engineer, Pluralsight
But while Data + Music is more an art exhibit than BI platform, analytics are an important part of the music industry.
Dating back to the days when radio was the dominant means of consuming music, record company executives crunched numbers to try to figure out what was resonating with the public at that moment and what would be the next big thing.
Now, just like any other industry, BI plays a substantial role in the decision-making process.
"You have to look at streaming numbers and social media numbers," said Keith Hagan, co-founder of the SKH Music management and PR company in New York and a veteran of close to three decades in the music business. "From those you can see where your engagement is coming from. You can track where your engagement is, and you can then get a good sense of where you should be going."
And while Tableau doesn't have a platform designed specifically for music companies, industry insiders do use Tableau's platforms for their analytics needs.
"One hundred and one percent [it can be used by music companies]," Ebrahimi said. "We have many music clients."
One of those clients is Spotify -- which has a feature called Spotify Insights with music data visualizations.
"They're trying to get people to relate to data who may not be data analysts," Ebrahimi said.
Meanwhile, music industry BI vendors such as Chartmetric and Soundcharts cater specifically to the music industry.
Streaming services like Apple Music and Spotify similarly provide data that industry insiders use to inform their strategies, data that unlike in the days when radio ruled is available in real time.
"If you're in the music business, you have to look at data," Hagan said. He added, however, that relying solely on data when managing and promoting an artist "is not an intelligent business model. If you don't have a strategy along with viewing the data you're going to have a problem."
Data + Music may be a more lighthearted project than a deep dive into BI, but it shows that greater understanding through analytics, and specifically music data visualizations, extends even to the art of sound.
Dig Deeper on Business intelligence technology